Best Cordless Water Flosser – Top 5 Reviews
There are many different ways to clean your teeth. However, if you want to be thorough you have to use the best Cordless Water Flosser because it will thoroughly clean your gums and teeth by using water pressure. It is similar to a countertop Waterpik Water Flosser, but it doesn't have a cord and usually have lower water tank capacity. At the same time, it allows you the freedom of movement, it is lighter and will take up less space in your bathroom.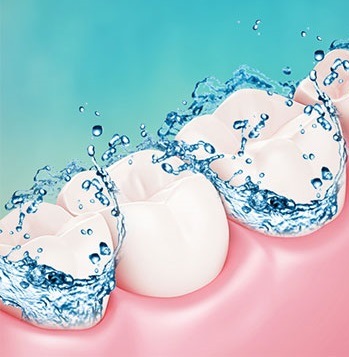 They are also perfect for traveling as they will not add much to your baggage in terms of space and weight. To discover which Waterpik flosser is best for traveling and offers the most value for the money we compared some of the very top cordless models available. With amazing features such as pressure settings, you will be able to have perfectly cleaned teeth no matter where you are going or what you are trying to do. You just have to place a tip in your mouth and after choosing right pressure for yourself, let the flosser do the rest.
We decided to present you best Portable Oral Irrigators, so that you could understand how to use it and what are most important all relevant information that you need before you decide to purchase yourself a cordless water flosser.
Waterpik Cordless Freedom Water Flosser, WF-03
If you decide to purchase Waterpik Cordless Freedom Flosser you will be amazed at its features that will keep your teeth brighter and healthier with only one minute of using each day.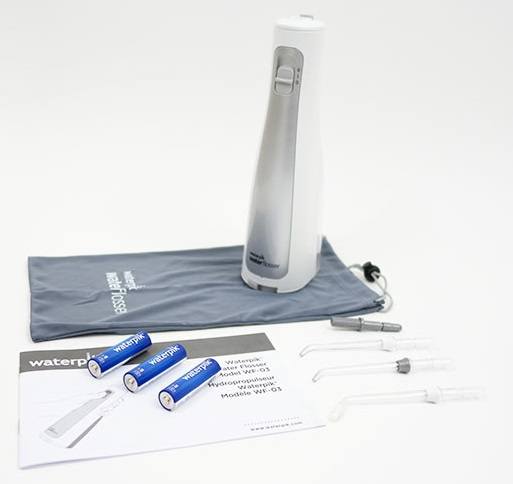 It is perfect for traveling purposes and you can really call it portable. It includes 3 AA batteries that you can easily change whenever you need. This gives you a lot of flexibility when traveling and makes this model one of the best travel water flossers available.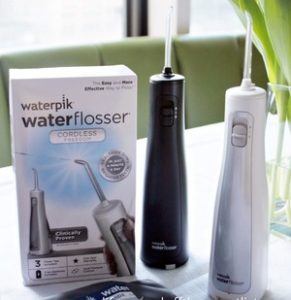 This portable Waterpik contains two different pressure settings, 45 and 75 PSI. It is always better to choose the less pressure at the beginning and while you are getting used to, you can easily boost it in order to reach difficult areas. Even though it contains less pressure than countertop flossers, it is pretty consistent and you will get perfect hygiene possibilities as soon as you start using it.
This amazing Waterpik looks so much stylized because of its shiny surface and good looking silver/black panel. It contains water tank that could hold up 150 ml (5 ounces) of water and you will be able to handle it easily without any additional problems. If we compare it to other portable flossers, it contains additional hole at the top that is specifically made for hose, so if you are not careful when you are holding water tank, you can spill the water.
If you are wearing braces check put our review about Water Flossers For Braces.
Pros:
It contains water tank that could hold up 5 ounces of water
It is highly portable so you can stash it wherever you want
It works on AA battery and when you purchase it you will get them packed
Comes in two colors – Black and White
Cons:
It only contains two pressure settings: 45 and 75 PSI

Waterpik Ultra Cordless Plus Water Flosser, WP-450
The Waterpik Ultra Cordless Flosser is also considered one of the Best Portable Oral Irrigator which is much more effective than dental floss. It is perfect for taking down any debris and plaque bellow gum line and between teeth. This travel Waterpik will provide you deep and gentle cleaning and combination of cordless design with convenient looks is something that makes it popular among users.
If you contain implants, bridges, periodontal pockets, crowns or braces, this is the perfect portable water flosser for you because you just have to use it for a minute every day and the results will be totally different than using dental floss. It removes 99.9% of plague and gently massages gums in order to improve overall oral health. 
It is clinically proven to be amazing Waterpik because it contains dual pressure control and you can also change and personalize pressure intensity according to your own needs. It uses a combination of pulsation and water pressure to stimulate and massage gums and to remove plaque between teeth in places where traditional brushing cannot reach.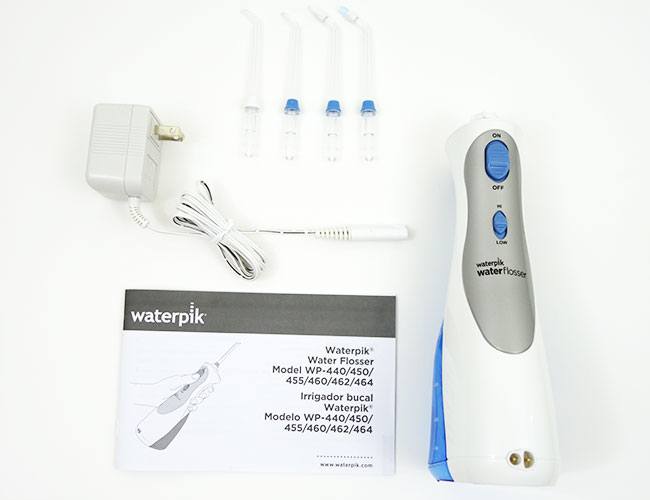 There are many different travel Waterpik reviews that will provide you relevant information, but we have tried it and with its great features and beautiful rechargeable design you will get the combination of maximum convenience and mobility. Batteries are rechargeable, so you don't have to worry about changing them all the time. It contains an ergonomic handle for additional comfort and its size is compact so you can place it on the bathroom countertop without any problem.
Pros:
It is rechargeable and cordless and you don't have to add additional batteries
It is pretty simple to use and you can change the pressure system with only one press at the button
Cons:
You have to consider that handle may leak so be careful while using this best cordless water flosser

Waterpik Waterflosser Cordless Rechargeable, WP-360W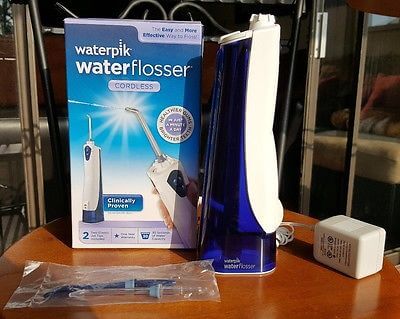 If you want to purchase effective and simple Best Portable Oral Irrigator, Waterpik Cordless Rechargeable Flosser WP-360W is perfect for you. It is far more effective and comfortable than dental floss and in the same time, you will be able to use it wherever you are without any difficulties.
Your mouth will be clean thoroughly and with two pressure settings, you can use this amazing Waterpik for unreachable areas. It is clinically proved to be twice effective than dental floss and you just need to use it for a minute every day and results will be visible in a matter of days.
You can choose between Low-Pressure and High-Pressure Classic Jet Tip and according to users, the high-pressure mode is the best for general use because it cleans all areas that you cannot reach with traditional flosser and toothbrush. 
Its rechargeable design is pretty convenient because you will get maximum mobility and you can wear it wherever you want. You just have to recharge this Best Portable Oral Irrigator between uses and you will get the improved shape of your teeth.
When you decide to purchase this portable Waterpik, you will get one year of warranty, which is great if you have in mind that you are frequently using it wherever you go.
Pros:
It is far more effective and easier to use than traditional dental floss
Two pressure settings for full oral health
You just have to charge it frequently and you will be able to use it for years
Cons:
It doesn't contain a backup power source

Poseidon Inductive Rechargeable Oral Irrigator With Charging Cradle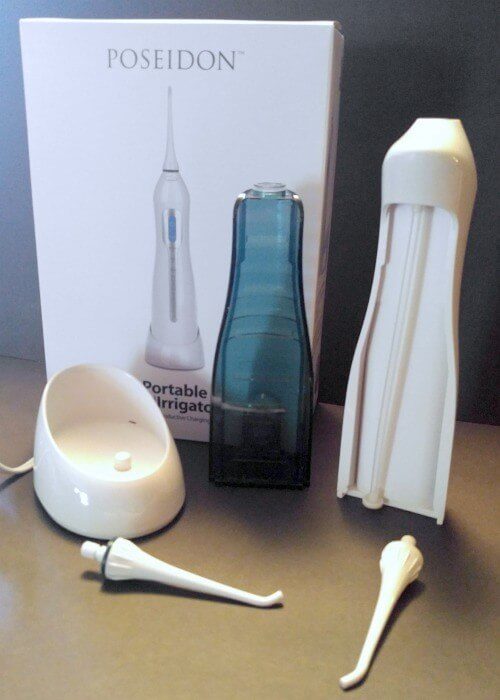 The Poseidon Inductive Rechargeable Oral Irrigator is perfect because it is travel-friendly and one of the smallest, but still is the most effective, flossers in the market. It could collapse to half of its size, so you can stash it away in your luggage without taking too much space.
This Best Portable Oral Irrigator comes with two years warranty and strongly focuses on portability. They cut the size of water tank if we compare it to other best cordless water irrigators, and that is the reason for its popularity.
In order to use it, you just have to hold the blue part and pull upwards and make the lines so that it could start working. Even though you have to refill the water tank frequently because of its small size, you just have to use it per a minute every day and later just put it in your bag and you won't even notice that you have it.
Click HERE to See All Colors & Models
NEW Poseidon - White
(Inductive Charging System)

Poseidon - White
(Li-Ion Rechargeable Batteries)

Poseidon - Black
(Li-Ion Rechargeable Batteries)
It is highly affordable and there are two different pressure settings that you can choose just with switching the power button. If you have sensitive gums, it is always better to try lower pressure and then increase it for unreachable areas.
Pros:
Elegant design
Very effective in plaque elimination
Inductive charging
Compact and portable so you can pack it wherever you go.
Two different power settings
Cons:
Doesn't come with travel case, needs to be bought separately

Panasonic EW-DJ10-A Flosser Nozzle

There are many different flossers available on the market, however, Panasonic Portable Dental Water Flosser is considered as one of the best cordless water flossers because of its portability and strength that will help you clean all unreachable areas without any difficulties. Its design is amazing because it is made from high quality plastic and it is small and portable at the same time, so you will be able to take it with you wherever you go.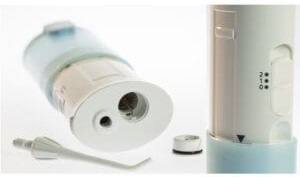 It contains nozzle that can rotate 360 degrees in order to face the tip in different directions. In order to remove the nozzle of this water pick for teeth, you just have to press the button below the socket and pull it up.

It is very comfortable because of its bulky grip, and it is specially made if you have larger sized hands.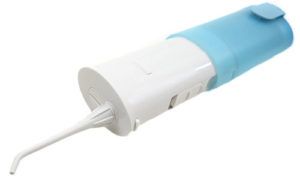 When we compare it to other cordless water flossers, we can proudly say that its pressure will give you full cleanliness wherever you are and you can wear it without any additional issue. There are two different pressure settings and its small size will make you enjoy one-minute flossing every day and you can later put it in the bag and leave it there until the next time.
Pros:
It contains two pressure setting speeds for thorough cleaning
It is comfortable for using especially if you have bigger sized hands
Perfect for travel due to possibility to collapse
Comes in two colors – Blue and Green
Cons:
It is louder than other best portable oral irrigators
Uses batteries

Related Products
Check out Water Flosser vs. AirFloss for more information about benefits of water flossers. Read also more about Waterpik Replacement Tips.
Conclusion
When you decide to purchase Cordless Water Flosser there are many things that you have to know and that is the reason why we decided to provide you with cordless flosser reviews. Everything depends on when you are going to use it, so there are many different tips that you should know before you decide to buy one of the Best Cordless Water Flossers.
If we look at the scientific tests, portable flossers are far more effective than other techniques for oral hygiene and you just have to use for one minute every day. Even though, you haven't used it before, when you reach the moment when you decide to buy cordless flosser, choose the one that you could recharge because it is always better to have the possibility to stop worrying about AA batteries.
There are many different designs, from the smallest ones to bigger ones that have various pressure settings; however, everything depends on your own way of using it. Affordable prices are something that makes oral irrigators great accessories during your travel hours. Before you decide to purchase it, read thorough all relevant information because that way you will know what to look for.