The Best Whitening Toothpaste For Everybody Based on Consumer Reports 2017
Some of us just want to whiten our teeth without expensive visits to the dentist or buying at-home whitening kits. Wouldn't it be great if we could just follow good oral hygiene instructions and whiten our teeth at the same time?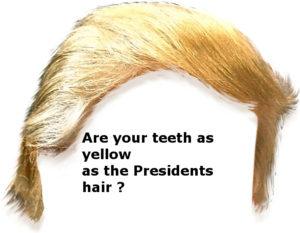 You may be asking yourself: "Does this work?" In one word – Yes. If you really want to have your teeth as white as a snow, it helps to include a teeth whitening toothpaste in the process. This is also a popular choice for people with a low budget or not so great dental plans. Or for the ones who don't want to make their dentist more rich for something they can easily do themselves. At-home whitening products are expensive, and visits to the dentist are even more expensive. And the brands that make the best teeth whitening products may not offer the best teeth whitening toothpastes. We have also had our share of frustration at picking wrong teeth whitening methods and products ourselves.
After reading this reviews, personal preferences will vary and that will determine what is best for you. But, choosing a product based on hundreds or thousands positive consumer reports is often an ideal way to find your whitening toothpaste. We had handpicked the top 5 best rated toothpastes based on popular opinion and their effectiveness in whitening teeth. You can complement teeth whitening arsenal by reading our Best Whitening Strips Review and achieve better, long lasting compounding effect. 
Top 5 Best Whitening Toothpastes on the Market
#1.Crest 3D White Luxe Glamorous White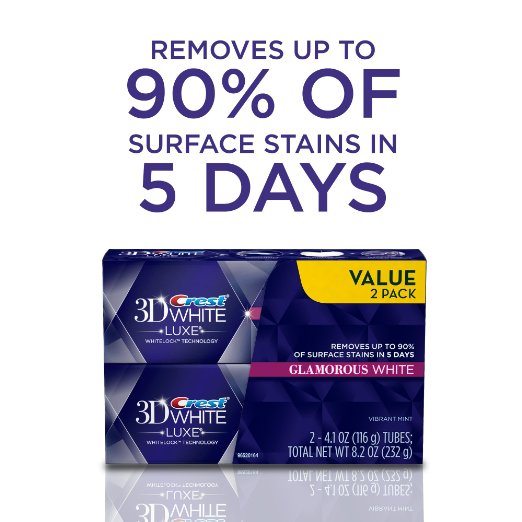 Crest is very famous and reputable company that almost everyone knows about. And that is not without good reason. 
Crest 3D removes up to 90% of surface stains and uses Whitelock Technology to seal future stains. The stains are removed even in the micro-fine lines of your enamel. It is not sodium fluoride free, but the amount of this ingredient is completely safe and also protects the enamel to help prevent tooth cavities. The flavor is mint, and it freshens the breath quickly and for long time.

You will find excellent reviews on consumer reports as one of the best teeth whitening toothpastes on the market. It has very pleasant taste and is great at stain removal. Crest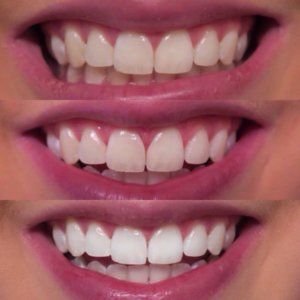 company recommends Crest 3D White Mouthwash and Oral-B 3D White Pro-Flex Toothbrush to go along with this toothpaste. For best results, adults and older kids should brush only 2 times a day. 
From the ingredients list, we will mention sugar Sorbitol which gives it a sweet taste. It's worth to mention Xylitol, which is a kind of sugar with many dental benefits. It also contains Laureth Phosphate, the same substance which is used in the most famous cosmetic products.
#2. Colgate Total ADVANCED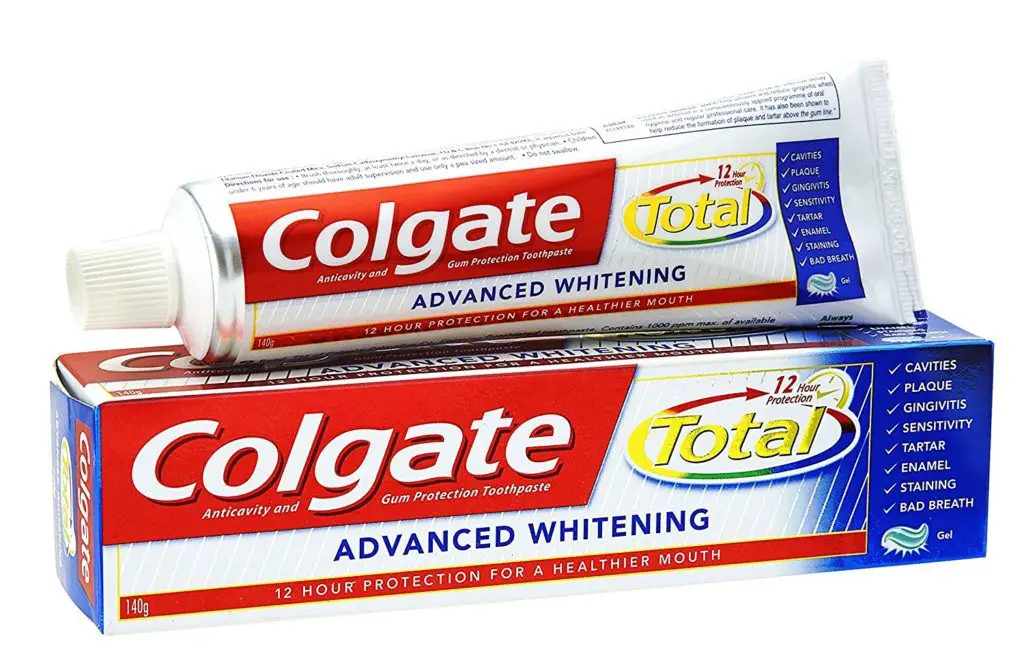 This is definitely our runner up in this category of products. And one of the most cheapest ways to get beautiful white smile without any special extra effort. 
Colgate is also one of the most famous companies in the consumer dental industry. Trusted by millions, Colgate Advanced Whitening Toothpaste successfully removes up to 80% of stains from surface of the teeth. This is accomplished by the use of the micro-cleansing whitening polishers. Colgate made several tests in which this product outperformed praised Arm & Hammer Advance White Toothpaste. Feeling in the mouth is cool and refreshing for the next 12 hours.
Check Price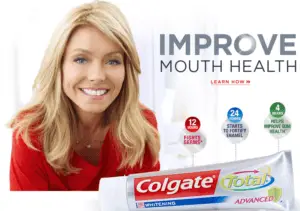 The formula that is used is safe, and also protects and strengthens enamel. Ingredients used are water, hydrated silica, glycerin, sorbitol, PVM/MA copolymer, sodium lauryl sulfate, flavor, cellulose gum, sodium hydroxide, propylene glycol, carrageenan, sodium saccharin and titanium dioxide.
Besides whitening, this toothpaste also greatly helps against plaque, gingivitis, tartar build-up, cavities and bad breath. It uses Dual-Silica Technology which fights germs for 12 hours and helps to prevent stains from forming. This toothpaste is made in the United States of America. It also comes with an easy to use stand-up lid.

#3. Luster NOW! Instant Whitening Toothpaste, Happy Mint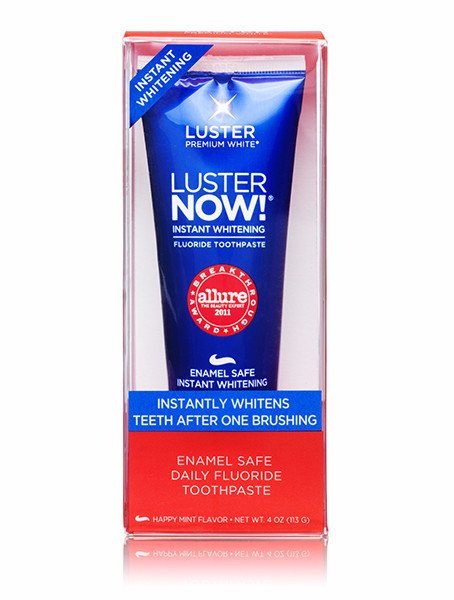 Luster offers guaranty and warranty but only if purchased from an authorized reseller, so you have to be careful of that.
This instant whitening toothpaste contains Bluverite which is a proprietary formula that creates the optical effect of whiter teeth. It is an excellent choice for all those who need to quickly get pearly white smile. And these results last for hours after just one brushing. If you use it daily it will  remove both deep and surface stains. It is safe for all dental restorations and enamel.
Check Price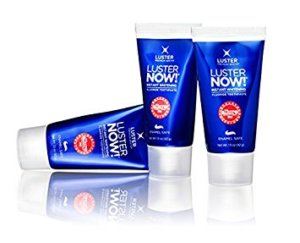 Luster NOW! uses much of the standard ingredients common in other products review.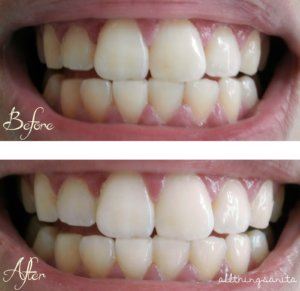 This Luster toothpaste has a minty flavor which is not too strong. As seen from ingredients list this is a fluoride free toothpaste. It also has a somewhat foamy taste which can be disliked by some people. You should also take into account that this is not a permanent teeth whitening solution if you use it for only a short period of time.
#4. Rembrandt Deeply White Whitening Fluoride Toothpaste, Fresh Mint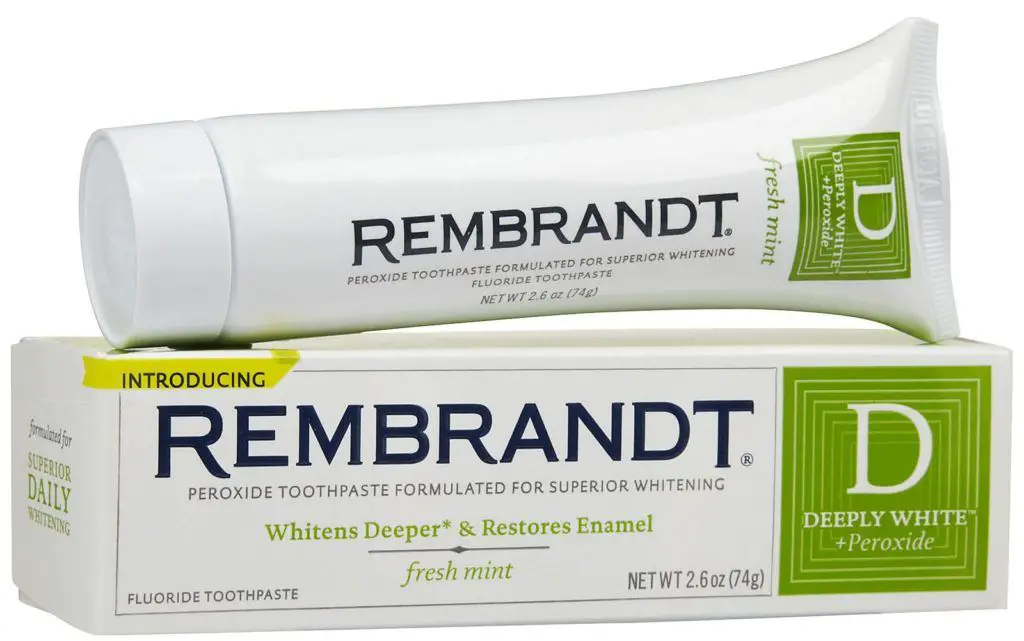 In 1989 Rembrandt started with at-home whitening kits. This brand may not be known by everyone. But it is very much sought after by a great number of people.
As the active ingredient, it uses dental peroxide in an amount which is enamel-safe whitening ingredient also used by dentists. This whitening toothpaste contains fluorides which actively restore the enamel and strengthen it if weakened. Rembrandt Deeply White acts against tough surface stains and also combats deep stains below enamel surface. This toothpaste is designed to quickly release peroxides and that way produce visible results faster. With its strong disinfectant properties, it also greatly aids in the prevention of cavities. 
The taste is mint flavored and feels very refreshing. After use, the mouth feels clean and pleasant for hours. There is also stronger Winter Mint flavor of the same toothpaste. With this toothpaste, for best results it is recommended to use Whitening Mouthwash from the same manufacturer.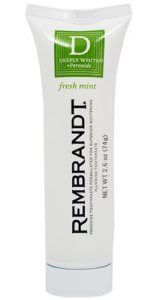 Since this is a peroxide based formula, you need to use it on the regular basis. But no more than two times a day.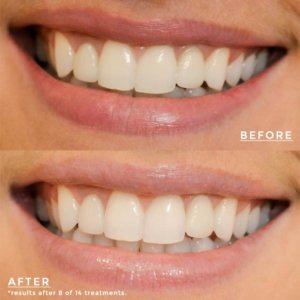 By staying on the teeth for a certain amount of time, it produces a better effect. So the more you use this toothpaste, your teeth are getting whiter and whiter. Sometimes you can see immediate whitening while some people have their teeth whiten at a slower pace.
Some people have reported lower teeth sensitivity of short duration which can be caused by frequent use of several times a day. And also by the amount of peroxide and individual sensitivity tolerance. The most important active ingredient is so called MFP, which serves as a source of fluorides through a chemical reaction. From the inactive ingredients list, we will mention Glycerin which is used as an excellent moisturizer and sweetener with no side effects. 
Sensodyne is one more reputable brand that has made a toothpaste that successfully protects teeth against acid erosion.
And it also helps to remove tough stains on the enamel surface. Acid erosion is the new dental health concern due to often consummation of acidic food and drinks. Acids in the food that we eat can dissolve minerals in our teeth which softens the enamel and make our teeth extremely sensitive to cold and sweet. That is how enamel surface is more easily worn out when toothbrushing. So, if you have problems with teeth sensitivity, but also wish to have beautiful white smile, than this toothpaste is just for you.  
Check Price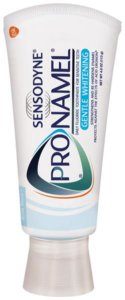 Sensodyne Pronamel Gentle Whitening does contain fluorides to increase cavity protection. That is very important in people with dental erosion and increased teeth sensitivity. Also, it helps to harden and whiten enamel.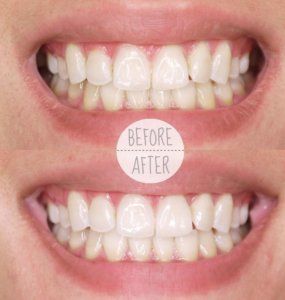 Ingredients used in this toothpaste are Aqua, Sorbitol, Hydrated Silica, Glycerin, Potassium Nitrate, PEG-6, Cocamidopropyl Betaine, Aroma, Titanium Dioxide, Xanthan Gum, Sodium Saccharin, Sodium Fluoride, Sodium Hydroxide, Limonene. Contains Sodium Fluoride (1450 ppm Fluoride), Potassium Nitrate 5% w/w.
Summary
Reviewer
Review Date
Reviewed Item
Best Whitening Toothpaste
Author Rating