Dental Crown: Things you need to know!
Dental problems are more common than you think.
In fact, every 1 in 4 Americans have one or more dental issues.
Well, several factors such as unhealthy eating habits and lifestyle, lack of hygiene and failure to make up for regular dental appointments can lead to tooth and gum problems. Therefore, if you want to enjoy healthy and pearly white smile, taking care of your teeth and gums is crucial. However, if you do experience any dental problem, don't worry!
With the advancement in cosmetic dentistry , today dentists can resolve any dental problems from missing tooth to damaged tooth, receding gums, tooth infection, cracked tooth, stained teeth and misaligned teeth. Besides many dental procedures, dental crown is one of the most preferred options by people, of course for various good reasons.
Dentists usually recommend the dental crown to patients who want to restore the shape, strength and appearance of their damaged teeth. If you think any of tooth needs restoration, then here are a few things you need to know about dental crown before consulting a dentist.
First, let's learn what is dental crown.
Dental crowns are restoration caps that are made to restore the original shape, size and appearance of the tooth. Your dentist will permanently fix these prosthetic restorations on your decayed, cracked, or damaged tooth.
However, being such a popular dental restoration procedure, there are many people who don't know when they should get dental crown and how they are helpful. If you're one of them and want to know, keep reading!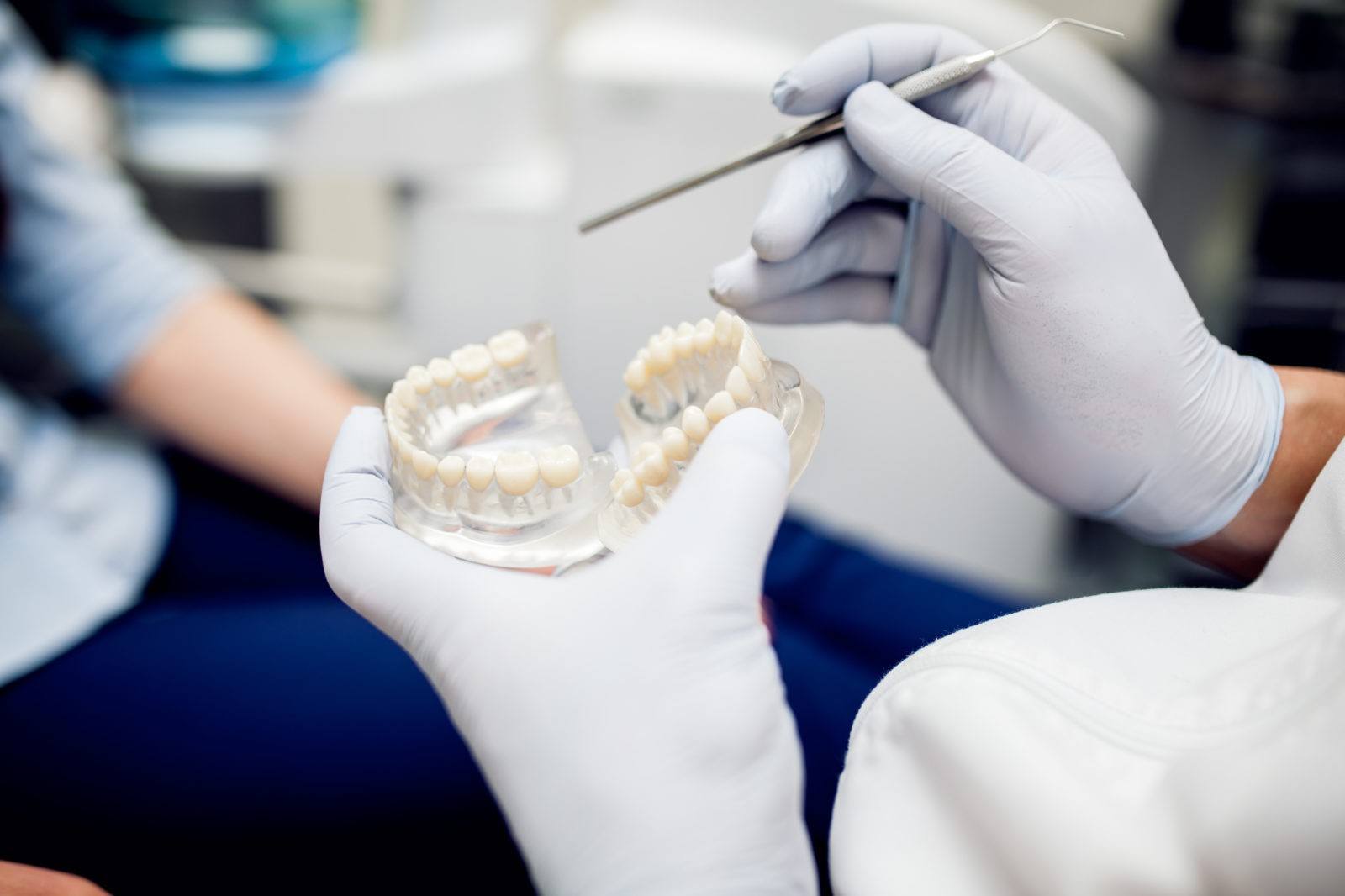 Below are some of the common situations when you may need dental crown.
Your dentist may suggest you to get dental crown in the following situations:
If you have a weak tooth due to decay, dental crown can protect it from breaking or hold the parts of your cracked tooth together.
Dental crown can restore a broken or severely worn down tooth.
They are also used to support and cover a tooth with a large filling.
If you got a dental bridge, these prosthetic restorations can hold it in place.
Your dental care provider can fix dental crown on your discolored teeth.
Dental crown can also cover a dental implant.
People who want to make cosmetic modification in their smile can take advantage of dental crown.
Now that you're familiar with the dental crown and it's benefits, the next thing is what you can expect from a dental crown. If you feel intimidated about getting a dental crown fixed on your damaged tooth, then it is important for you to know what to expect during and after the procedure.
What to expect from a dental crown?
If you know what happens during a dental crown procedure, you will confidently enter your dentist's office and will know all the steps involved in the process. To get your dental crown fixed on your damaged or missing tooth, you need to schedule two visits with your dentist. Here are the steps involved in placing a dental crown over a damaged tooth.
First of all, your dental care provider will prepare your tooth for the dental crown. He/she will start by removing the outer portion of your tooth, so that the crown has enough space to fit perfectly over your tooth. If there is any decay that will also be removed. Apart from this, your dentist will also add structure to your tooth, if needed.
Once your tooth is cleaned, the next step is making an impression, which will provide your dentist with an exact model for the crown. Mold or digital scans can be used to make an impression.
Till your permanent dental crown gets ready, your dentist may fix a temporary crown over your damaged tooth to prevent any infection. The permanent crown usually takes 10-15 days to be ready. With the temporary crown, you should avoid hot, cold and sticky foods, and chewing gum is a big no-no.
You need to visit your dental professional for the second time when your permanent crown is ready. During this visit, your dentist will place the dental crown in your mouth and make adjustments, if required. Once you and your dentist are satisfied with the look of your new crown, it will be cemented permanently.
What to expect after getting a dental crown?
When it comes to recovery period after a dental crown procedure, it lasts for only a couple of days. During this time, you will recover from any inflammation and irritation you experienced after the procedure. However, you can expect some discomfort, sensitivity or pain after the procedure, which usually subsides within a few days.
The following are some of the things you can expect after getting dental crown.
Numbness – If your dentist used a local anesthetic at the beginning of the dental crown procedure, you can still feel numbness for a few hours after the procedure. Apart from numbness, you may also have some inflammation and bruising for a short time where anesthetic was injected.
Discomfort, sensitivity and pain – In most cases, patients may experience sensitivity, discomfort or pain at the site where dental crown is fixed after the dental crown procedure. However, this may improve within a few days. Your doctor may also prescribe analgesic medications to manage the pain, if it's unbearable for you.
Diet and care during the recovery period
Once the permanent dental crown has been fixed, make sure you follow your doctor's instructions religiously in terms of diet and care.
Avoid sticky foods at least the first 24 hours after the procedure and eat only soft foods for a few days. However, as your confidence increases in the permanent dental crown, you can gradually start eating chewy or hard foods.
You should avoid getting involved in activities like running or jumping for the first 24 hours.
Brush your teeth gently, especially the area treated in the mouth until you heal completely.
So, you got the dental crown and recovered completely. Well, your responsibility isn't limited to taking care of teeth during recovery period. In fact, if you want your dental crown to last longer, then you need to make a few changes in your eating and lifestyle habits.
Just like your natural teeth, chewing ice or biting on a pencil can also damage your dental crown. Therefore, it is advisable to avoid these activities and don't forget grinding is harmful as well. Besides this, the following are a few tips that will help improve the lifespan of your dental crown.
How to extend the life of your dental crown?
Oral hygiene is crucial – Maintaining oral hygiene is very important to extend the lifespan of your dental crown. Therefore, make sure you brush your teeth twice a day and floss regularly. Lack of oral hygiene can result in infection or gum disease, which can have serious effect on your natural teeth and dental restorations. Therefore, maintaining a good oral hygiene is a necessity.
Keep up with your routine dental visits – During your routine dental exams, your dentist will inspect your natural teeth and dental crowns to find out whether or not they are in healthy condition. If your dental care professional inspects any damage, it will be immediately restored or treated. It is advisable to visit your dentist for regular dental exams and cleanings every six-month.
Wear a night guard – Most people have a habit of grinding teeth at night, which is dangerous for your natural teeth as well as dental restorations. Regular grinding can result in erosion and eventually cause your dental crown to become dislodged, which lead to TMJ symptoms – headaches and jaw pain. If you have a tendency to grind your teeth when you sleep, you should use a night guard to protect your natural teeth and restorations. A night guard is a device which prevents your upper teeth from touching lower teeth.
Use a mouthguard – If you're a sportsperson, you should use a mouthguard when playing. Sports injuries are common and can cause damage to any part of your body. Therefore, if you want to protect your natural teeth and dental crown from any injury, wearing a mouthguard is the best solution.
The bottom line
The dental crown can improve the shape and size of your tooth while improving the aesthetic appearance of your smile. This procedure is performed by a board-certified dental professional, and the complete procedure takes two visits. Following the procedure, you may experience some sort of discomfort, sensitivity and even pain, which usually invades within a few days.
However, if you experience a fever, severe swelling and pain after the third day of dental crown procedure, prolonged numbness and uncontrollable bleeding from the affected area, immediately visit your dentist. Also, make sure you follow proper diet and care during the recovery time.