What if you are looking for a high-end water flosser, a device which is the best in so many ways and the one that can help you maintain the oral hygiene as pristine as possible? In that case scenario, you will need the Waterpik Aquarius Water Flosser WP 660. First of all, it is awarded the American Dental Association (ADA) Seal of Acceptance and it is rated as number one water flosser. Of course, there are a lot of additional facts you should know.
Waterpik Aquarius Removes 99.9% of Plaque & Is 2 Times More Effective in Improving Gum Health
In the lack of a better word, we must say that the Waterpik Aquarius Water Flosser Wp 660 is no ordinary water flosser. First and foremost, it is capable of removing up to 99.9% of plaque from your teeth. In addition, it is 2 times more effective in massaging and promoting gum health than any other water flosser. All of this makes it essential for people with dental implants and braces, but essential for those who simply want to have a proper oral hygiene.
The result is possible thanks to a clever design. The water flosser uses the latest technology and it makes traditional water flossers simply obsolete. The attention to details this unit has to offer is immense. Keep in mind that all the data we have provided here is based on clinical trial and it is checked and confirmed by third-party organizations.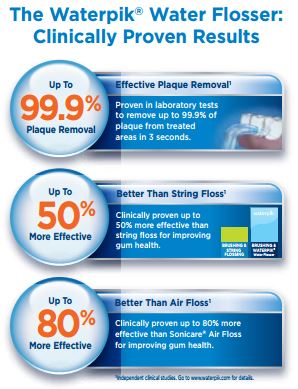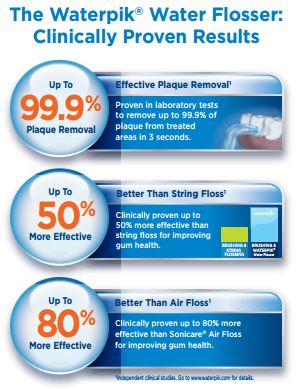 Compared to ordinary dental floss, this water flosser is so much better obviously. It is easier to use, it comes with additional accessories and it offers much better results. In other words, a traditional dental floss doesn't have a chance in direct comparison. So, if you are looking for a great water flosser, which will make sure your teeth and gums are in perfect condition all the time, the Waterpik Aquarius Water Flosser WP 660 is a great choice.
A separate matter must be mentioned for users with braces. The Waterpik Aquarius Water Flosser WP 660 is 3 times more effective in this case scenario than any other water flosser. The secret is in the tips you get, the power and the complexity of the unit in question.

Floss mode and Hydro-Pulse Massage Mode of the Waterpik Aquarius Water Flosser
Here is the second main reason why this water flosser is special. It comes equipped with two modes. The first one is Floss Mode, which is standard and all of you probably know what it does. Just in case, we will mention that this mode is reserved for conventional teeth flossing. Using this mode you will remove 99.9% plaque from your teeth easily. Keep in mind that this is the main or better said primary mode and it should be used daily.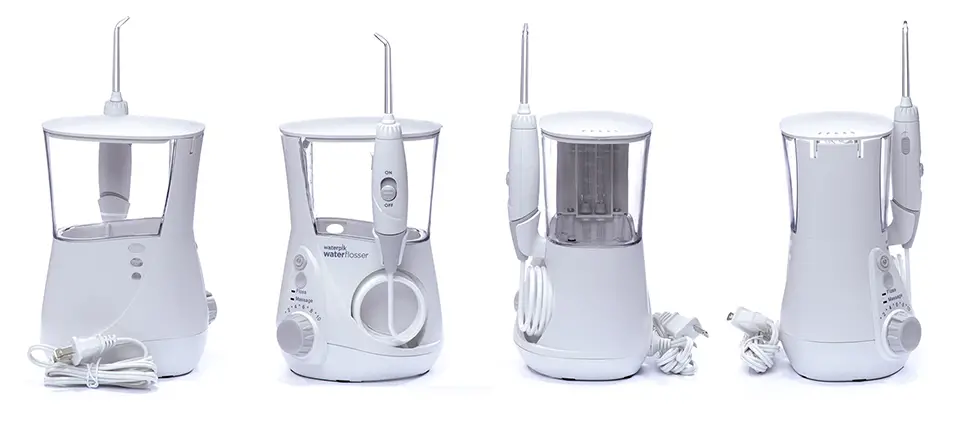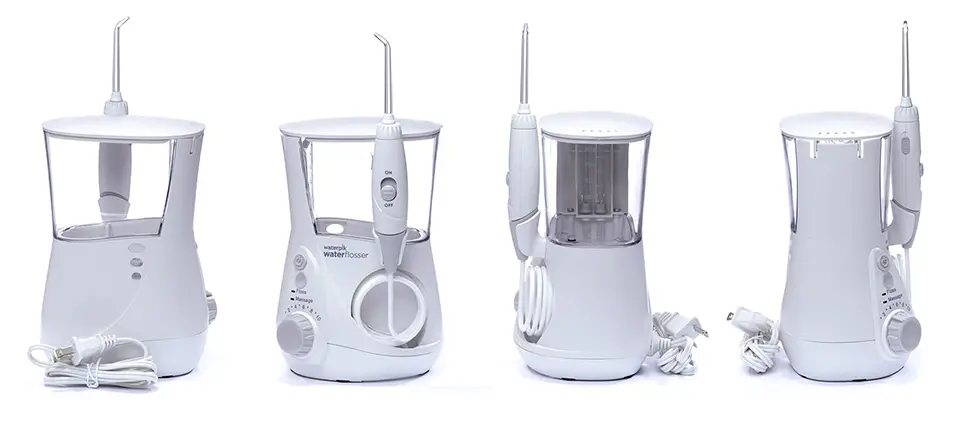 The second mode, which we will explain later on, is used as an additional method. In addition, the Floss Mode is optimized to remove as much plaque as possible within the 90-second time frame. This is the amount of time the water flosser should be used and it has a reservoir with the suitable capacity.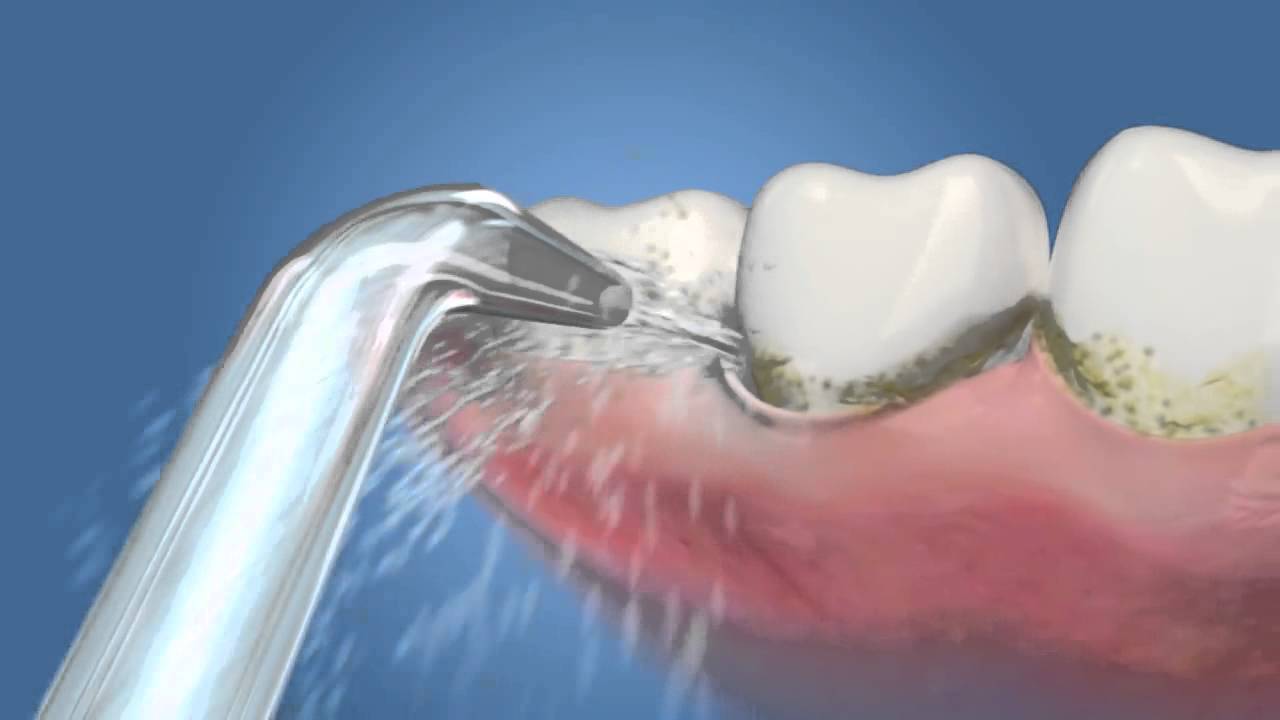 The second mode here is Hydro-Pulse Massage Mode. It is used to massage the gums and promote circulation. Despite the fact it isn't the main mode here, it is important and it should be used daily as well. We highly recommend you to use it, especially if you have sensitive gums. Also, if you have dental implants and braces, use the Hydro-Pulse Massage Mode daily. It will make the situation simpler and much easier.
Switching between the modes is simple and it is performed in the main case of the unit. You have a button which must be pressed in order to choose the desired mode. Once it is selected, the small LED will be illuminated next to the selected mode.
Important: Always check which mode is selected before you start with the flossing. After some time, you will be able to determine which mode is selected by the feeling it provides on your teeth and gums.
Variety of Settings and Tips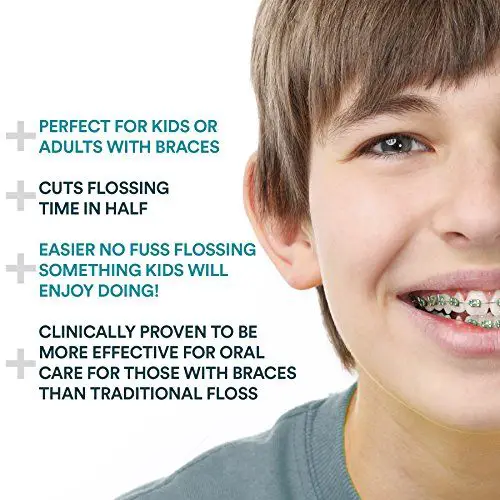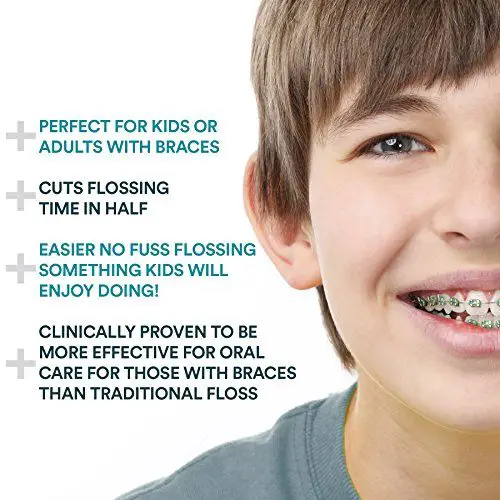 When it comes to settings and Waterpik replacement tips available, this unit is once again, the best. Let's start with the pressure settings. There are 10 of them and each one can be selected from a massive dial located in the case of a water flosser. This may sound like a simple or basic setting, but it is something that can make a true difference. Pressure settings are essential for all, high-end water flossers and this feature is treated as the main one.
Pressure setting is important for two reasons. The first one, you can adjust how much water pressure you need in order to remove plaque from the teeth. Obviously, the 1 is the lowest pressure, while the 10 is the highest pressure. We will advise you to start with the lowest pressure, with 1. Gradually increase the pressure until you discover which setting is the most suitable for you. If you don't have sensitive teeth or gums, chances are high that you will use level 10 all the time. In a case, you notice discomfort or pain, immediately reduce the pressure level. Once you have discovered which level is the most suitable for you, stick with it and there won't be any issues.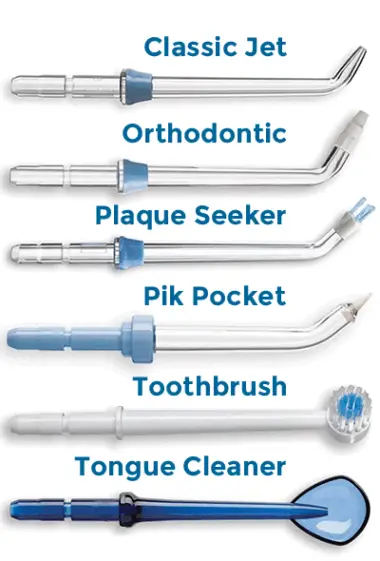 Tips are essential for all water flossers. Tips are small pieces on the end of the handle which are used to adapt the water flow and maximize its results. In this case, you will get 7 tips. 3 of them are standard Classic Jet water flosser tips which should be replaced after 2 months and other 4 are purpose-built tips. So, you will also get 1 Plaque Seeker, 1 Pik Pocket, 1 Orthodontic and 1 Toothbrush Tip.
Now, the true power here is in the variety of tips. It is a smart decision to use all of them periodically and to use a plaque seeker tips as the main one if you want to remove the highest amount of plaque over a short period of time. Also, it would be a smart decision to try each tip and to see which one suits you the best.


1-minute Timer and 30 Second Pacer
Timer and a pacer feature are nowadays standard for all water flossers. But, here we have to mention it due to the fact it is an all-new system, developed specifically for this water flosser. First of all, we have a 1-minute timer which will alert you when water flossing should be completed. Of course, you will have enough water in the reservoir for additional, 30 seconds. It is a great addition to beginners and it makes your water flossing so much easier.
The main sub-feature here is the pacer system. It will vibrate the handle every 30 seconds, which suggests that you should move to the next part of the teeth. It is used to help you floss all your teeth equally, which means that there won't be some teeth which are better and others which are less-good flossed.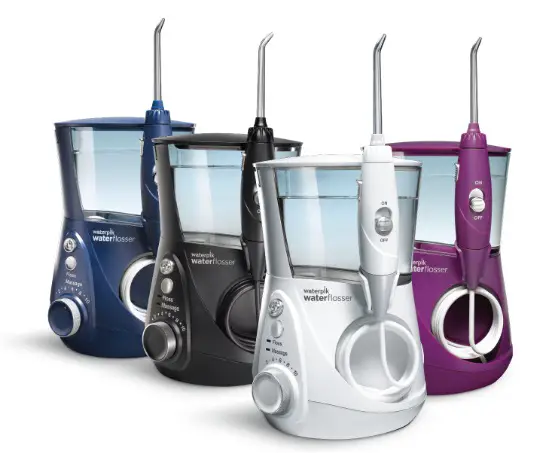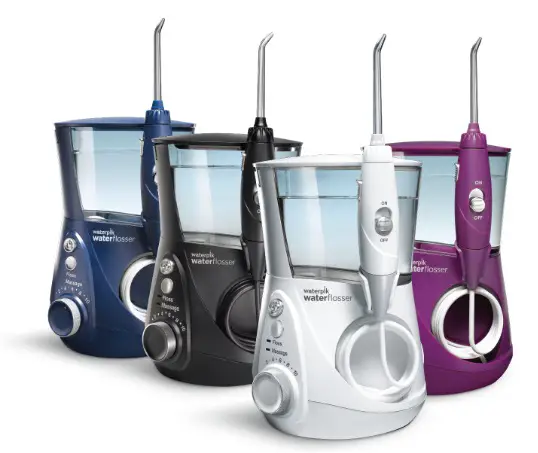 Clever Design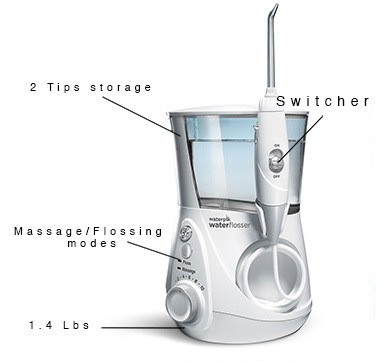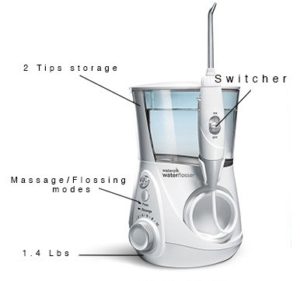 We have mentioned that the Waterpik Aquarius Water Flosser WP-660 is based on the latest technology. What this means is that it has a smart design. There are several reasons why we must mention this point. The first one is the covered storage. It simply means that all the tips are covered and protected from dust and debris. This may sound like a simple matter, but it truly makes a difference.
The cover also makes the water flosser look better, more professional and more appealing to use. It reduces the maintenance requirements as well, so we liked this simple addition very much and you will as well. Yes, most water flossers come with a similar feature, but not all of them. This is another proof why this water flosser is treated as the best one available on the market right now.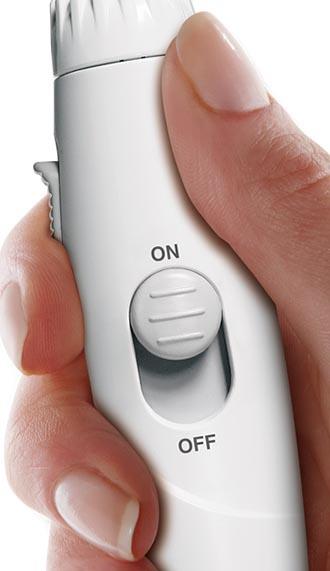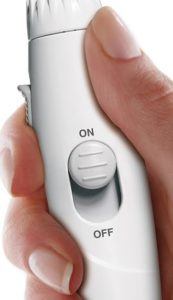 Another point which proved us this is a high-end product is the reservoir. It has a capacity of 90 seconds. If you remember, we mentioned that 90 seconds are the perfect timeframe during which you can use to floss your teeth. Anything shorter than that isn't great because you won't be floss your teeth and gums perfectly and there is no need for anything longer than that. Your teeth will be already clean.
The last but not least, the handle comes well-designed as well. The first thing you will see is that there is an on/off switch located on the handle itself. There is no need in telling you that this makes usage much easier. But, there is also a simple switch for replacing the tips. It is easy to use and it is located in the right spot.

Summary
The Waterpik Aquarius Water Flosser Wp 660 is a professional water flosser which offers the latest features, a clever design and it lifts teeth flossing on a completely new level. We must say that it is the best model available on the market at the moment and it is definitely one worth considering. For those with braces and dental implants, this water flosser is an even better choice.