Here we have the Waterpik WP260, a product specifically designed for kids and for providing the best results. We liked this model due to the fact it has been optimized for teeth and gums of children aged 6-12 years. The Waterpik water flosser for kids is one of the most popular product at the moment as well. It has plenty of satisfied users and it is appreciated by the dentists as well. However, there are plenty of other facts and features we will have to reveal about it.
Extra-Safe Kids Water Flosser

It is essential to start with the basics. Here we have a product which has been developed for children only, as we have mentioned earlier. It suggests that the design and the set of features are more oriented towards kids than for adults. For example, the design is strong and the entire water flosser is made from high-quality materials. In other words, it will be fully capable of withstanding the use of your kid, without the fear of breaking it or damaging it.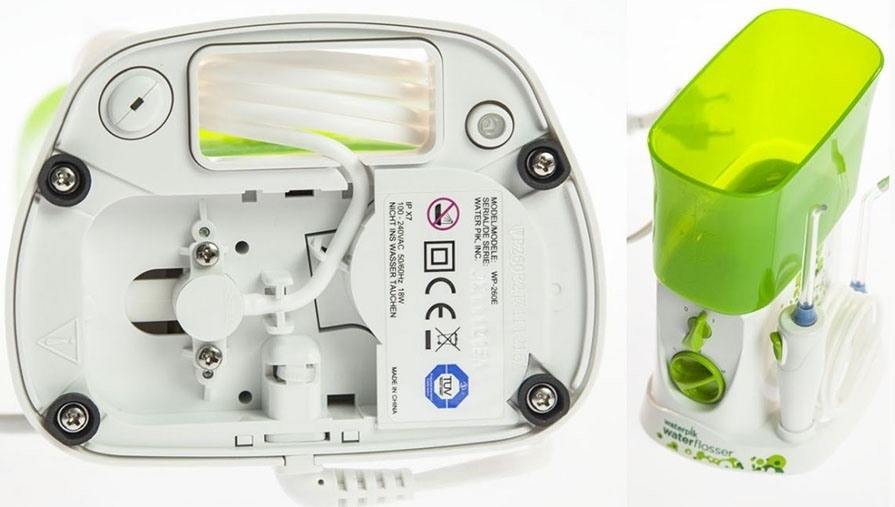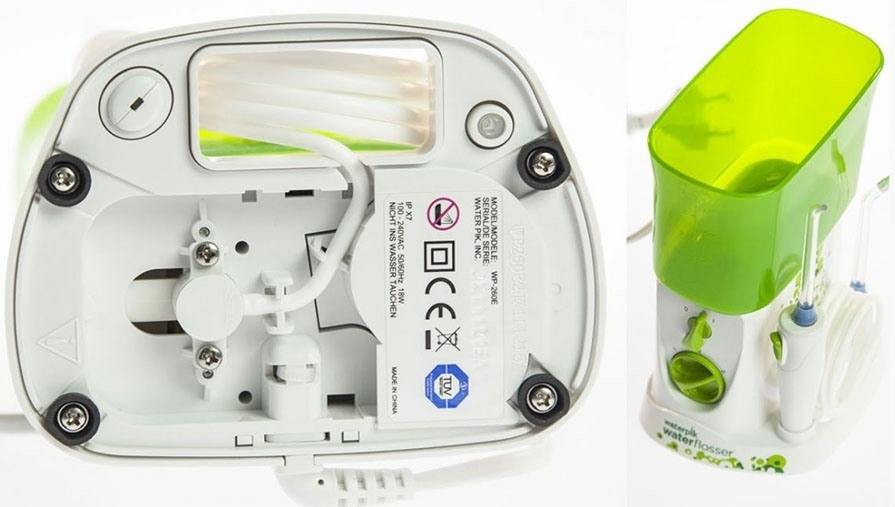 The power cord and the electrical components are isolated much better than other, conventional products of this type have to offer. There is no need in telling you that this feature is also important for providing the safety. We all know that kids don't look after their gadgets and belongings, so extra isolation is much appreciated.
Regardless of the mentioned matter, the design is still practical and extremely easy to use.  Read our How to use a Waterpik article for more information. There won't be any issues with using each feature. Obviously, here we can see another advantage of the design. Children find stressful and irritating when something is too complicated to use. In a case with water flosser, this has the catastrophic effect on the overall result. In other words, they will refuse or skip flossing their teeth.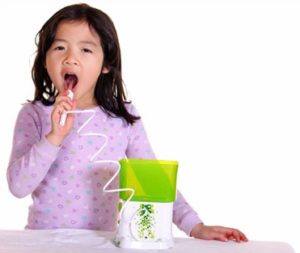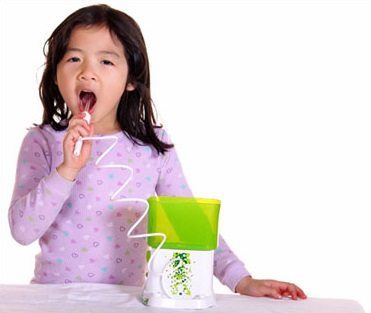 If we look more closely this water flosser for kids we will notice that all the capabilities are carefully adjusted for children as well. The intensity is fully adjustable and even the highest level is still suitable for children's teeth and gums. Overall, this model is safe to use and it won't be linked to any complication or issue which may be possible with other products of the same kind.


Impressive Results of WP-260
Each parent should be aware of the benefits or advantages water flosser can offer to his child. Compared to conventional flossers, they are at least 50% more effective.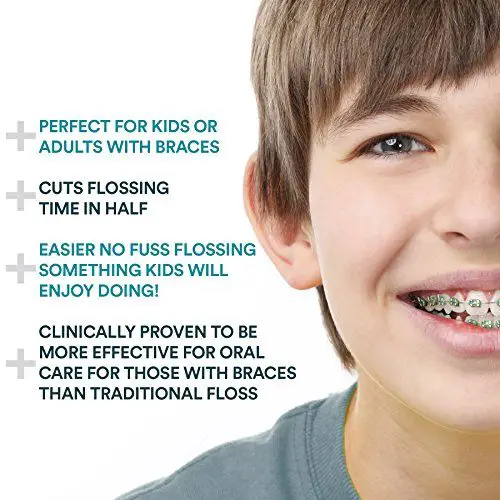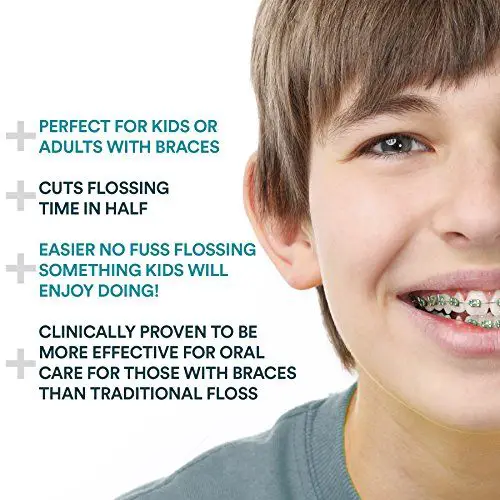 At the same time, we know that they are easier to use and require far less time to reach a much better result. Furthermore, there are a few more reasons why this water flosser is so successful in providing oral health.
Children who wear braces, so most of them, have a hard time removing the plaque and debris from their teeth and gums. Here the ultimate efficiency of the water flossers come to action. For example, the model we are reviewing here is capable of eliminating 3 times more plaque and debris from places which cannot be accessed by conventional methods. It also removed 99.9% of plaque in less than 3 seconds when applies to the targeted area.  One, additional reason we must include is the ability to remove plaque from places where toothbrushes and flossers simply don't have access.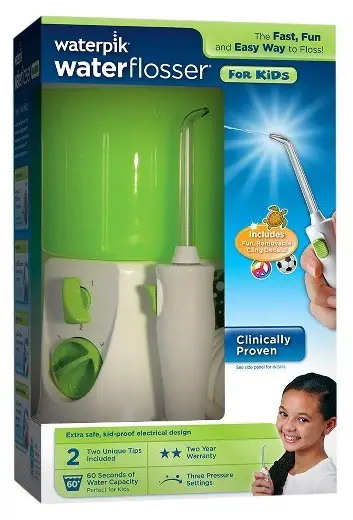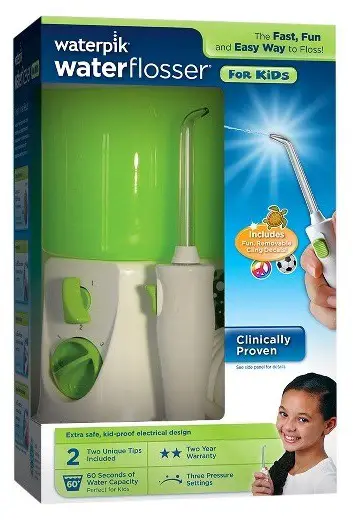 As you may know, this applies to the areas between teeth and below the gum. Addition: The pressure of the water flosser must be perfectly adjusted in order to safely remove the plaque from the areas below gums.
In order to improve the circulation in the gums, massaging the area is needed. The Waterpik kid's water flosser does precisely that. The pressure itself and the flow of the water from the tip can provide a much better circulation after the initial treatment. Each time, when a kid uses the water flosser again, he will get the same advantage.
[thrive_link color='orange' link='http://amzn.to/2et0g8p' target='_blank' size='small' align='aligncenter']Check Price[/thrive_link]
Essential Settings and Customization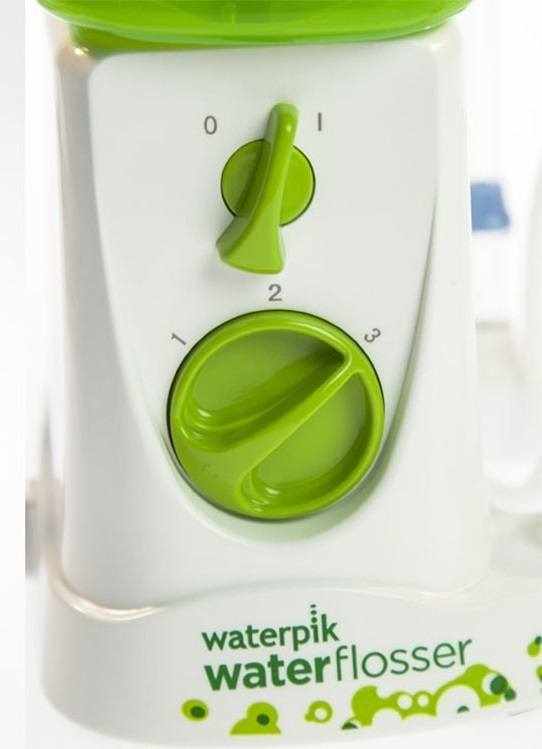 The Waterpik flosser for kids in question provides 3 different intensity levels. Switching them and choosing the most appropriate one is as easy as it gets. A kid will be able to adjust the pressure within a matter of seconds, which also has the positive effect on the time, he will floss the teeth. Just to add, intensity settings are mandatory and highly desirable. They allow for each user to get the optimal pressure, according to his teeth health, possible issues or after dental procedures. Products for kids usually have a lower number of intensity settings, due to increased safety.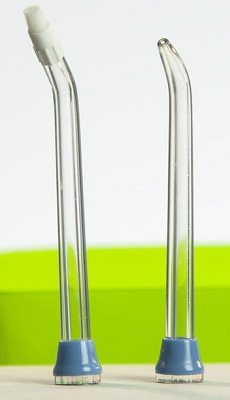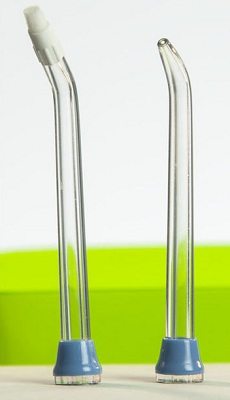 One, the related matter is with the tips. In general, they can adjust the pressure and the flow of the water accordingly. In this case, we have 2 tips. Both of them use a simple switching method and will require a few seconds to be installed or detached. The first is a superior Orthodontic Tip which is used for cleaning braces and areas around them. The second one is a Classic Jet Tip for general application.
Personalization has an important effect here as well. Luckily, the Waterpik WP260 offers 20 decals. All of them feature children-appealing graphics and most of them are generally appealing to girls and boys. Just in case, there are those which have been more suitable for just one gender.  The goal of this feature is to promote the length of teeth flossing and to make the entire process more appealing for children.


Waterpik waterflosser for kids wp-260w comes fully equipped with global voltage compatibility. Now, when traveling with your kid, he won't be able to use the common excuses not to floss his teeth. This unit will work anywhere in the world.


High Level of Hygiene is Guaranteed
We all know that a Waterpik kids flosser must stay immune and isolated from bacteria and germs. Therefore, the hygiene is mandatory and how it is achieved is equally important. In this situation, we have an interesting alternative. The manufacturer chose to use reservoir as hygienic storage. It definitely isn't extremely important feature, but it is different, something we like. Let's just add the fact the reservoir has a capacity of water needed for 60 seconds. Some other models for adults have a bit larger tanks, with a capacity for 90 seconds. Anyway, the mentioned capacity is perfectly sufficient.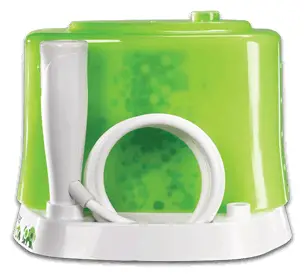 In the case of hygiene, the WP260 is outstanding. It applies all the latest and sophisticated solutions for keeping all the treats away from the tips, water in the tank and flosser itself.
Healthier Gums in Only 2 Weeks
Is the Waterpik as good as flossing for small kids? In reality, it is even better. First and foremost, the design and the pressure settings are suitable for removing all the plaque from the mouth and from the braces, or places which cannot be accessed by conventional methods. Compared to conventional flossing techniques, this device is much better.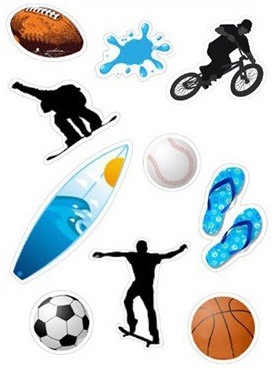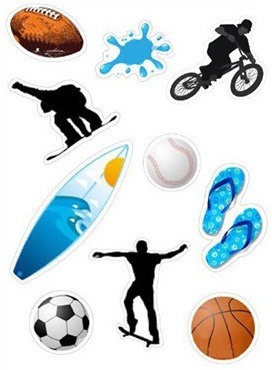 We mentioned that it affects the gums. As a matter of fact, it has a huge, positive effect on them, so healthier gums are guaranteed within 14 days of the first use. Kids Waterpik we are reviewing here massages the gums, removes the plaque and it also promotes their regeneration. Once again, this is simply the best and the most beneficial alternative you can have at the moment.
For the ultimate effect, flossing the teeth once per day is mandatory. The flosser will run slightly longer than one minute, meaning that measuring the time isn't needed. We will also add that the pressure, even when the highest intensity level is chosen is still safe for 1-minute use.
[thrive_link color='orange' link='http://amzn.to/2et0g8p' target='_blank' size='small' align='aligncenter']Check Price[/thrive_link]
2-Year Warranty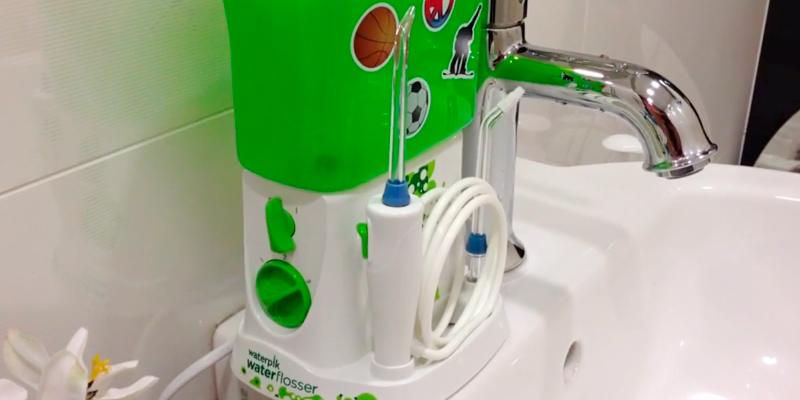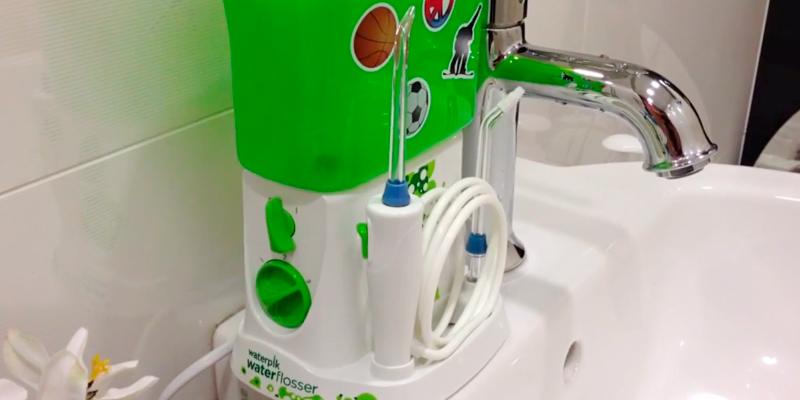 Kids won't take care of their new flosser. You already know that common damages, issues and complications are possible and better said, guaranteed. That's why having a warranty is essential. Obviously, all of these products come with some type of a warranty, but not all of them have the same length. Here, you will get 2 years of warranty, which is more than just good. A kids flosser with this type of a warranty suggests one thing only. It is well-made, so it can withstand this period of time. Additionally, we must mention that the quality is available with all accessories and all elements of the product.
[one_half_first]
Pros:
Offers three different pressure settings
There are 20 different decals in the package
Water reservoir can be inverted in order to provide storage (hygienic)
Kid-proof design and features
Supports global voltage
3 times more effective in removing plaque around the braces
[/one_half_first][one_half_last]
Cons:
Water reservoir could have a larger capacity
Lack of a tank lid
Information you get in the package are not very understandable to children
[/one_half_last]


Related Products
Check out also reviews of best Waterpiks for adults. We also did a very helpful review of best electric toothbrushes for kids.
For any troubleshooting of your WP-260 Waterpik water flosser refer to our How to repair a Waterpik guide.
You could also consider kids teeth brushing songs as additional incentive to help them accept water flossing also.
Conclusion
Waterpik for kids reviews must reveal why is this product suitable for children of specific age. Our review actually has been entirely focused on the matter in question. At the end, we must summarize the impressions. The WP-260 is simply the best product of this type for kids. It comes with all, essential features a kid will need and it is optimized for them. There are some features which are specifically added for kids, such as decals, orthodontic tip, and kid-proof design. All of this means that your kid will have perfectly clean teeth, stimulated gums and clean brace at all times.