5 Best Tongue Scrapers Reviews – Copper and Stainless Steel Metals Win
Why would anyone need a tongue scraper, you may ask? Well, there are a few good reasons why you should consider using these strange devices.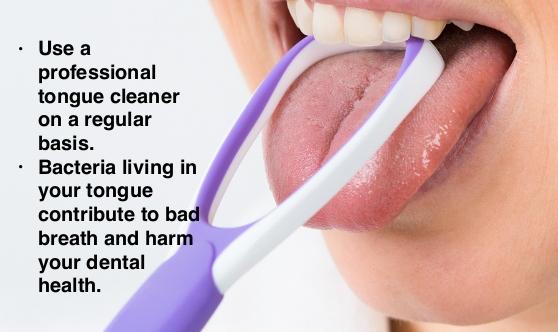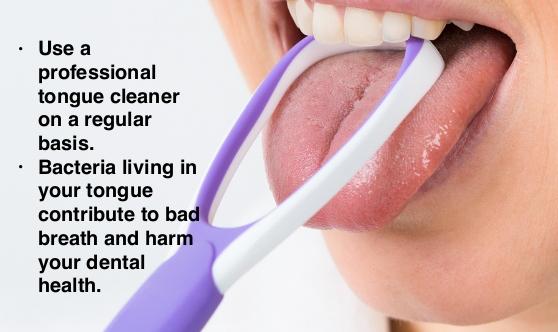 First and foremost – bad breath issue. Few things are as repelling and gruesome as bad breath. It is caused by bacteria collecting on the surface of our tongues. Most of these bacteria collect over night when we are asleep. During this time, our body gets rid of the toxins which start collecting on the surface of our tongue. These toxins form a thin film, which feeds the bacteria, that is causing the most of our bad breath. In fact, more than 50% of all bacteria found in our mouth are on our tongue's surface.
Flossing and brushing do help, but the only real and effective way to remove all that gunk is by using a tongue scraper. These simple devices remove food debris, bacteria and dead cells very effectively.


But, these toxins and bacteria do not only cause bad breath. They can be a health hazard too. If they don't get removed, they can get reabsorbed back into our organism, causing inflammation of the upper respiratory tract or other problems. That is why clean tongue is imperative.
There is more -if you never scraped your tongue before, you probably have a lot covering it. In fact, it's maybe preventing you to feel the real taste or the food you're eating, because it covers your taste buds. If you are a real food lover, scrape your tongue!


In this article, we will present you with 5 scrapers that we think are the best. They are very effective at removing bacteria, dead cells and toxins from the surface of your tongue, leaving it clean and good looking, and your breath fresh.
EDITORS CHOICE
DrTung's Stainless Tongue Scraper - Tongue Cleaner for Adults, Kids,...
HealthAndYoga(TM) Tongue Cleaner Scraper - Hygienic Seal-Pack –...
Tongue Sweeper Model P Medical Grade, Dishwasher Safe, Stainless Steel...
Orabrush Tongue Scraper, Tongue Cleaner Helps Fight Bad Breath, 4...




#1. Dr. Tung's Tongue Cleaner – Stainless Steel
Dr. Tung's is a dental company famous for their natural products. They're committed to using only high quality and healthy ingredients.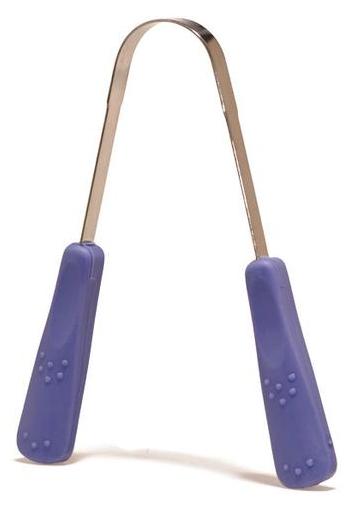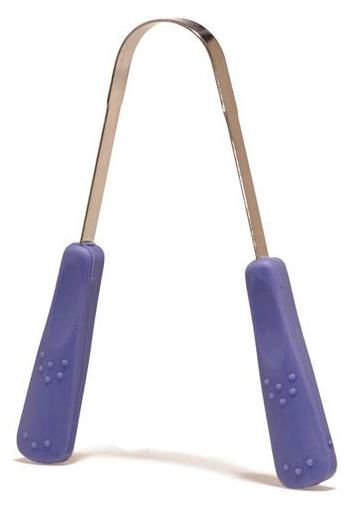 Taking care of their customer's well-being is imperative for Dr. Tung's. This is why they are the leaders in natural dental industry.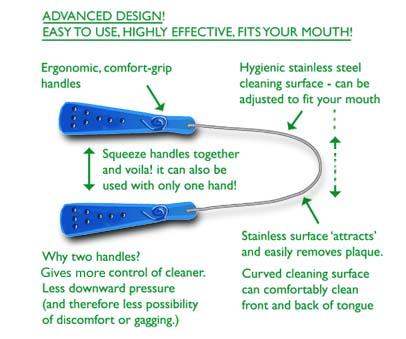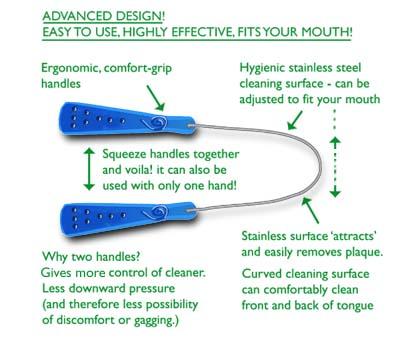 Dr. Tung's Tongue Cleaner is made of stainless steel. They prefer this material over plastic because it's more effective and much more comfortable to the user. It's also more hygienic as it's  impervious to bacteria and easier to clean afterward. This is the same reason why people prefer eating with silverware over plastic. This tongue scraper is precurved and has rubber handles to give you total control and precision.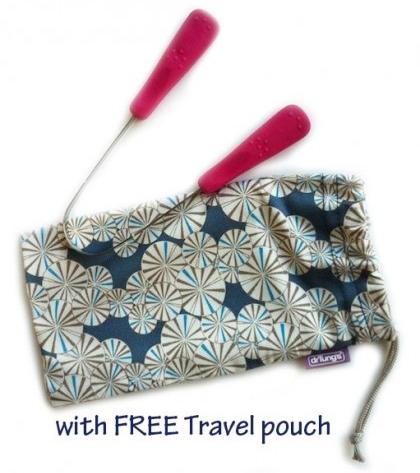 Dr. Tung's Tongue Cleaner is extremely effective. Already after the first use, the surface of your tongue will see the light of the day for the first time. And you will see it's natural red-pinkish color.
This is probably not important, but this tongue scraper comes in many different colors, and kinda looks good! All in all, Dr. Tung's tongue scraper is for a reason one of the best selling tongue scrapers in the market today.
Pros:
Stainless steel made
Hygienic and easy to clean
Scrapes tongue effectively
You also get a free modern Travel Pouch
Cons:
Can be too harsh on sensitive tongues
Can't choose the color of the handle
Rubber handles tend to get moldy over time if not cleaned properly


#2. HealthAndYoga (TM) Surgical Grade Stainless Steel Tongue Cleaner Scraper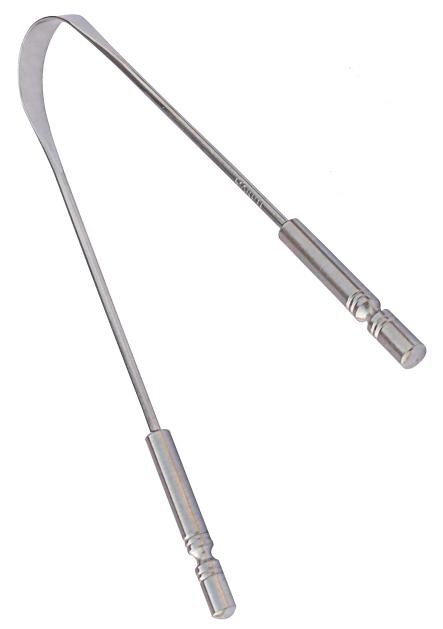 This is one amazing tongue cleaner. First, it is FDA registered meaning it meets the highest standards. This is always good to know because tongue cleaners are devices that we use daily. And not only that, we also put them in our mouths so we want to make sure they are completely safe and non-toxic.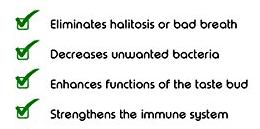 HealthAndYoga(TM) Tongue cleaner is made out of Surgical grade stainless steel. It is completely non-toxic and sterilizable. The whole cleaner is made out of steel, even the handles. No more dirty or moldy rubber handles, this full stainless steel made scraper says goodbye to bacteria and fungi. This will also mean you will be able to use it for long time, making it more economical.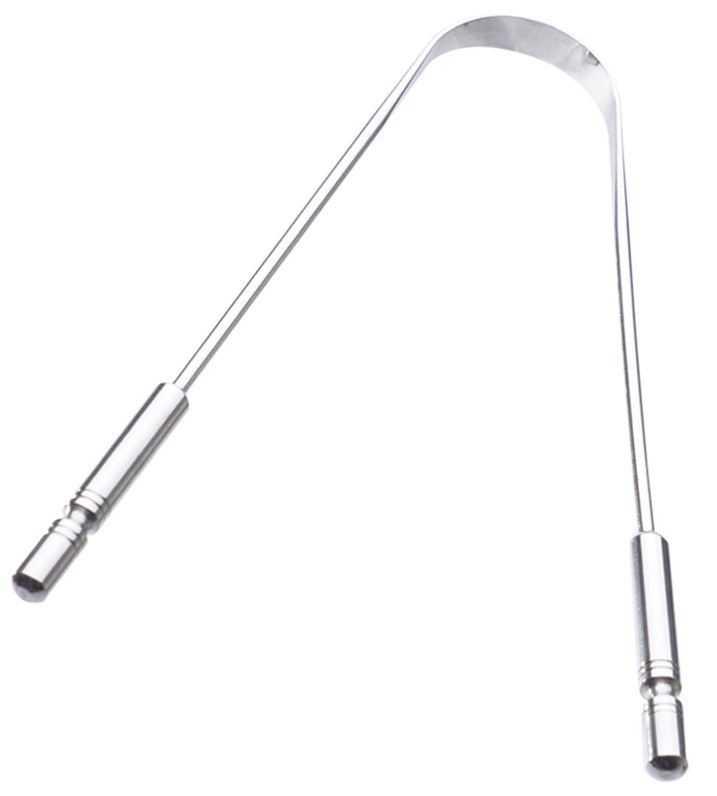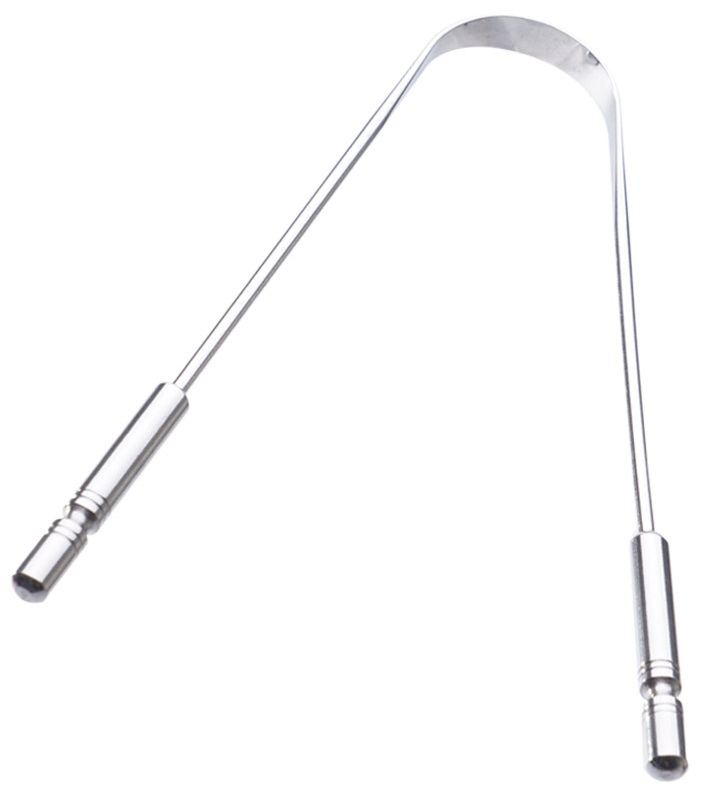 This product is very well designed. It has fluid merging contours, o you can forget about corners and pointy edges scrapers have. Also, it's highly flexible meaning you will easily insert and pull it out of your mouth. It is extremely safe with blunt edges, preventing tears and cuts. Cleaning span is very wide making the whole process faster because you will be able to cover more with one drag.


Being made out of stainless steel insurers that it will never corrode despite being exposed to water every day. You will hardly ever find a better tongue cleaner than this, so kudos to HealthAndYoga(TM) for making it this good!
Pros:
Made of Surgical grade stainless-steel
No rubber handles
Safe – no cuts or nicks
Extremely flexible
Wide cleaning span


#3. Tongue Sweeper Model P Stainless Steel Tongue Cleaner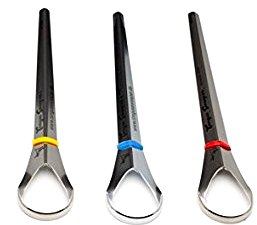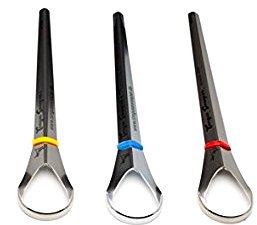 Tongue Sweeper Model P Stainless Steel Tongue Cleaner used and recommended by leading Dental Schools. It is made in the USA. This ensures high standards and higher overall quality of the end product. Lifetime and absolute satisfaction guarantee proves this.
Tongue Sweeper Model P is a unique product. It was the first tongue scraper to be made out of surgical grade stainless steel, rather than cheap plastic. This made it both more effective and more hygienic and safer to use.  Trust us, when you try the metal ones, you will never get back to cheap plastic tongue cleaners again.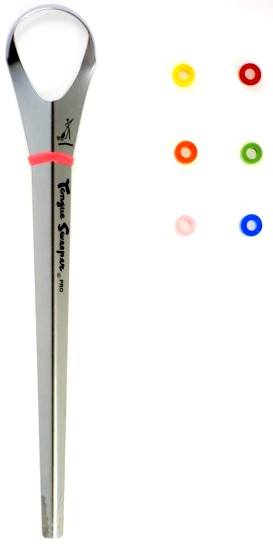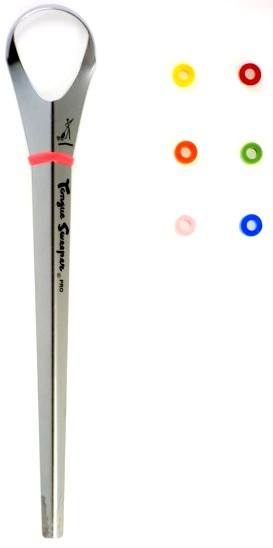 Metal cleaners are simply much more effective, and easier to clean afterward.
This cleaner has excellent smooth and perfectly rounded cleaning edges that will give you gentle, but effective tongue cleaning. It has a sleek profile for easier use, especially when cleaning the back of your tongue.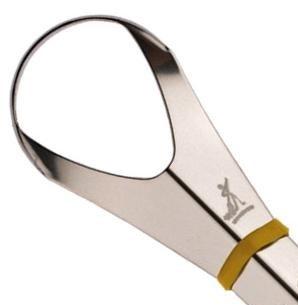 It is designed to minimize or completely eliminate gagging reflex, allowing you to clean more thoroughly.
It is clinically proven and recommended by leading Dental Schools for preventing halitosis, otherwise known as bad breath. Using it daily, along with your toothbrush and floss, will guarantee perfect oral hygiene and fresh breath.
Pros:
Surgical grade stainless steel
Great for deep cleaning
Recommended and used by top Dental Schools
Cons:
It is smaller than most other scrapers


#4. Orabrush Tongue Cleaner
According to dental school or the University of Buffalo New York, tongue bacteria is responsible for as much as 90% of all cases of bad breath.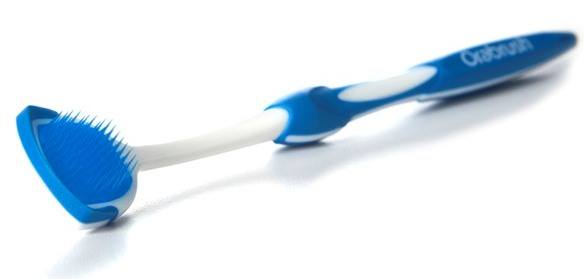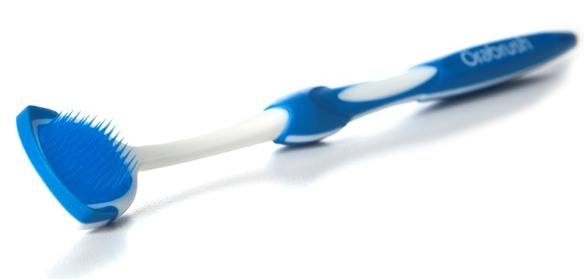 This is why cleaning your tongue is essential and you should add it to your daily oral hygiene routine.
With this in mind, Orabrush created their tongue cleaner. This is a Hybrid – a brush specially made for cleaning your tongue combined with a tongue scraper.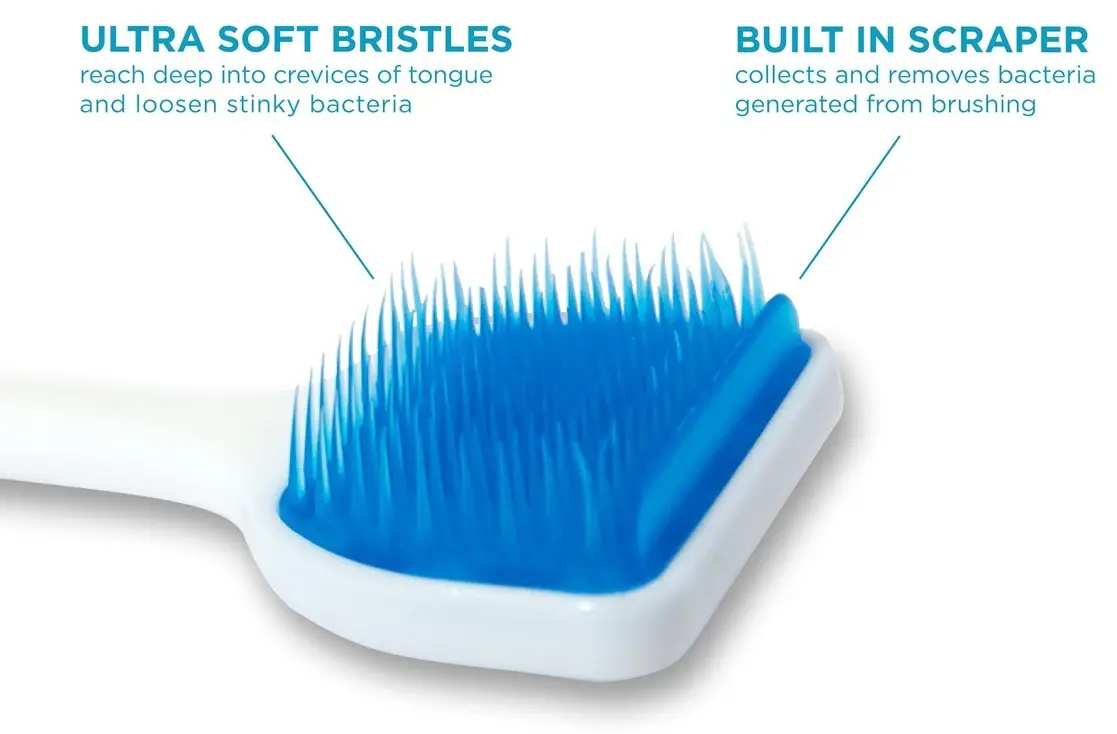 Brush part has ultra soft bristles able to penetrate deep into uneven areas or your tongue, effectively clearing any gunk that has built up over the years. The design of these bristles was inspired by surgeon's scrub brush. The scraper part is there to pull out all that loosened leftovers. This is a very effective combination and will you leave your tongue spotless and your breath  fresh like never before.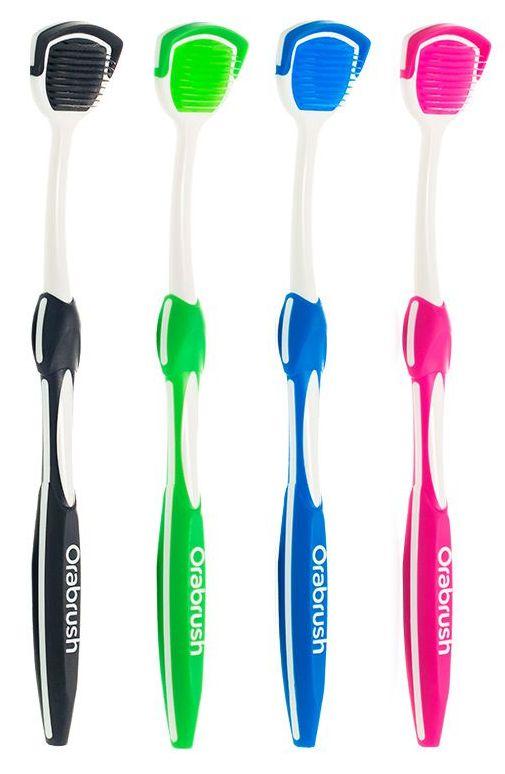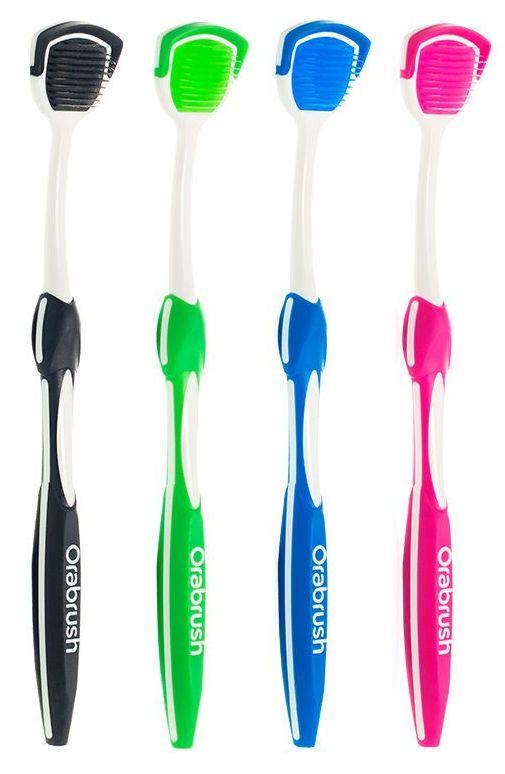 Many doctors use Orabrush tongue cleaner themselves and gladly recommended it to their patients. In order to maximize cleaning efficiency, moisten your tongue first and then start scraping from the back of your tongue. Onto this cleaner, you can also put the toothpaste while cleaning your tongue. It will remove any residue left by brushing and freshen your breath as well.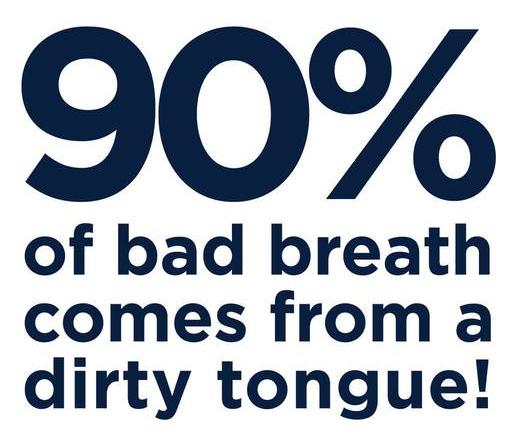 It's very easy to clean just hold it under a stream of running water and make sure it is  completely dry afterward, as it will prevent molding. The only downside of Orabrush tongue cleaner is that it is made out of plastic, so you will be forced to replace it every three to four months. Read full Orabrush Tongue Cleaner Review.
Pros:
Hybrid product – Tongue Brush + Scraper
Effective cleaning
Very affordable pack of 4


#5. Tongue Scraper Ayurvedic Pure Copper Antimicrobial Tongue Cleaner
This product is 100% made out of copper, the only material tongue cleaners should be made out from, as the manufacturer Diamond Dental System claims. This material makes this product one of a kind.
Copper is used in both the ancient and modern medicine for its healing and antimicrobial purposes. Diamond Dental System believes the combination of the modern and ancient medicine is the one true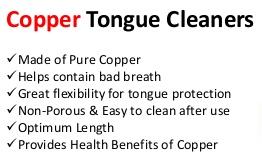 formula for complete dental health.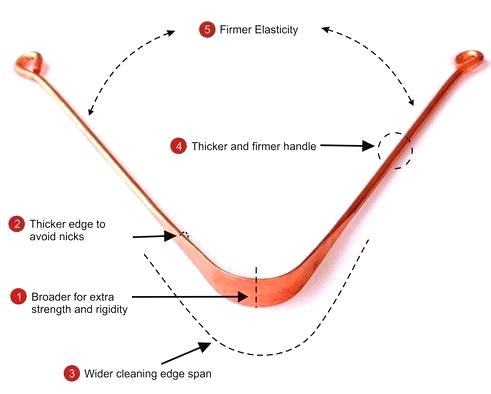 This scraper is really easy to use, as it has very long handles. You will be able to reach deeply, way to the back of your tongue. It doesn't contain any plastic or rubber which means it will never mold. It cleans very well, you will be able to completely clean your tongue in fewer moves.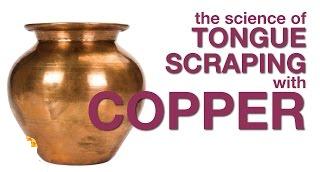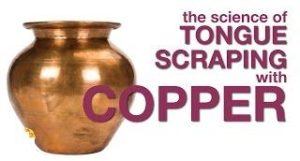 But, the biggest strengths of these tongue scraper is also its biggest flaw – copper – it oxidizes over time.
Pros:
Copper made
Antimicrobial
Long handles
No molding
Cons:
Cooper is prone to oxidation over time


Related Products
To enhance the effect of using tongue scrapers consider adding mouthwash for bad breath to your arsenal. Using one of the top water flossers on the market can also help to keep the mouth clean of bacteria.
Conclusion
You should definitely consider adding tongue scraping into your daily oral hygiene routine if you haven't already done so. It has many benefits – fresher breath, less plaque and bacteria in your mouth, sharper taste.
All 5 tongue scrapers that we presented in this article are a great choice. But if we have to pick the best one we will go with the Dr. Tung's Tongue Cleaner Scraper. This product is not real flaws. It is so well designed, made out of stainless steel and with precision thus any preventing cuts and tears. It is very wide and you will be able to cover more with each stroke and clean faster.
Second best would be Orabrush Tongue Cleaner. Yes, it is made out of plastic, but that is the only flaw of this very effective product. It is a  perfect combination of a brush and a tongue scraper, as it will leave your tongue clean and your breath refreshed like no other product.