You've learned how to select a good toothbrush and how to properly brush your teeth, you wash them after each meal, you never go to sleep until everything around you smells like menthol. But, the dentist each time finds a new cavity! Well, here's the secret … In addition to what we all see when we look in the mirror, the dentist sees something more: the spaces between the teeth. And these are the places where food and bacteria collect as much as elsewhere in the mouth, but they can not be brushed out even with the best toothbrush. Now when we know the cause, it is easy to solve the problem. So, find out more about interdental brushes and how to clean the gaps between your teeth. And start cleaning!
Product
TEPE Interdental Brush Original, Soft Dental Brush for Teeth Cleaning,...
Piksters Interdental Brushes (40 Pack, Size 3 (Yellow))
Oral-b Precision Clean Interdental Brushes, 20 Count
The Doctor's BrushPicks 275 each (Pack of 12)
Denti-Brush Interdental Brushes Wire-Free 30-Pack Of 3
Photo





Product
TEPE Interdental Brush Original, Soft Dental Brush for Teeth Cleaning,...
Photo

Product
Piksters Interdental Brushes (40 Pack, Size 3 (Yellow))
Photo

Product
Denti-Brush Interdental Brushes Wire-Free 30-Pack Of 3
Photo

Are you in a hurry? >>> Click here to see best interdental brushes great for tight teeth and for braces!
[divider style='centered']
7 Best Interdental Brushes – Based On Their Characteristics and Consumer Reports
[divider style='centered']
#1. TePe Interdental Brushes
Excellent and well-made Swedish TePe interdental brushes offer quality and largest selection of brushes. They come in 9 sizes and 3 models – Original, Extra Soft and Angle. Among them you will surely find the ones who match perfectly to your interdental spaces. Brush colour depends on the size of her head and can be pink, orange, red, blue, yellow, green, purple, gray or black. There are also Original Trial Set and Angle Trial Set, so you can easily, accurately and cheaply test all TePe interdental brush sizes and models and figure out which ones are best for you. So, the best way to get started is to buy a pack of one of each size, and after that order individual packs of the ones you'll actually use. And if you're already using other brushes and wish to switch to these ones, no problem, just pick the model that suites you best and the same wire size from the table below.
All models have easy to hold user-friendly handle, cylindrical head, no sharp-end wire and plastic protective cover with ventilation for hygienic preservation or as extension handle. Furthermore, all TePe interproximal brushes have long-lasting plastic coat over their fibers and wire, which allows safe and gentle cleaning. This is especially important for people who have implants, bridges and orthodontic appliances. Their thick high quality made fibers thoroughly clean plaque between the teeth and easily slide on teeth surfaces without damaging them. They are perfect for everyday use. TePe brand is not offered in stores. Great thing is that you can find it much cheaper online and as bigger packages, then in dental offices or pharmacies.


Brushes that are smaller (marked by the numbers 0,1,2 and 3) have a flexible neck for easier access, particularly to inaccessible areas between the back teeth. And do not worry if you bend the base of the wire during use, they will not break. These interproximal toothbrushes last long enough in comparison with other brands. You can use each one about 1-2 months before the thin wire gets too bent to straighten out.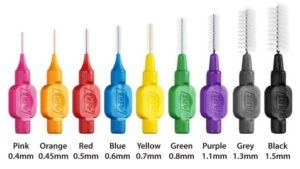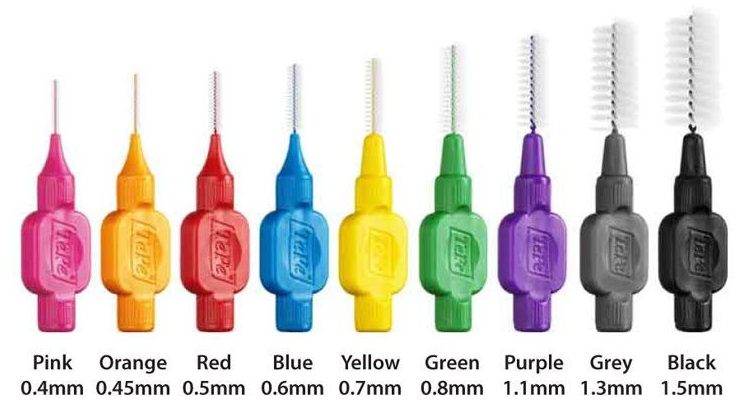 Original TePe interdental brushes have flat and short handle which allows stable grip and easy handling. The fibers of these brushes are soft, but sturdy. We distinguish nine sizes from 0-8. They are specially designed for cleaning particularly between the front teeth, as well as around orthodontic appliances, bridges and implants where regular toothbrush can not reach.
[thrive_link color='orange' link='http://amzn.to/2gArqxz' target='_blank' size='small' align='aligncenter']Check Price[/thrive_link]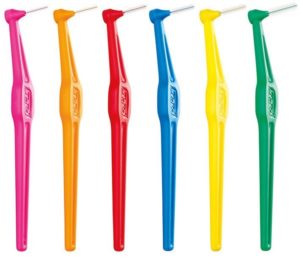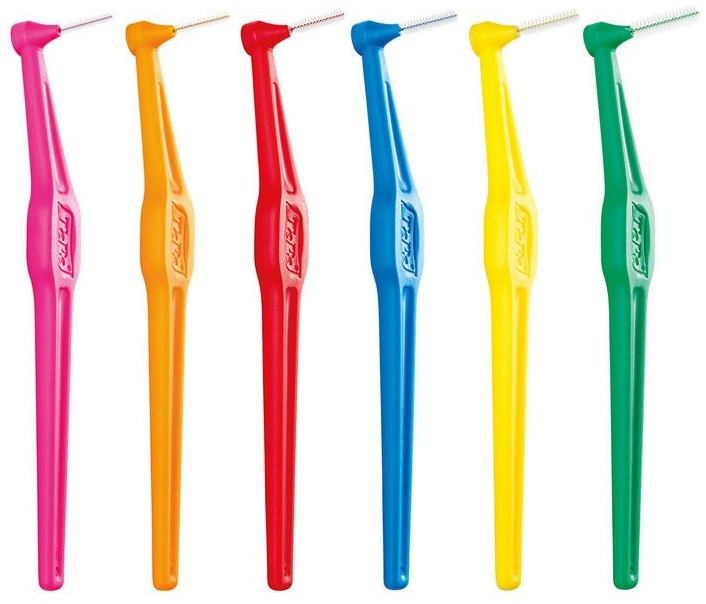 Angle TePe brushes have the handle angled to the brush head for improved access between the back teeth. The fibers of these brushes are soft and we distinguish six sizes from 0-5. They are also great to use when you have a gap between two back teeth. The long flat handle is excellent to firmly and naturally grip the brush at the exact position you want.
[thrive_link color='orange' link='http://amzn.to/2gFmlCo' target='_blank' size='small' align='aligncenter']Check Price[/thrive_link]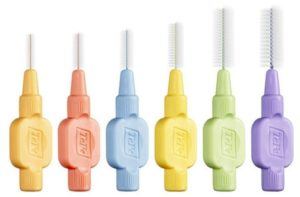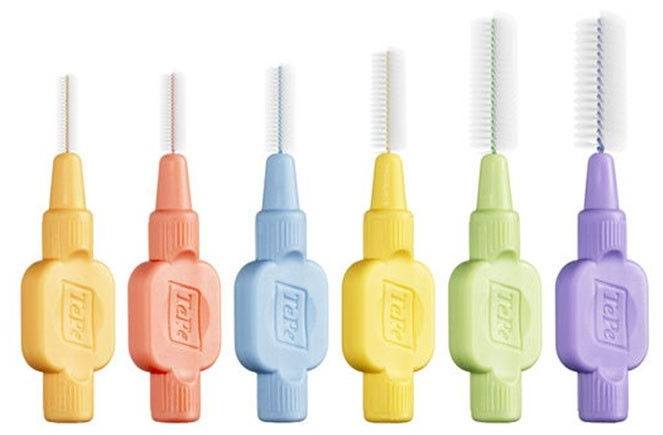 Extra Soft TePe brushes, as well as the Original ones, also have flat and short handle. We distinguish 6 sizes from 1-6. These are especially recommended for pregnant women, after oral surgical interventions, to people who have very sensitive gums, to those with severe form of gingivitis, as well to all those who prefer softer brush. Unfortunately, these brushes do not have Trial Set. But their sizes are the same as previous ones, so you can try out them first and then switch to extra soft option.
|   |   |   |   |   |   |   |   |   |   |
| --- | --- | --- | --- | --- | --- | --- | --- | --- | --- |
| Original | | | | | | | | | |
| Extra Soft | | | | | | | | | |
| Angle | | | | | | | | | |
| Colour | Pink | Orange | Red | Blue | Yellow | Green | Purple | Gray | Black |
| Brush size | 0 | 1 | 2 | 3 | 4 | 5 | 6 | 7 | 8 |
| Wire size | 0.4 mm | 0.45 mm | 0.5 mm | 0.6 mm | 0.7 mm | 0.8 mm | 1.1 mm | 1.3 mm | 1.5 mm |
[one_half_first]        
Video
with instructions on how
to use
 TePe             Interdental Bush – 
Original
 and 
Extra
 S
oft
[/one_half_first][one_half_last]              
Video
with instructions on how
to                          use
TePe Interdental Brush – Angle[/one_half_last]
#2. Piksters Interdental Brushes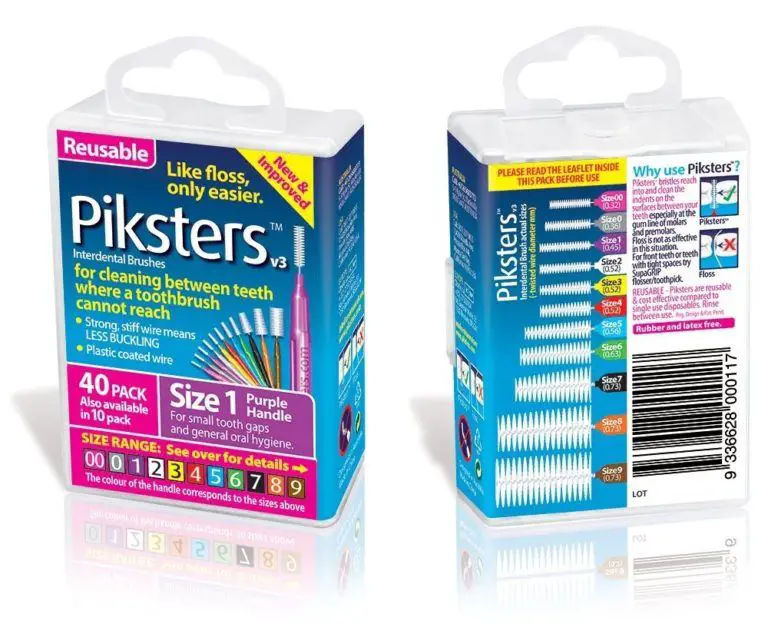 Another excellent brand of interdental toothbrushes are Piksters brushes. These durable high quality brushes are offered in 11 different sizes – 1 Extra Small (00), 8 Regular sizes (0-7) and 2 Extra Large Perio sizes (8 and 9). The colour of the handles corresponds to the sizes. These brushes are made only in one form with long user-friendly handle. Piksters also offer Multi-pack option for trying different sizes, so you can easily and precise test which sizes are best for you.
These interproximal brushes basically look like long toothpicks with bristles, very easy to use.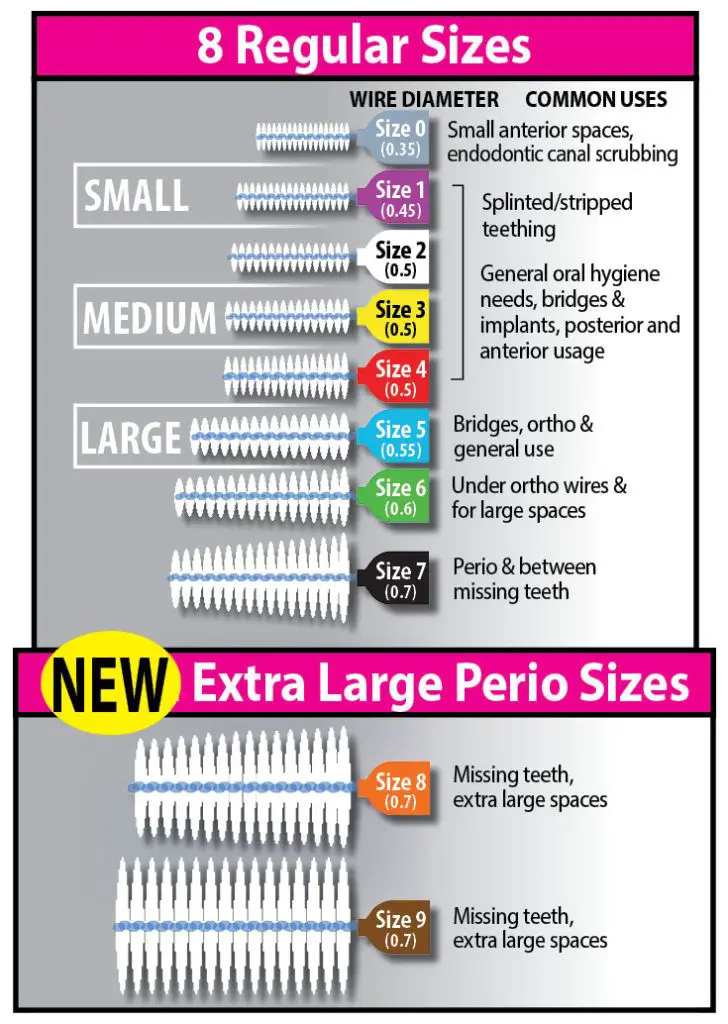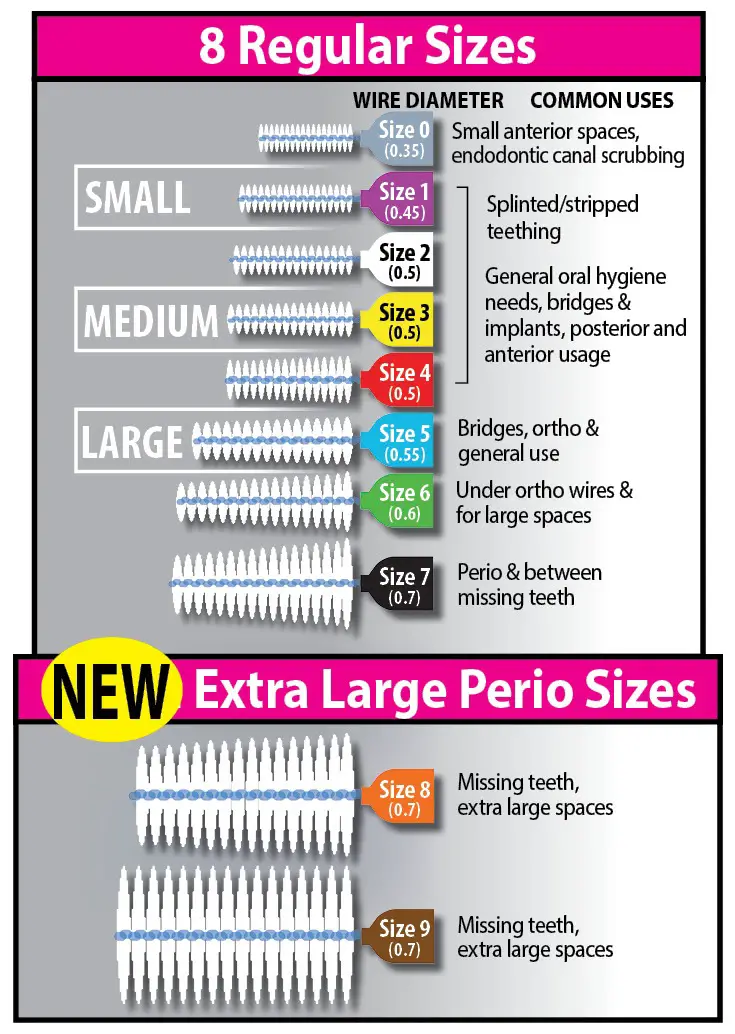 Characteristically for them is that their bristles compress when inserted into interdental space and spring wide open when removing. This makes them great for cleaning those hard to reach areas between two teeth. Each brush has it's own cap, which keeps the brush clean between uses.
Smaller sized brushes have cylindrical head shape, while in those with higher numbers the head is tapered. They perfectly adapt to almost all interproximal spaces. Each size basically has its own area of use which, as a great guideline, can be seen on the back of each box. Durable nylon made bristles are soft and gentle on teeth and gums. The twisted wire in the center is strong and plastic coated, which makes it hard to break even if bended after use. All this makes them safe for use especially in people with sensitive teeth, crowns, implants, bridges, braces or periodontal disease who need to take special care of their teeth. Piksters interdental brushes really hold up well, even when used several times each day for over a month.
 
 
 
 
 
 
 
 
 
 
 
Brush size
0
1
2
3
4
5
6
7
8
9
Handle colour
Gray
Purple
White
Yellow
Red
Blue
Green
Black
Orange
Gold
Wire size
0.36 mm
0.45 mm
0.52 mm
0.52 mm
0.52 mm
0.56 mm
0.63 mm
0.73 mm
0.73 mm
0.73 mm
Head shape
Cylindrical
Cylindrical
Cylindrical
Tapered
Tapered
Tapered
Tapered
Tapered
Tapered
Tapered
Usage
Very fine tooth gaps and inside gum pockets
Small tooth gaps
Small to medium tooth gaps
Medium tooth gaps
Medium to larger tooth gaps
Larger tooth gaps,
implants, bridges, orthodontics
Larger tooth gaps, orthodontics, perio
Larger spaces,
perio, orthodontics, implants
Larger tooth gaps, orthodontics, perio
Larger tooth gaps, orthodontics, perio
#3. Oral-B Interdental Brush System

If you prefer to use renowned branded brushes, the Oral-B Interdental Brush System is perfect choice for you. It consists of one holder and two types of replacement brushes – cylindrical and tapered. The holder has specially designed long blue handle for comfortable handling and effective brushing. On it's top there is easy to use snap-lock head which firmly holds replacement brush in place. The Oral-B interdental brush refills also come in cylindrical and tapered shape. One package includes 6 Oral-B interdental refills cylindrical or tapered.
The latest version of Oral-B interdental brush head has nicely soft bristles that do the excellent job in cleaning food particles, and do not harm neither tooth enamel nor gums. Also, the wire bends very easily to enter into the interdental area, so they are found to be very easy to use. The only downside is that the brushes are made in just one size – Medium. Therefore, the Oral-B Interdental Brush System is best suited for cleaning in between wide spaces between teeth, metal bridges, implants and orthodontic metal braces.
|   |   |   |
| --- | --- | --- |
| | | |
| Oral-B Interdental Brush System - Starter Kit | Oral-B Interdental Brush Refills Cylindrical | Oral-B Interdental Brush Refills Tapered |
#4. The Doctor's BrushPicks Interdental Toothpicks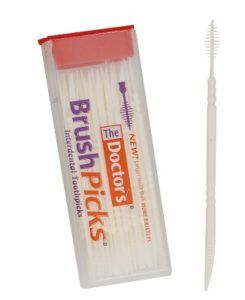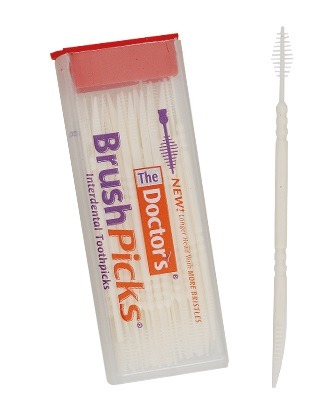 As the name says itself – The Doctor's BrushPicks Interdental Toothpicks are bringing best from both its sides literally. At one end there is a small plastic toothpick specially designed for safe cleaning and massaging gums. It bends very easily if needed to enter into tight spaces between teeth. Also, these interdental picks have soft tapered brush set at the other end which effectively sweeps away flood debris. Even they are made in only Small size – the toothbrushes clean completely in one stroke. Especially when using them to clean at the base of your teeth.
Gently brushing underneath the tip of your gums is far superior in removing food debris from that area then flossing.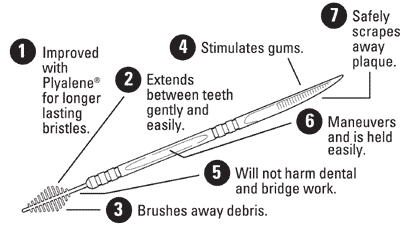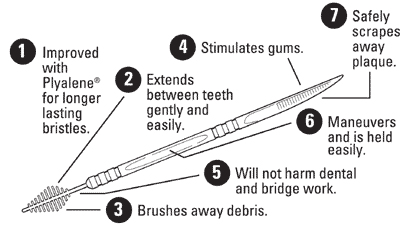 Flossing will not remove as much food debris from under the gums, while the brush will remove almost everything.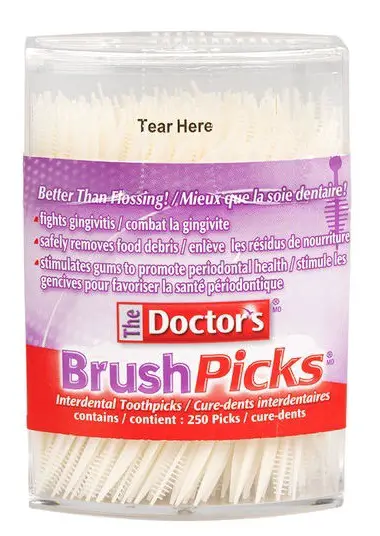 But actually, how good is to use a toothpick? As we've all already experienced, it's great to remove annoying pieces of food stacked between teeth with a toothpick, which floss does not get. But be careful, long time picking your teeth can cause losing surface enamel of the teeth and gum recession. And the habit of keeping a toothpick in the mouth can cause damage to teeth and jaw joints. Great thing is that with Doctor's toothpicks you do not have to worry about crashing the top of toothpick into the gums, like with the regular wooden ones. Thanks to its rounded top your gums are safe from stinging. So if you are a toothpick fan, then these picks are just the right solution for you. Packed in a small box, they are perfect to store where ever they need to be close at hand – in purse, pockets, car gloves department, at work… There is even a keychain dispenser which can be refilled. Bigger package contains 275 of these brushpicks, so you will not run out for a long time.
All in all, The Doctor's BrushPicks Interdental Toothpicks are simple and great portable solution for all of us who are on the go and enjoy healthy and clean teeth and gums.
|   |   |   |
| --- | --- | --- |
| | | |
| Bigger package | Keychain dispenser | Smaller package |
| contains 275 picks | contains 15 picks | contains 120 picks |
#5. Denti-Brush Wire-Free Interproximal Brushes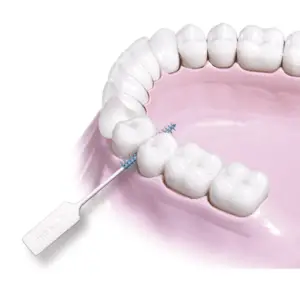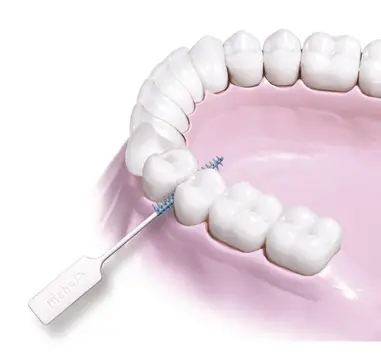 This widely used brand of interdental care products offers two types of high quality interdental brushes. Both are nicely soft and extremely comfortable to use.


The first type are wire free interdental brushes. They come only in one size. Nevertheless, small and very flexible, it can adapt to almost all sizes of interdental spaces. Thanks to its tapered shape, like small Xmas tree, this brush is ideal especially for small spaces between teeth (0.1-0.3 mm) in people who find flossing difficult. It is also great to be used after surgical interventions in gums region. It is made of rubber-like latex free material that slides easily and effectively massages gums. It is proven in many clinical studies that these daily massages increase blood circulation in gums, helping to make them more resistant to disease such as gingivitis. Since Denti-Brush interdental brushes are wire free and have no metal parts, there is no possibility of "galvanic" shock in contact with implants, amalgam fillings or metal crowns. Another great characteristic is that they are coated with fluorides which helps in preventing teeth cavities. They also come with handy travel carrying case for hygienic storing between uses.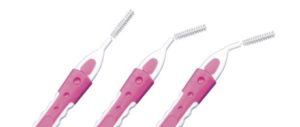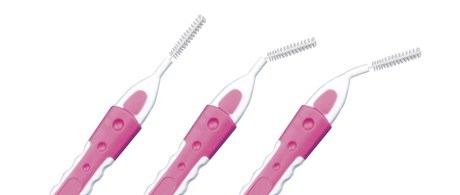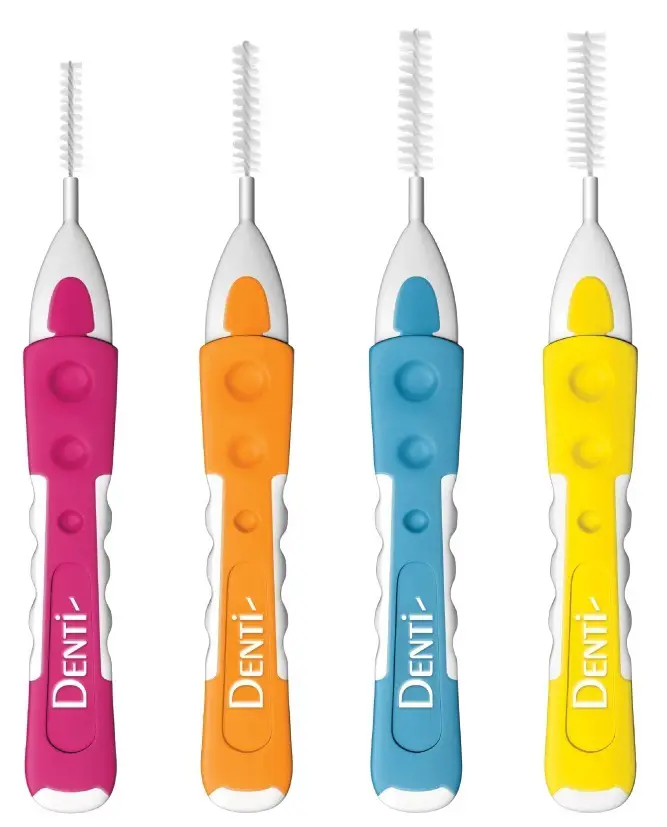 The second type of Denti-Brush interdental brushes have plastic-coated wire in the center of its head. But in these brushes the wire is made of stainless steel like the one used for surgical instruments. Again, this way the possibility of "galvanic" shock and damage to the gums and teeth is reduced to minimum. Thanks to new so called "pivot" technology, the cylindrical head of these brushes is bendable to a 45º angle in all directions without breakage. In combination with it's long rubberized handle, it is easy to access all hard to reach areas at the back teeth (such as upper and lower molars). Each brush has its own plastic protective cap. They are suitably available in 4 sizes from 0.4-0.7 mm, each marked with different neat handle colour. Each brush lasts satisfactory long, up to two months of daily use.
 
 
 
 
 
 
Wire size
0.1 mm at top
0.3 mm at base
0.4 mm
0.5 mm
0.6 mm
0.7 mm
Head shape
Tapered
Cylindrical
Cylindrical
Cylindrical
Cylindrical
Handle colour
White
Pink
Orange
Blue
Yellow
No in package
30
6
6
6
6
#6. Plackers Interdental Brushes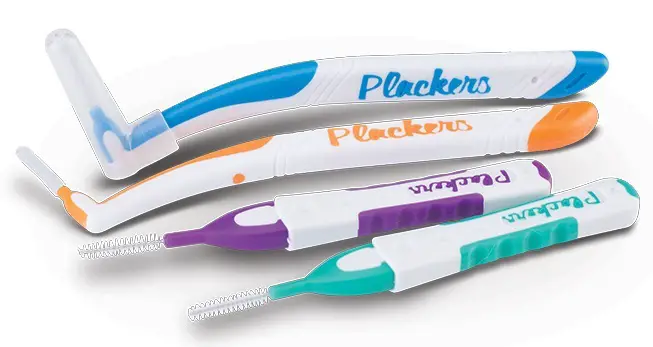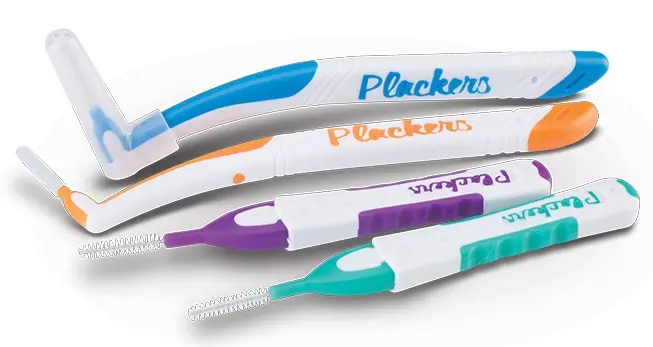 Carefully designed and engineered Plackers brushes come in two basic shape types. Even that their handle colors may differ, they all have durable soft bristles and come in same size – 2.2 mm of head diameter.
Plackers Angle Brushes have brush head positioned under the angle of 135 degrees to the handle. This allows the brush to easily access to all hard to reach interdental spaces especially between upper and lower back teeth.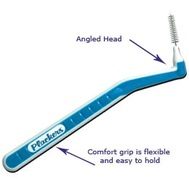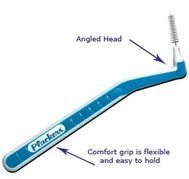 The cylindrical head is also extra flexible to remove all trapped food particles from tight spaces which is especially important for people with braces, implants and dental bridges. Also, all dental work is perfectly safe from damaging and scratching since the wire in the middle is fully plastic coated. Thanks to specially designed comfortable handle made of rubber, the brush does not slip from hand which makes it easy to control during brushing. Each brush has its own protective cap which keeps it ventilated, clean and ready to use.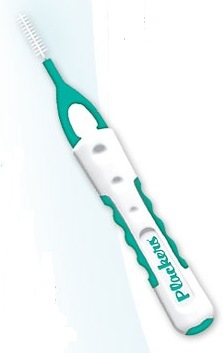 Plackers Dental Brushes have brush head that continues in straight line along the handle. Also, this cylindrical head is extremely flexible and can be bent up to the angle of 90 degrees. Because of that they are perfect for cleaning tight spaces between upper and lower front teeth and around implants and bridges in that regions. Further on, they have all the same great characteristics as angled ones.
|   |   |   |
| --- | --- | --- |
| | | |
| | Plackers Dental Brushes | Plackers Angle Brushes |
| Head size | 2.2 mm | 2.2 mm |
| No in package | 10 | 10 |
| Handle colors | Multicolor | Multicolor |
#7. Colgate Total Interdental Brush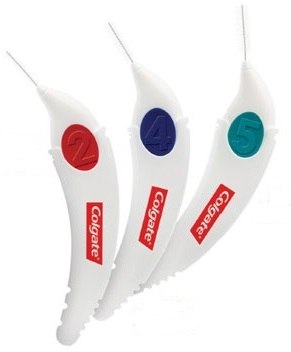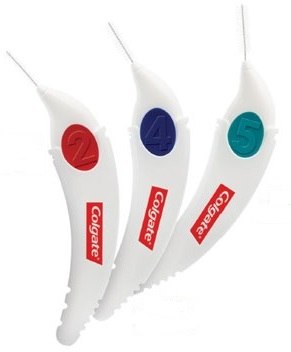 We could say that, on first look, Colgate interdental brush is just another brush, not so many different as all previously described interproximal brushes. But, the truth is that this brush is anything but the same. It comes with a unique designed holder for easy access to hard to reach back upper and lower molar areas. The brush can also be used without the handle extension for cleaning front incisor area. These various configurations allows Colgate interdental brush  to adapt to different gaps between teeth from all angles, which also makes it suitable for all hand sizes. Also, the same holder can serve as protective cap if needed.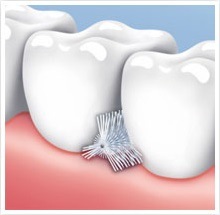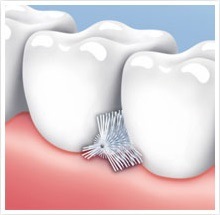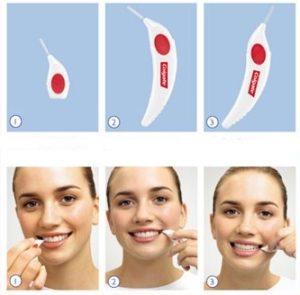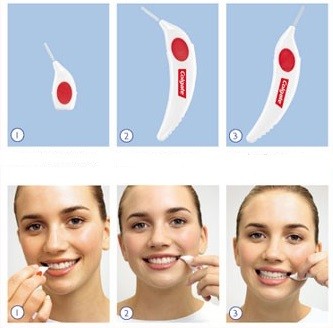 The other uniqueness is related to the head of the brush – on cross-section it is triangular. This special head design matches the natural triangular shape of gaps between teeth. So, this perfect fit enables complete removal of food particles and dental plaque from interdental spaces where cavities and gum disease usually start.
Colgate Total Brush Kit contains 4 Soft different sized brushes and one handle extension compatible with each brush. Given that interproximal spaces in one person are also different in size, this kit is excellent for complete care of all of them.
 
 
• Red - Very Fine - 2 mm Triangular Head Diameter
• Blue - Fine - 4 mm Triangular Head Diameter
• Green - Medium - 5 mm Triangular Head Diameter
• Orange - Large - 6 mm Triangular Head Diameter
The tooth has five sides – do you clean them all?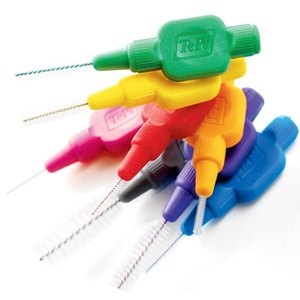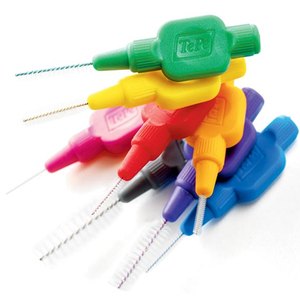 Did you know that a regular toothbrush cleans only 60% of the teeth surfaces? Oral hygiene is the basis of oral health. Most of us are quite satisfied with our oral hygiene, and are also assured that we are doing all that is necessary. But, many of us actually do not know that, in order to achieve excellent oral hygiene, it is not enough to clean teeth just with toothbrush and toothpaste. Specifically, each tooth has five surfaces.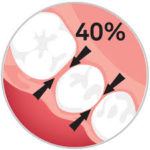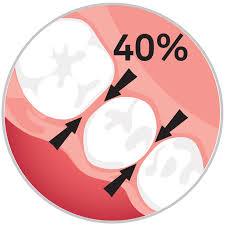 An excellent manual toothbrush can successfully clean only three – the front, the back and the biting surface. But often we forget to clean their side surfaces. As well as the space between two teeth. For this purpose, the corresponding interdental cleaners should be used. These include interdental brush, dental floss and/or interdental stimulator. Only when all five surfaces of each tooth are clean, we can talk about a thorough dental hygiene. Also, people who have bridges, crowns and implants or wear fixed orthodontic appliances, must devote special attention to hygiene of these so called interproximal areas.
Where does gingivitis begin?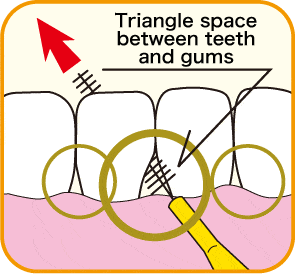 In the region between two teeth, gum's shape and surface are little bit different than in areas that are easily visible. These triangle gaps between two teeth are filled with the part of the gums (gingiva) which has the shape of a pyramid. It is called interdental papilla. In simple terms – due to its location in teeth gaps, the gums are less protected from the effects of bacteria from dental plaque. Therefore, it's cleaning is very important, because inflammation of interdental gingiva (gingivitis) first starts in these areas.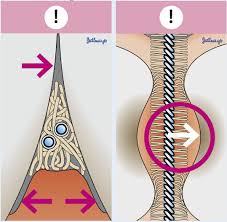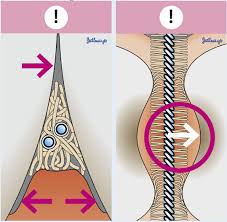 The gums are healthy if they are firm to the touch, and also if their color is light pink. Inflamed gums are red, swollen and easily bleed on touch or when brushing. A superficial brushing only with the regular toothbrush does not remove all the plaque, and also does not penetrate in the interdental spaces. The remaining bacteria on the upper edge of the gums and those who happily feed in the interproximal area quickly reproduce. This leads to the occurrence of defensive reaction in the mouth. First, inflammation of the gums occurs. That is gingivitis. The next stage is periodontal disease. It develops gradually, imperceptibly over a period of a few to as many as twenty years. Then the teeth begin to fall out. If you notice that your gums bleed when you brush your teeth, it is a sign that they are already diseased.
Are we done? All plaque and bacteria are removed? What about the spaces between your teeth? With what to clean interdental spaces?
Very often, dental professionals mention interdental care along with the term of complete oral hygiene. That is because interdental spaces are very important for the health of your teeth and gums. The first changes on gums occur right in these areas. After each meal, dental plaque is constantly formed between the teeth. Unfortunately, it is impossible to completely remove it by regular interproximal brushing. And that is why gingivitis and periodontitis are mostly expressed exactly there.
What is an interdental cleaner? Different interdental products can be used for the removal of bacterial plaque from gaps between teeth. These are interdental brushes, dental floss and/or interdental stimulator. And their use is just as important as teeth brushing with a toothbrush. These so called interdental aids or cleaners penetrate in the spaces between the teeth where toothbrush fibers can not reach. They completely remove food residues and in that way prevent the formation of plaque, tartar and interdental cavity.


By daily cleaning of interdental spaces, gum disease and interproximal caries can be successfully prevented.
There are two very easy steps for healthy beautiful smile and fresh breath:
1. First brush your teeth thoroughly with toothbrush and toothpaste. Twice a day is just enough – in the morning and in the evening 30 minutes after last meal.
2. Never forget to clean between teeth using interdental brushes or floss.
Your teeth and gums will be healthy, and ultimately, you will profit financially because you will significantly reduce the cost of expensive repairs and treatments in dental clinics.


What is an interdental brush?
That is a specially designed brush which is used to remove food remains and plaque from interdental areas. It may have cylindrical or tapered shape. It's fibers are set like spokes on a bicycle wheel – radially extending from the center where they are fixed to the wire. Working surface of the brush is in the form of Christmas tree, spiral and small in size, so it can be pushed between the teeth.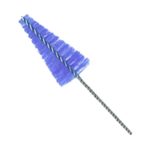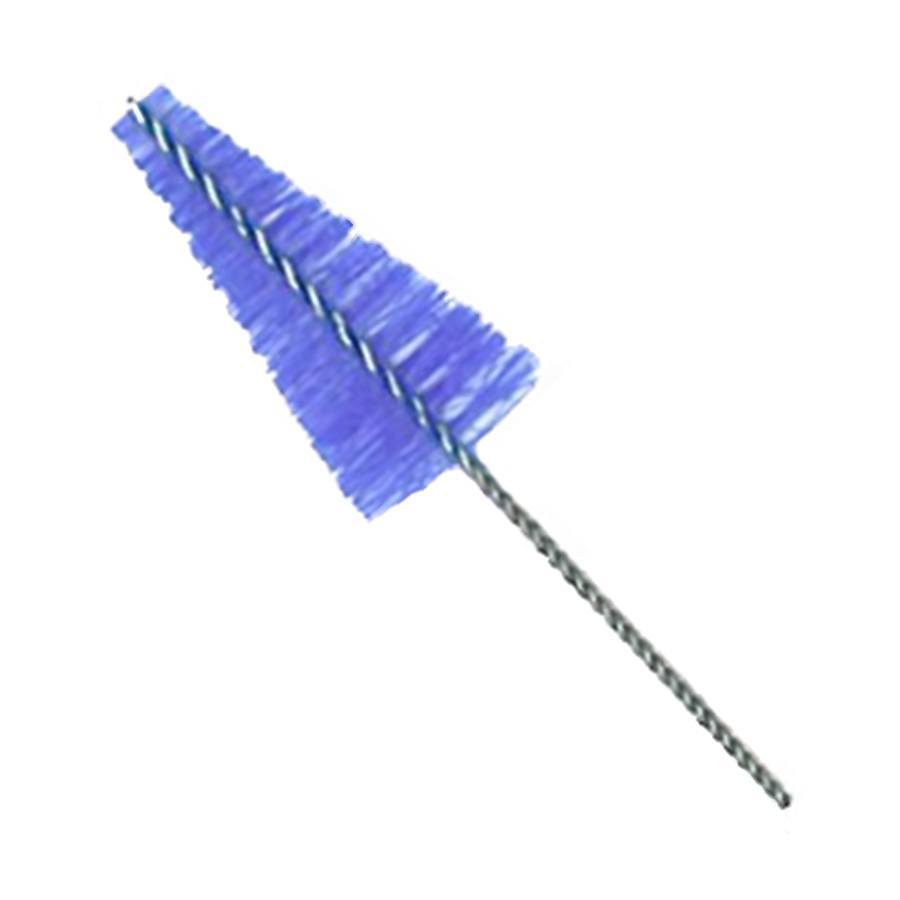 Due to the ease of introducing in the gaps between teeth, it is often compared with dental floss. But in general they are not similar at all. 
It is only partially possible to clean spaces between teeth with the conventional brushes, as their fibers can not reach their depth. Therefore, for the cleaning of these hard to reach areas, we should use brushes that have the dimension and shape adapted to interdental spaces.
When is the use of interdental brush recommended?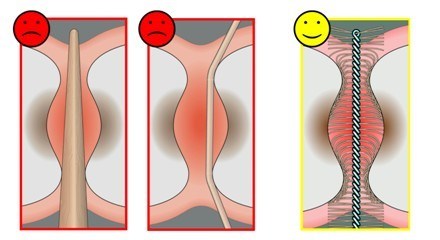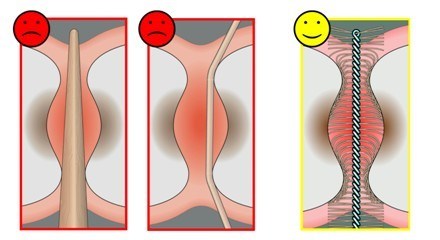 Before you start reading about the proper use of interdental brushes, you should know that they are not recommended for everyone. Sometimes the teeth are so densely packed, especially the front ones, that even the dental floss is difficult to be squeezed between them. In that case, using brushes could cause more harm than good. But, compared with dental floss and interdental stimulator, the brush has the best access to all hard to reach areas of the teeth. This is primarily between the molars, where the lateral contact surfaces between the two neighbor teeth are in the form of dent. 
What is an interdental brush used for?


The use of brush is the best solution if you have a naturally larger spaces between the teeth, or if your gaps between two teeth are extended due to the gum disease. They are very useful for cleaning under dental bridges, around crowns, implants and braces. Also, patients who had gum surgery should necessarily use them.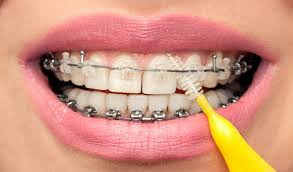 Sometimes, it may happen that brushes are better choice for interproximal cleaning between majority of teeth gaps, while for others dental floss is more suitable. In general, these interdental cleaners can be used for the cleaning of most of the spaces between the teeth, while the floss is the right choice only for very narrowed interdental spaces. Do not ignore the specifics of the various zones of your teeth if you really want to properly maintain them.
Interdental brushes vs floss


Are interdental brushes as good as floss?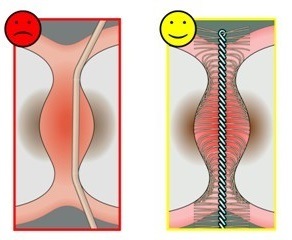 Yes, and in most cases they are even much better. Many of us wonder whether it is better to use interdental brushes or floss. There is no doubt that the dental floss is a good means for maintaining hygiene of interproximal spaces. It is definitely the best solution in cases where the teeth are so close to each other and can not be cleaned even with the smallest interdental brush. But, the disadvantages of the floss are especially shown when cleaning recessed teeth areas (such as between molars), because they can not be completely cleaned with it at all.



Another way to clean interdental areas, plus pleasantly massage your gums, is to use interdental stimulator. It is also called gum stimulator. This massage is very important if you have diseased gums. This way, in your gums, you stimulate a better flow of fresh blood rich in defense cells. Thus increasing of their ability to defend against bacteria that accumulate in the gaps between two teeth. So, in the case of gingivitis, it is best to use the simulator after a thorough cleaning with interdental brush. They also polish adjacent teeth surfaces that are in contact. This is great way for preventing cavities, because on smooth surfaces it is much more difficult to retain remnants of food after eating.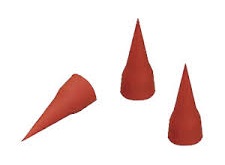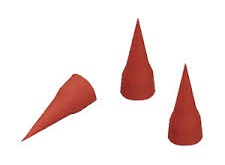 Interdental stimulators may be made of rubber or plastic. Both are equally effective. This interdental cleaner consists of a handle and a head which has a conical shape. Thanks to that, the head of the stimulator easily penetrates into the interdental spaces. It's use is easy and quick. Place it between two teeth and point it's top under the angle of 45 degrees to the upper gum line. Then slowly insert into the space and circle it for a few seconds. After removing, rinse with water and then move to the next space between the teeth.
Types of interdental brushes
When we look at the physique of the brush, most of them have a thin

wire core in the middle.

That gives them rigidity and allows the brush to easily slip into gap between two teeth. There are also so-called

wire free

interdental brushes.
According to the shape of the head, we distinguish

cylindrical

and

tapered

 interproximal brushes (narrowed on the top and look like Christmas tree).
Their head part can be located in the same direction as of the handle or at an angle to the handle (

angled

interproximal brushes).
These brushes also differ according to

the size of the head

. They are produced in several sizes and marked form 0 to usually number 8 or 9. Their colors also vary, so it is very easy to know and remember which brush is for which area. You should chose it according to the size of each of your interproximal space. As a rule, the back teeth have wider spaces then the front teeth.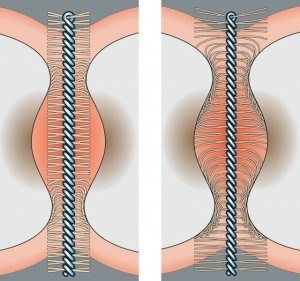 It is very important to use most optimal interdental brush size, neither too small nor too big. Too small one will not fill entire space between teeth and therefore it will not be completely cleaned. While, too large brush will damage the gums. Only with appropriate brush, which completely fills the interdental area, you can fully mechanically remove plaque from the lateral surfaces of the teeth.
How to choose the right interdental brush?
THE REAL KEY TO EACH LOCK
As already said, it is very important to use the appropriate size of interdental brush. Too small brush will not thoroughly clean the entire interdental spaces, but too big one will hurt the gums between the teeth.


It is also important to know that not all gaps between teeth in your mouth are the same size. So, it is necessary to select the correct brushes that will fit for each one. For advice on their selection it is best to ask your dental hygienist or dentist. They can accurately measure the size of each region between two teeth and determine the ideal brush for every space. The special IAP probe is used for this procedure. If this is not possible, you can perform the measuring by yourself and quite accurately determine just by trying different interdental brush sizes. There are excellent TePe or Piksters brush sets for beginners, with all brush sizes, so you can easily evaluate which ones suit you best.
Start testing from ones with low to high number. The biggest brush that you can introduce into interdental space, using a light pressure and with no pain, is the best one to use. For those gaps which the brush can not pass through, you would need a smaller one form the set or even dental floss. Many people will be required to use different dimensions of interdental brushes in different teeth regions. Space's sizes vary between incisors and molars, and even among same teeth on the opposite side of the jaw. Therefore, it is may be necessary for you to use several different brushes. You can use the same brush to clean those interdental spaces that are the same size.
It is also useful to know that the dimension of the brush's head depends on the thickness of the core wire and the length and thickness of its fibers too. So, when you select the ideal toothbrush make sure that the wire in the middle of the brush is not too thick. In that case the brush can smoothly go through the entire interdental space and it does not thereby damage the gums. Fibers should be thin and long, in order to fully fulfill the interdental space. Only then the plaque will be completely removed from the entire region between two teeth.
At the end, to simplify, the ideal brush is the largest one that you can with light pressure, easily and without feeling any pain, swipe through the entire interdental space!
How to use interdental brushes?
When you use the interdental toothbrush for the first time, it is necessary to know that there is high probability that your gums will bleed more or less. And this is quite normal. Do not be afraid, they do not bleed because you are hurting them. The areas between the teeth have been filled with food debris for so long time, so lot of bacteria have been created there which led to the infection and inflammation of the gums. Now, since you started to clean these spaces properly, you will remove a source of infection. The inflammation will pass and the bleeding will stop soon after a few cleansing. Just have in mind that interdental spaces then may be slightly increased. Therefore, it's necessary to check whether the same size of interdental brush still suites for that space or it is necessary to change it for a bigger one. If the bleeding doesn't stop after two weeks it is best to consult your dentist.
This interdental cleaner is used differently than a manual toothbrush – it is simply introduced into the interdental space and then pulled out.
Do not insert the brush and rotate or twist between your teeth. That is NOT how they are designed to be used because that way you can damage your teeth and gum tissues – by scrubbing away with an extreme twirling motions.


[one_third_first]
1.Whether you use only a brush or a brush with holder, it's "working part" (that's the part with fibers) should be put on entry into the interproximal space. That is between two teeth at gum level. Look for the ideal angle that allows it, with small pressure, to enter between the teeth. Gently insert the brush through first half of the space.
[/one_third_first][one_third]
2. Then, gently suppress the brush through the second half to it's end. If at any time you feel resistance or pain, it is best to stop, pull out the brush the same way and start over.
[/one_third][one_third_last]
3. When the brush is fully in the gap, make a few moves back and forth and pull out the interdental brush. During the movements of introducing and pulling, radially mounted fibers remove interdental plaque. Rinse under running water and proceed with the cleaning in the following interdental area. Always thoroughly clean the brush between each interproximal space to avoid cross contamination.
[/one_third_last]
Check out also our Best Electric Toothbrush for Gums Review!
How often to change interdental brushes?
How long do interdental brushes last? After each use, they should be carefully rinsed with water and left to air dry. Same as with ordinary toothbrushes, interdental brush should also be changed when fibers gets deformed. This is because they can not thoroughly clean every region between two teeth. That's usually after 1-3 months of daily use.
[thrive_posts_gallery category='96' title="More Related Posts" no_posts="5″ filter="recent"]