Waterpik is an irrigator of oral mucosa and the teeth surfaces. This device is intended for home use and warmly recommended to everyone.
Why Use a Waterpik?
People who suffer from periodontal diseases can significantly improve their oral hygiene, and thus greatly improve the prognosis of the disease.
Simply said Waterpik is great for gums. For those that have compacted dental arch, this device can significantly make cleaning easier, especially for hard to reach surfaces of the teeth. And for all the others it will certainly come in handy as an aid in maintaining their oral hygiene and preservation of oral health.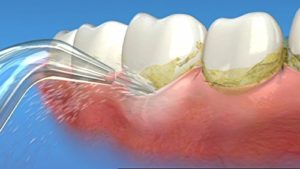 Anyone who has any fixed prosthetic work done, for example, metal-crown, metal free crowns, crowns on implants, dentures or orthodontic appliance, if you want to extend the life of these prosthetic devices and maintain healthy teeth under fixed prosthesis, you would have to get this product.
Water flossers come in several different groups: countertop, cordless and combo. Each one is catering to a different group of people with different lifestyles. Countertop water flossers are excellent home appliances which can take a little bit more space in your bathroom compared to other types but have the greatest water vessel capacity and the greatest number of different features and power settings available.
To see table comparison of all the Waterpik models currently available on the market take a look at our mega Best Waterpik review! When ordering online, Waterpik order status will be provided to you via email. We have listed both new and old models and compared models from each group of water flossers to help you choose the right one for you.
If you are interested about how to properly use a Waterpik, please read our review mentioned above. Reading our review article is also recommended to learn about using a Waterpik with braces. This should also answer the question about best way to use Waterpik. One more use of the water flossers is in removing the tonsil stones.
In case you need to travel often or just need to conserve some space in the bathroom pick one of the Best Cordless Water Flossers. In addition, we have selected top 5 Waterpiks overall, based on their specifications and consumer reports. We believe that this gives an accurate picture of the most popular models in the market and more importantly gives you all the information necessary to make an informed decision before buying water flosser. You will also find information about replacement tips available for each model and links to reliable online shop where you can always find replacement tips you need.
Waterpik is so famous that many people would like to work for the company. Waterpik careers is a term that is often searched online. One of the often asked questions is: is Waterpik as good as flossing? Yes, and in fact it is better than flossing and completely replaces it in your daily dental hygiene.
Here is Waterpik water flosser before and after photo: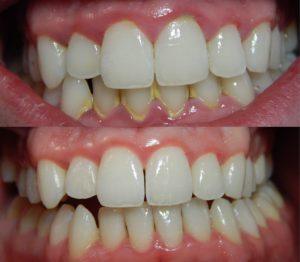 After looking a this photo somebody could ask: Should I use a Waterpik if I already brush regularly and have healthy teeth?  Congratulations on that! Using water flosser can only help you further and clean more throughly as has been proved by clinical trials.
Waterpik water flosser – how to use it? It is not difficult, but it take a little to get used to. Once  you get it, you will be flossing like a champion. Waterpik also has a FLA-220 Waterpik power flosser which is a cheaper alternative to dental floss and it uses batteries.
[thrive_posts_gallery category='95' title="Top Water Flosser Posts" no_posts="4″ filter="popular"]