When it comes to the field of dentistry, we realize that most people do not actually understand the difference between a general dentist and an orthodontist. To cut things short, the main difference between the two is experience and education.
Just after a few nights or weekend courses via, such specialists (general dentists) attempt orthodontic treatment with Invisalign or braces. The problem here is that they do not have the right experience, education and the knowledge required to plan and diagnose the treatment correctly. Avoiding and understanding the possible complications before offering, the best possible treatment solution is highly important.
The role of both may seem obvious, but there is some misinformation circulating with regard to the roles of orthodontists and general dentists in treating a patient's oral health. Sure, any dentist receives the training to fill cavities, clean teeth, examine overall oral health, and perform certain dental surgeries, but according to the American Association of Orthodontists, "If you wish to opt for teeth straightening options or fix a bite, then you should consult an orthodontist."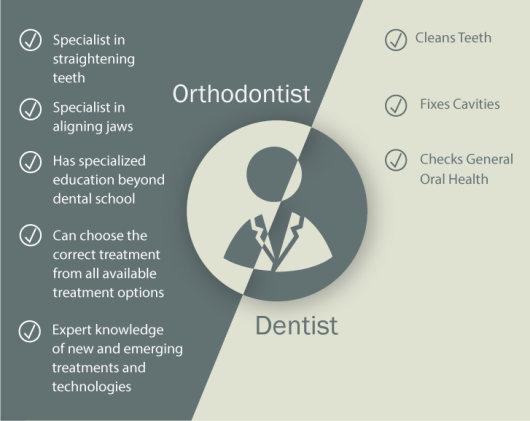 The Similarities
The similarities between an orthodontist and dentist are quite simple! Both have to graduate from a good dental school. During their time in dental school, they have to learn about things like extracting teeth, cleaning teeth, placing filings, and removing cavities. Once they graduate from the dental school, they have to go on and improve their skills in general dentistry.
However, in order for an orthodontist to become a dentist, they have to continue their education for an additional 2-3 training (through residency and continuing education like Gerety Orthodontic Seminars) in both academic and clinical study. In this duration, they do not just have to treat orthodontic cases on patients, but under the supervision of their professors in orthodontics.
Why Choose an Orthodontist?
You should know that orthodontics is a specialization of dentistry, concerned with the prevention and diagnosis and the treatment of poorly positioned jaws and teeth, as well as any form of irregularity of the face. Malocclusion is the technical term for such problems, which specialists also explain as "bad bites." When you choose an orthodontist who has gone through orthodontic continuing education for general dentists, their job is to straighten the teeth, improve the appearance and function of the smile, increase your self-esteem and improve dental health. Their role is to:
Straighten the teeth, align the jaws and advanced cases
Trained to choose the right option for treatment because they work with appropriate options available
Required to study further (an additional 2-3 years) after their time in dental school
Receive training to recognize the possible pitfalls with certain cases and treatments, which means there is a less chance of problems after the treatment begins and completes
They are familiar with emerging technologies and treatments, so they can make the most suitable, the best choice for their patients.
They Both Work Hand In Hand
Some of the dentists claim that they take enough additional training or continuing education to offer braces or cosmetic treatments for their patients. However, this cannot compare to the well-advanced training that an orthodontist receives during the time of his or her education.
Ideally, orthodontists and dentists work hand in hand to ensure oral health and alignment of the jaws and teeth, the best possible way. You should think of a dentist as a specialist you can turn to for a lifetime, a person who makes sure that your gums and teeth remain healthy.
Orthodontists are highly skilled people, who help dentists to straighten the teeth and align the jaw of their patients. Rather than replacing the role of one another, they can both work together in a clinic for the benefit and health of their patients.
A General Dentist Providing Orthodontics
Usually, as mentioned earlier, all dentists must receive as much as 100 hours of training in orthodontics as a part of their basic course. Each student in the class must learn how to work and carry out simple options in treatments, although many of them do not choose to, simply because the treatments can become complex, unexpectedly. A general dentist receives training to correct simple teeth related problems to help them fit together (in the case of an open bite). In general, they restrict themselves to use removable plastic plates.
More Experience Means Better Results
Know that orthodontist specialist stand a better chance of correcting an orthodontic issue successfully compared to general dentists. The reason is quite simple; orthodontists accumulate vast experience and knowledge as they practice orthodontics on a daily basis. General dentists have minimal experience when it comes to moving teeth safely and correctly. Their predominant role is simply to remove caries, clean the teeth and other simpler tasks.
Orthodontists have much more experience compared to general dentists, especially when it comes to fixing issues like an open bite, and other jaw-teeth related problems. They can use dental appliances such as braces and Invisalign to help correct crooked or misaligned teeth. Before you decide to go for your next dental care, it is best that you choose a specialist based on the problem you have. You can research more on your own, ask a friend, your family, or go through the testimonials of the orthodontist you choose to be sure that they are the best ones you choose.