Crest Noticeably White Whitestrips (if you are tight on a budget!)
[thrive_drop_caps color='orange' style='2′]C[/thrive_drop_caps]rest is the creator of many high quality products for teeth whitening. They are a company with a long tradition and great experience in creating whitening products. Many positive reviews for their products speak volumes about the strength of their brand.
Crest claims and advertises these strips as being safe for your enamel and be able to whiten your teeth in as little as few days of use.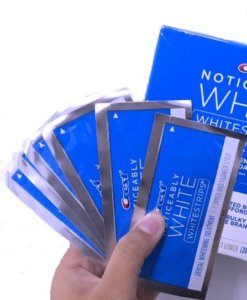 Similar to many other products of this type, these whitestrips arrive as polythene strips and are coated with a very thin film of gel which will do it's job on your teeth and improve the way people perceive your smile.
When compared to other products in the same price range, Crest's Noticeably White has some good advantages.
Design
These Whitestrips are designed with a No Slip Grip which enables them to stay firmly in position and there are no so called "gel bleed" when applied. So you are safe from the gel entering your mouth.

This feature improves the quality of the Crest's Noticeably White and separates it from many competition which often face this BIG challenge with their products.
Ingredients
The main component of many of these gels is hydrogen peroxide which is an active substance that actually does the bleaching. If you had ever tasted in it's diluted form, you know how bad it tastes, and certainly you'd never want to swallow even a bit of it again.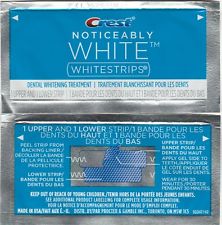 The dose of Hydrogen Peroxide which is contained in these whitestrips is relatively small (6%) and will not hurt your gums even if it spills a little bit when you use it for the firs time. But it can feel very unpleasant if that starts to happen repeatedly like with other brands.
The Package
With each package you will get 20 strips and they are enough for a 10 days of application. Two are used at the same time, one for the upper and one for the lower teeth.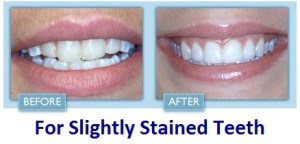 For Whom Are They Intended?
If your teeth are already in pretty good condition and you would like to increase the brightness by a couple of shades, than these whitening strips are a good choice.
However, if you have yellow teeth, than you will probably benefit more by deciding on a stronger grade options described above.

If you are on a tight budget or just don't want to spend goo much on whitening treatment, but still want to improve your smile, than you can go for these strips.
You should also strive to change your eating a drinking habits to make sure the whitening effect lasts as long as possible. And, in many instances, you would be improving your lifestyle in a healthy direction anyway. Plus, you could even save a bit if you are willing to give up some of those colored sugary drinks you consume.

[divider style='centered']
How To Use Instructions:
After opening the box you can than open one of the individual packages.
While looking at the mirror align the strip with the gum line and apply the pressure gently against the teeth.

Step by step instructions

Don't try to put too much effort to get the gel between the teeth. Fold the rest of the whitening strip over the teeth.

The strips should not move after applied and you need to wear them 1 to 2 hours. After 5 to 10 minutes had passed since application, the strips should become translucent, almost invisible.
After the time specified for application had passed, rinse your mouth with warm water. Take a paper towel and pull out the strips of the teeth gently.
Throw away the strips.
You can now rinse or brush your teeth.
[divider style='centered']