Crest Gentle Routine Whitestrips are some of the best-selling and the most desirable strips for teeth whitening. Obviously, there are a lot of advantages and reasons why they are so popular. Here, we will be focused on the Crest 3D White Gentle Routine Teeth Whitening Strips, a premium product with all the advantages this brand has to offer.
Crest Whitestrips: Basics
These Whitestrips were introduced back in 2001. Back then, they were completely new and almost unknown alternative to teeth whitening at a dentist. Soon, they became so popular that almost half of the population used them. The teeth whitening became more than just easy and affordable, without a need to go to a dentist. All you have to do is to use the Whitestrips back at home.
Crest 3D White Gentle Routine has been among us since 2010, with a few upgrades obviously. Probably some of the most important ones include better sticking to the teeth and more powerful formula. The first products had an issue with staying on the teeth. This new 3D version doesn't.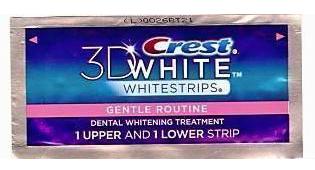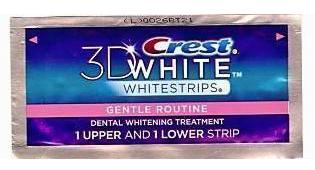 In order to understand how popular and effective these Whitestrips are, you should know that dentists actually recommend them and they use the same type, although for more generic application. The combination between the safety and efficiency is the main reason why you should consider these Whitestrips. In essence, you will get perfectly white teeth in no time and there won't be any issues related whatsoever.
But, Crest 3D Gentle Routine Review should help you understand all the benefits and all the main features of this product, which is the next main thing here.


Removes Stains and Make Your Teeth Whiter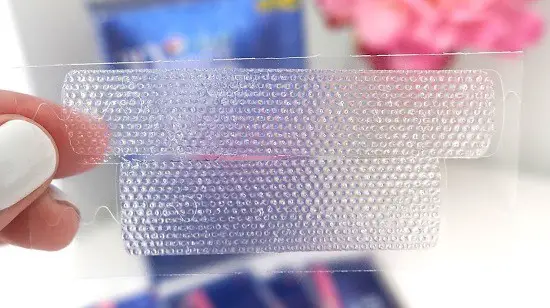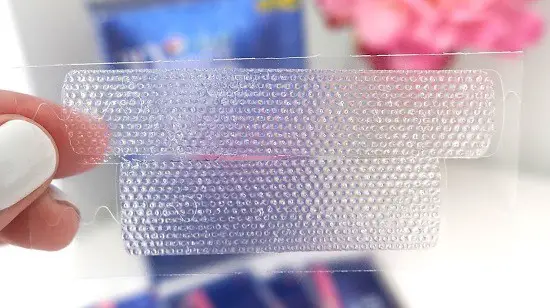 Obviously, the first and the main purpose of the Crest Whitestrips is teeth whitening. It is done via the simple, yet impressive process. On the strips themselves, you have a tiny amount of special formula. The formula is developed by this brand and it is a significantly improved version of the original one, which appeared back in 2001.
The formula on the strips won't act in any way until it is placed on the teeth. The mixture of saliva and the enamel will activate it. Then, the process will begin. Obviously, the first time you use it, you will notice minor improvements. But, each next time, teeth will be significantly whiter.
The formula actually removes stains and debris from the enamel, which is the first layer of the human teeth. Think of stains as additional layers on top of enamel. Removing them will reveal the perfectly white enamel. An additional reason, why these Whitestrips are so desirable is the fact they remove old and hardcore stains. While, other Whitestrips remove only fresh and newer stains!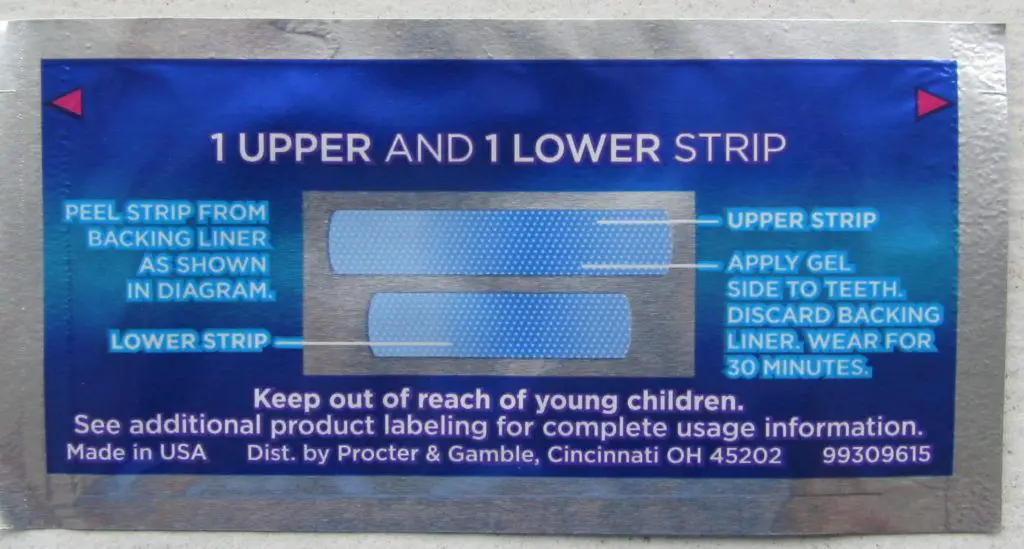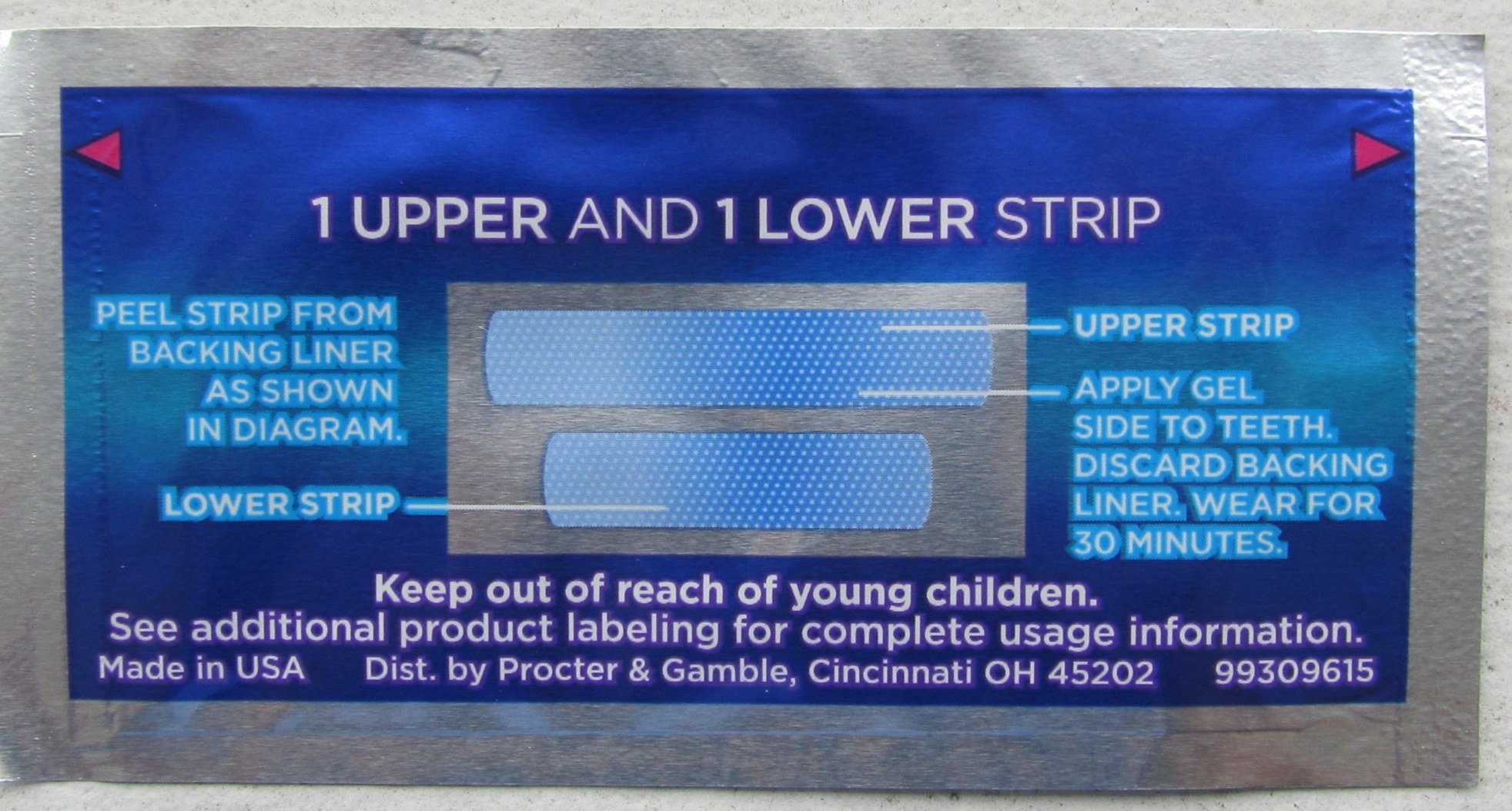 More you remove the stains, whiter your teeth will be, which is already known. In the basic package, you get 28 strips, which means you have them for 14 treatments. Keep in mind that each treatment involves 2 strips, one for upper and one for lower teeth. For the best results, you will need to leave strips on your teeth for only 30 minutes, no more. Also, use them daily!


Here we should add that the strips themselves have an excellent adhesive on them. Of course, it is perfectly safe to the humans, but it is strong, meaning that a stripe will stay on your teeth at all times. So you are free to multitask while making your teeth beautiful.
Superb For Sensitive Teeth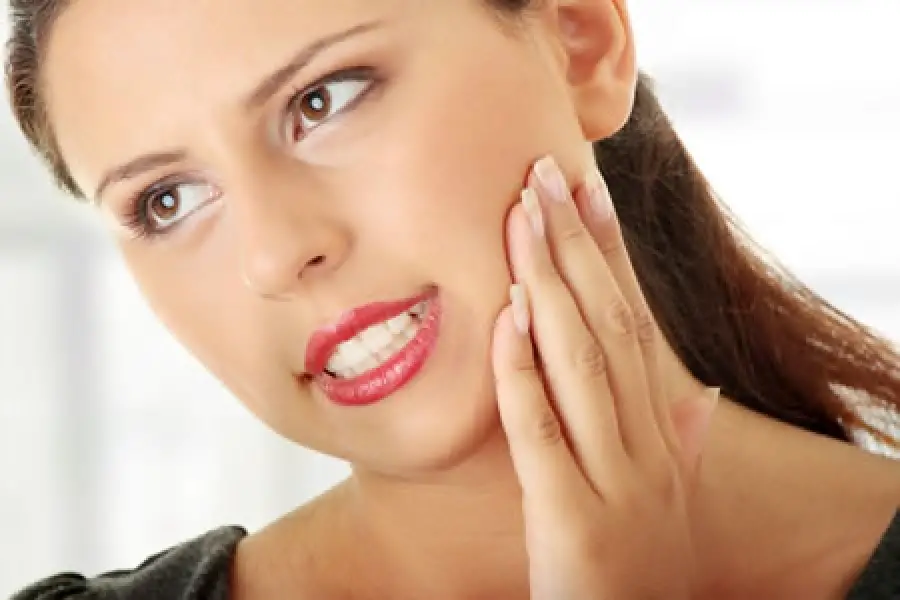 These Crest white strips for Sensitive Teeth are definitely something you have been using already if you suffer from this issue. Basically, individuals with sensitive teeth cannot withstand rough teeth whitening strips nor strong formulas. Here we can see another important advantage of the Crest Whitestrips. Despite the formula is strong, it is directed completely on the stains, and it doesn't affect the teeth, tongue or gums. In other words, even if you have extremely sensitive teeth, you won't have complications with the strips in question.
The formula is perfect for people of all ages, but it shouldn't be used by children age 12 or under! It is too strong for them due to the fact their teeth are not fully developed, like teeth in adults. On the other hand, there is no upper limit, so adults of all ages can use them.
If you are wondering, does the formula actually allows for people with sensitive teeth to use them, we will reveal that dentists use the same formula! In a matter of fact, they have been using it for a longer period of time. Since the day it was developed, this formula and these Whitestrips have been the first, the main choice of dentists across the planet. So yes, we guarantee you that formula is as safe as you can get.
Some of you may know that some teeth whitening strips are delicate and come with a strong bad odor, which isn't the case here. Yes, there is some amount of odor, but it is almost irrelevant and it won't cause any problems.


How Comfortable Are They?
First of all, you must know that any of the teeth Whitestrips are not 100% comfortable. Basically, you will have a tape glued to your teeth, so some discomfort is expected. However, some models are so uncomfortable that they are unbearable to wear and impossible to keep on your teeth for 30-40 minutes. They can cause discomfort, they cannot be properly removed from the teeth and or they will fall off all by themselves.
On our Crest Gentle Routine review, we didn't have any issues with the comfort. In essence, these are some of the most comfortable Whitestrips we encountered. They are easy to stick to the teeth, they won't fall off and they are easy to remove after the treatment. When it comes to comfort itself, it is at a high level. You won't experience any of the aforementioned issues and you can enjoy them while they will make your teeth whiter.
The secret for this advantage is in the adhesive and the thickness of the strips. The adhesive is strong, yet carefully balanced so it will keep the strips safely on your teeth, but allow you to remove them when needed. The bottom line is that this may be the best deal for all of you who believe comfort is equally important as the end result of teeth whitening strips.
Yes, the strips are thin as well. They have been carefully optimized to adapt to the teeth and they are great to use at home, which is the main purpose of the teeth whitening strips.


Treatment Duration and The End Result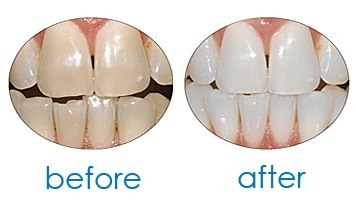 Crest Whitestrips Gentle Routine are not some of the quickest result producing teeth whitening strips on the market, but they are definitely not some of the slowest either! In general, the treatment will last 14 days or two weeks.  During this period of time, you will have to use them daily, as we have mentioned earlier. If you skip days, you shouldn't expect some impressive results at the end of a treatment. According to users who already have been using these Whitestrips, the first, very satisfactory results are visible after 2 weeks. Yes, it may sound long, but it is the price you have to pay because the sensitivity you may experience with other strips, and the fact these are gentle strips which do not work fast.


Here we must include another matter. Teeth whitening strips don't work for all people in the same way. Some of them can experience improvement in a matter of days, while others will have to spend weeks in order to get a satisfactory result.
Overall, Crest 3D White Gentle Routine Whitestrips are efficient in most cases, so you won't have any issues here. Keep in mind that you will have to wait for 2 weeks to get the first results, but they are worthy of waiting.
3D Crest Gentle Routine and Dental Work
We should include that these teeth whitening strips can be used in a case you have had a dental work. But, they will not whiten the crowns, implants or anything that doesn't have enamel as the first layer! Also, it is highly recommended to speak to your dentist before using them for the first time, if you just have had some dental work.
The sensitivity factor here makes the strips more suitable for these individuals than others, but they still have to be used with care and in a cooperation with a dentist.
Additionally, you may want to know that some dentists recommend usage of these teeth whitening strips after dental work, due to the fact they can match whiteness of teeth overall.
[one_half_first]
Pros:
Great for people with sensitive teeth
Excellent long-lasting results
Will stay in its place as long as you need them
Capable of removing stains beneath the enamel
Large package
[/one_half_first][one_half_last]
Cons:
Slow results
Some individuals with extremely sensitive teeth may experience minor issues
[/one_half_last]


[divider style='centered']
Related Products
For more great options read our Best Whitening Strips Review article. There are also whitening strips for sensitive teeth. And whitening for heavy smokers is another special case that requires more effort to correct.
Conclusion
We hope that our Crest Whitestrips Gentle Review gave you all the details about this product, about its safety, efficiency and other matters. At the end, we can only summarize that the teeth whitening strips are sensitive, suitable for the general population and they actually work. Yes, they are not the quickest of them all, but they are certainly one of the most gentle and some which provide the best results. We highly recommend them to all potential users.