Your baby is already a couple of months old. As if it's not enough that you have to deal with all the colic crying during the night, your baby's teeth may have already started to grow. Besides looking out for baby bottle tooth decay, there is also one other thing you should take care of. It is the right time to decide on best baby teethers for your little one!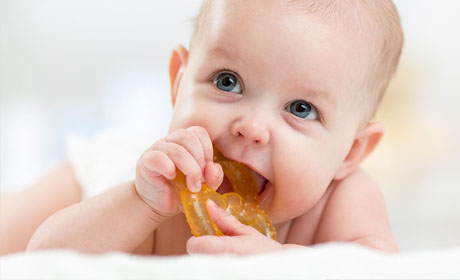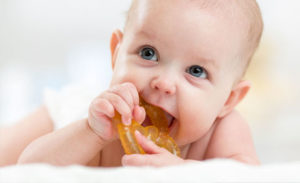 The reason babies are so fond of munching and nibbling on the teethers is because even a slight pressure applied on the sore gums can help alleviate discomfort caused by teethes pushing up from below. A slightly cooled down teether can also be beneficial. But just be careful not to cool it down too much, as that can hurt baby's tender gums.
One important thing about chewing on teethers is that it also aides baby development by activating the tongue and stimulates babbling. All of that is one of many preparation steps for speech development. This stimulates awareness of their tongue and mouth which is prerequisite for those long awaited first words: "mama" and "dada".
As you probably already experienced, a small baby will chew on almost anything he or she can get their hand on.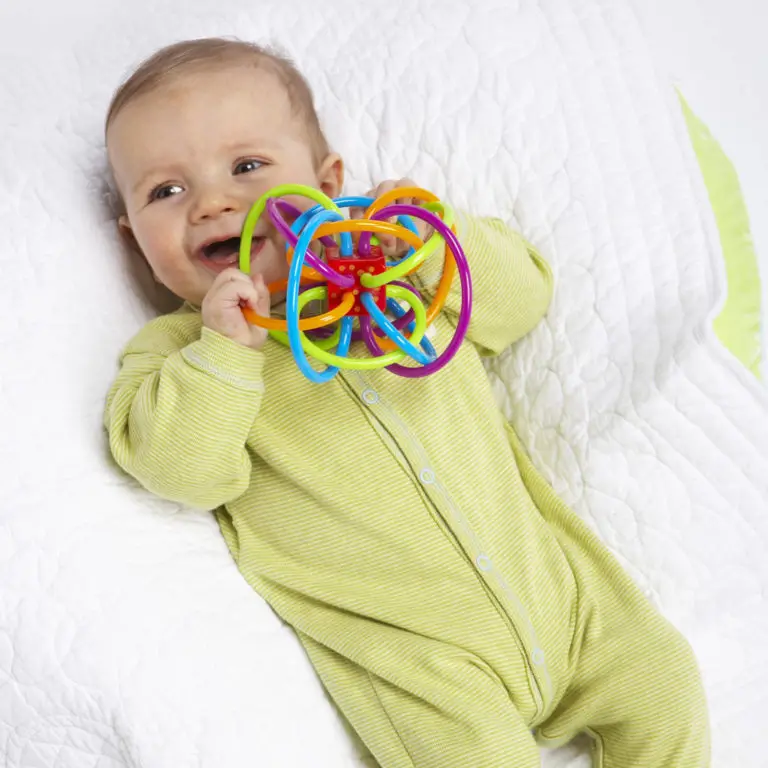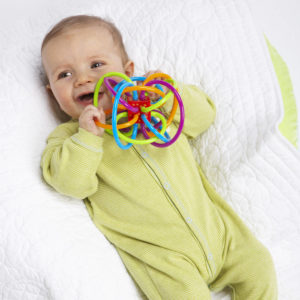 Most of them actually seem to prefer blankets, pieces of clothes, napkins and anything cloth related sometimes more than the teethers themselves. No matter how adorable they look doing, all parents should be very wary of all the dirty stains and cloth fibers that child could ingest that way. Properly made teethers are almost always preferable to such "natural" sources of chewing pleasure.
When choosing the best teethers for your baby choosing the right size is also important. Too big or too small could pose a danger to baby. Choose something that they can easily hold in their little hands, but, which also has appropriate surfaces for nibbling, is made of safe materials, especially to be BPA free, without phthalates or toxic paint.
When you have made sure a toy is safe and easy to maintain, you can take into account other characteristics like, cheerful colors, interesting design or even coolness factor. Lets now check some handpicked products available on the marketplace and compare them to determine which one of those are best teethers for babies according to what we have previously talked about. You can also read more about how to select baby teethers.
[divider style='centered']
Product
Manhattan Toy Red, White, and Blue Winkel Rattle and Teether Baby Toy
Vulli Sophie The Giraffe Teether, Brown/White
Baby Banana Yellow Banana Infant Toothbrush, Easy to Hold, Made in the...
EDITORS CHOICE
Nuby Ice Gel Teether Keys
Maple Teether Pair - Made in USA
Phone





Top 6 Baby Teethers On The Market Today
[divider style='centered']
#1. 

Manhattan Toy Red, White and Blue Winkel Rattle and Teether Baby Toy
This teether can actually pass as an educational toy. It is most convenient for several month's old babies, though, it is great for teething for all ages. Rings are colorful, have a smooth feel when touched and are easily bent and grabbed by the baby. The central part has a soft rattle that stimulates discovering cause and effect relationships in the babies brain. It stimulates two hand grabbing, a very important developmental milestone.
The multi ring design also serves as a good protection from frequent throwing around, like we all know little babies love to do. Having considering everything mentioned and comparing it to the price, this teether is wholeheartedly recommended.


[divider style='centered']
#2. Sophie the Giraffe
Sophie the Giraffe is certainly a toy with a long history. There are many reported cases of children loving Sophie very much. Important thing to mention is this toys durability and safety. Soft rubber and food painting are some of the attributes that made Sophie so popular. Chances are you may already have one at home.
The price is a little steep, but, don't go for the knockoff just to save a few dollars, there can be serious health concerns. If the price is not an objection for teether that is proved to sooth and entertain a baby than you can't really go wrong with this one.


[divider style='centered']
#3. Baby Banana Bendable Training Toothbrush

Ok, so this one is actually strictly speaking not a teether per se. However, many parents are using it as such anyway. Born as a training toothbrush, teether by choice – this item has only one drawback in that regard, and that is that bristles can come off due to excessive chewing. You should have that in mind if choosing this silicone banana as your baby's new and one of best teethers.
Other than that, this is one of the rare tools that you can use so the child gets used to brushing teeth early on. Surely, your dental insurance money will last longer and your child's dental health and overall health will greatly benefit from good dental hygiene habits early on. 


[divider style='centered']
#4. Nuby Teether
Nuby Teething Keys is a kind of teether many babies love instantly. One of the first things they notice is the ring, because it is easy to hold with one hand and bring it closer to the mouth. The plastic part is usually something that babies try to chew on first.
When they are 3 months or older they start to notice and use other parts more, specifically the keys. Soft and elastic, the keys can occupy baby's interest for a while. This teether will also stimulate two hands grabbing because establishing good control of the teether will not be easy with only one hand. Also this toy it is perfect to be cooled down in the refrigerate. 


[divider style='centered']
#5. Lifefactory Multi Sensory Silicone Teether, Sky/Spring Green, 2 Count
This is one of the more interesting teethers out there. It is made from medical grade silicone and is soft and elastic. It is easy to hold and has different textures that can be explored for mouth sensory stimulation.
One of the noticeable points is that it is manufactured in USA, which is assurance for many that quality is exceptional. You can even wear them on your wrists as bracelets. It can be refrigerated to calm the sore gums. 


[divider style='centered']
#6. Maple Teether Pair – Made in USA
As far as natural teethers are concerned, you can't go more natural than this one. It is made entirely out of wood and has no finishing what so ever besides smooth grinding. Each teether is slightly different that the other one.
The material used is rock maple and according to the manufacturer tree sustainability is something they have achieved with their production process. They are easily maintained with some wiping. Manufactured in Vermont, USA this teether could be a right choice for ecologically and safety inclined parents. 


[divider style='centered']
Related Products
If you are also looking for a natural toothbrush you may want to try bamboo toothbrush for children. Or you may like more ultra soft Nimbus NIMBY toothbrush for your little ones first teeth brushing experience.
Conclusion
Having considered all products reviewed our opinion is that Manhattan Toy Winkel Rattle is a slight favorite of ours compared to the other ones. What tipped the scales with this one is it's developmental stimulation especially a two hand holding. This important baby milestone is a worry of many parents. Mainly those of preterm babies. In addition, we liked the overall quality feel of this teether and it's lively colors that stimulate young minds. As mentioned before, durability of this teether is excellent due to it's design.
We would also give high marks to the other teethers. And it is not a coincidence as we have handpicked these products from vast amount available on the marketplace according to their characteristics. We understand that different parents, or relatives and friends, buying a gift for their children can have different tastes. But so do babies. Most of these products are proven in being liked by many babies, but here is no guaranty that a particular one will be interesting for your child.
As far as gifts are concerned a wooden teether is a good option, as it is both natural and safe, as well as very cool. Choices are many and we are hopeful to have presented you some excellent ones to choose from.
Be sure to always research manufacturer declaration and make sure a teether is BPA, phthalates and lead free!
Look for sharp edges on the teethers! Just because a teether is on the market and popular doesn't mean it is full proof as safety is concerned. You are the one that is always responsible for your child's safety.