Carefully chosen best mouthwash can do for you so much more than just simply to refresh your breath! Along with proper brushing and use of interdental brushes and/or water flosser, it can significantly reduce the number of bacteria in your mouth, slow down the formation of cavities, prevent inflammation of the gums, periodontal disease, bad breath and other ills.
For additional antibacterial effect, you may also consider to use natural bamboo toothbrush.
Product
EDITORS CHOICE
TheraBreath Fresh Breath Mouthwash, Mild Mint Flavor, Alcohol-Free, 16...
Crest Pro-Health Advanced Mouthwash, Alcohol Free, Multi-Protection,...
ACT Restoring Anticavity Fluoride Mouthwash Cool Mint 18 oz (Pack of...
Tom's of Maine Wicked Fresh Mouthwash, Cool Mountain Mint, 16 Fluid...
Photo




EDITORS CHOICE
Product
TheraBreath Fresh Breath Mouthwash, Mild Mint Flavor, Alcohol-Free, 16...
Photo

Product
Crest Pro-Health Advanced Mouthwash, Alcohol Free, Multi-Protection,...
Photo

Product
ACT Restoring Anticavity Fluoride Mouthwash Cool Mint 18 oz (Pack of...
Photo

Are you in a hurry? >>> Click here to see best mouthwash on the market according to our editors' choice!
How To Choose Best Mouthwash Between So Many Different Types Of Mouthwash That Are Available On The Market?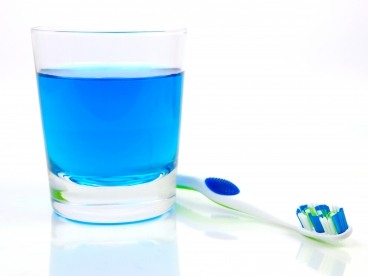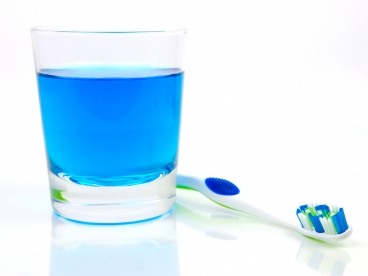 #1. There are mouthwashes that can be used daily, after brushing your teeth first with toothbrush. They usually contain fluoride which is great, because they strengthen tooth enamel. If used properly, their concentration is too small to cause any side effect in your body, but still big enough to be locally installed into your teeth enamel. Just remember not to consume neither food nor liquids (including water!) after rinsing your mouth with this type of oral rinse. That way fluoride remain on teeth surface all night long, making them stronger and more resistant to the acids from bacteria. An antiseptic is also an important ingredient added to the mouthwash solution. That is an agent that kills microorganisms. Most frequently menthol is also added to the mix, which is in charge of providing a pleasant taste and smell.
#2. In addition to mouthwashes for daily use, there are those that should be used only after special recommendation by a dentist. You can not find them in stores because they have to be prescribed by a dentist and prepared by a pharmacist. But, if that is not possible for any reason, luckily well known branded Swiss made Curasept mouthwash solution can be ordered online.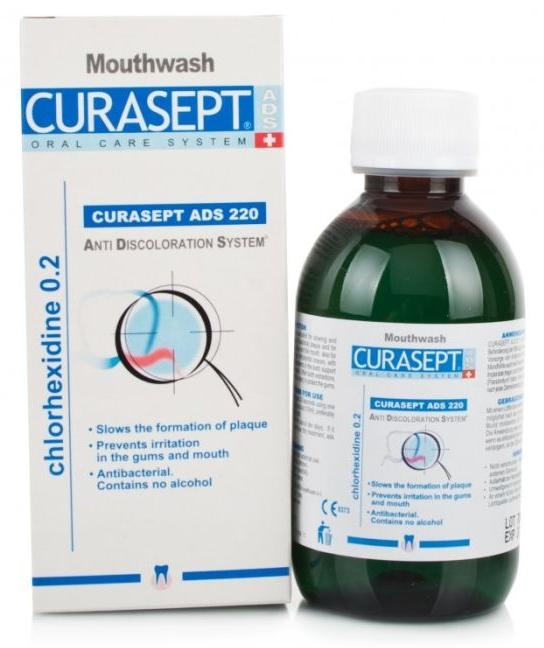 Such oral rinse solutions contain a special substance called Chlorhexidine which gives great results, especially for people suffering from gingivitis and/or periodontal disease. Many dental professionals consider Curasept best mouthwash to treat gingivitis at home. This active chemical substance kills the bacteria that are most dangerous for our gums health and cause severe gum disease. That means it is also the best mouthwash for gums. But, at the same time, it can color the teeth, gums and white fillings. It can also make a tongue temporarily numb.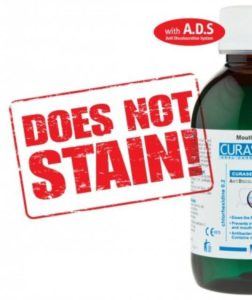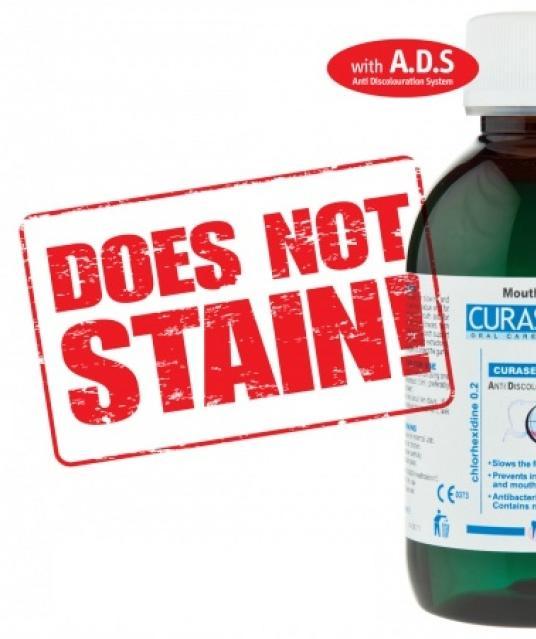 Therefore, you should strictly abide to the manufacturer's instructions on how to use. Unlike prescribed solutions made by pharmacist, Curasept contains ADS 220 (Anti Discoloration System) that protects the color of your teeth and dental work, so it's use is also much safer. Most often these solutions should not be used longer than two weeks. After that period you should give your mouth and gums a rest and use only regular mouthwash for daily use.
It is very important not to use these two types of mouthwash together! Namely, chlorhexidine binds fluoride, and neutralize their effect if they are found in the mouth at the same time. For the same reason, it is not wise to use mouthwash based on chlorhexidine immediately after brushing your teeth, since most toothpastes also contain fluoride. It is best to wait an hour or two after brushing your teeth or use a fluoride-free toothpaste.
What Else Should You Know About Best Mouthwash?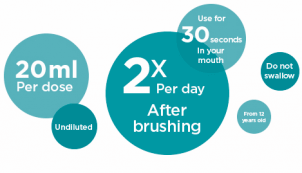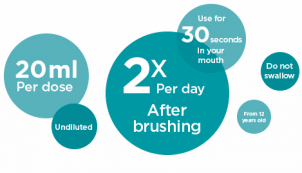 Many mouthwashes contain alcohol. It is known as a good antiseptic, but one should be careful: alcohol significantly dries the mouth mucosa. That is why alcohol-based mouthwashes are not recommended for people who have suffer from dry mouth syndrome: especially the elderly and people with diabetes. According to the newest researches, solutions containing alcohol may also have other harmful effects on the health of the mouth. Also, due to the possibility of swallowing, it is not recommended for children under the age of 12 and pregnant women.

Every mouthwash for daily use should be used two times a day after brushing. The quantity to be used is about 20 ml of undiluted solution. You should strongly shake it for 30 seconds in your mouth and spit it out, and do not rinse with water after. Also try not to swallow the mouthwash.   
Do It Yourself Method

Finally, for mouth rinsing you can use the most ordinary hydrogen. It kills the bacteria that most commonly cause gums disease. These are the bacteria that do not tolerate the presence of oxygen. They are called anaerobes and the oxygen from the hydrogen kills them. You can easily make this solution on your own: buy at the pharmacy 3% solution of hydrogen, and stir a little of hydrogen with an equal amount of plain water. Use this solution to rinse the mouth for 20 seconds, and spit it out. The trouble with hydrogen is that it often makes lots of foam in mouth and also its taste is pretty ugly. Although modern dentistry knows more efficient ways, this is a safe, inexpensive solution, and you can, if necessary, make it yourself. This method is good if for whatever reason you are not able to buy best mouthwash that is already on the market.

[divider style='centered']
6 Best Mouthwash (daily use) – Based On Consumer Reports
[divider style='centered']
#1. TheraBreath Oral Rinse



The main focus of TheraBreath, as its name implies, is preventing bad breath. And, as testified by it's many users, is quite good at that! Great thing is that it is also certified to be vegan, alcohol free, gluten free and with no artificial flavors other than mild mint flavor.
Color of this mouthwash is a little cloudy. It doesn't cause burning or any other unpleasantness while using. Also, the manufacturer gives 100% guarantee on this rinse, or your money will be returned. Only downside of this product would be that it doesn't take too much care of the plaque. But, if bad breath is your main concern with your oral health, it is good to have a product that is only specialized in that particular area. Definitely best mouthwash for bad breath is TheraBreath.
[expand title="Click HERE to See All Flavors" tag="h4″ ]
|   |   |   |   |   |   |   |
| --- | --- | --- | --- | --- | --- | --- |
| | | | | | | |
| Icy Mint powered by Oxygen | Grape Anti Cavity for KIDS with Fluoride and Xylitol | Peppermint PLUS powered by Oxygen and Green Tea | Mild Mint powered by Oxygen | Perio Therapy Alcohol Free | Soothing Chamomile | Tingling Mint |
[/expand]
This oral rinse was also clinically tested and it was determined that it lasts over 12 hours and works instantly, removing all types of bad breath, as well as dry mouth problems. So, it is great to have this mouthwash solution at hand, especially in situations when you most need to have fresh and fragrant breath – at work, at the meeting, celebrations and so on.


[divider style='centered']
#2.

Listerine Antiseptic Mouthwash, Cool Mint
This oral solution is really worldwide popular, and for good reason. It's main strengths are against bad breath, gingivitis and plaque. The taste is a little stronger compared to many other similar mouthwash products, but it is still tasty minty and pleasant if you are not too sensitive to stronger tastes. Listerine contains four essential oils: eucalyptus, methyl salicylate, menthol and thymol.
[expand title="Click HERE to See All Flavors" tag="h4″ ]
|   |   |   |   |   |   |   |   |   |
| --- | --- | --- | --- | --- | --- | --- | --- | --- |
| | | | | | | | | |
| Original | Cool Mint | Ultraclean Cool Mint | Soft Mint | Fresh Burst | Ultraclean Fresh Citrus | Naturals Herbal Mint | Ultraclean Arctic Mint | Cool Citrus |
[/expand]
Big point is that it has ADA Seal of Acceptance for its use against dental plaque and gingivitis. With over 100 years of tradition and 50 years of research, it is one of the most widely used oral rinse products in U.S. Listerine leaves a nice and clean feeling in the mouth, without a dry mouth afterwards. For maximum effectiveness it should be used twice a day.


[divider style='centered']
#3.

Crest Pro-Health Advanced Mouthwash with Extra Deep Clean
This is one of the perhaps a little lesser known mouthwashes. It has a standard features of killing germs that cause bad breath, helps prevent cavities, improves cleanliness of your teeth and gums and also freshens breath.
The taste is a milder than Listerine and lasts longer. But, for some people this can cause a psychological effect as if the product is not working very well. That is because stronger taste is associated with something being actually done, killing bacteria wise. But, if you are a kind of person that is sensitive to strong mint tastes and like to explore well known brands, you could give it a go to see if it is for you. 


[divider style='centered']
#4.

ACT Restoring Mouthwash, Cool Splash Mint
As the name implies the main point of Act Restoring mouthwash is restoration of minerals from soft spots on teeth surfaces. It contains fluorides which will help with strengthening enamel and also help prevent a tooth decay. So, one more feature that this oral rinse solution has is anti-cavity effect. Similar to the other products, it also kills germs that cause bad breath. 
[expand title="Click HERE to See All Flavors" tag="h4″ ]
 
 
 
 
 
 
 
 
 
 
 



















Anticavity
- Mint

Anticavity -
Cinnamon

Total Care
- Fresh Mint

Total Care - Icy Clean

Total Care Sensitive
- Mild Mint

Restoring
- Mint Burst

Restoring
- Cool Splash Mint

Braces Care - Clean Mint

Total Care Dry Mouth
- Soothing Mint

Advanced Care - Frosted Mint

Advanced Care - Clean Mint
[/expand]
Unlike other mouthwash solutions, this product does contain alcohol. So, if you recently had any kind of major dental intervention, you may want to consult your dentist first about using this oral rinse. The taste is little bit milder, compared to Listerine. But, if your teeth are week, easy to break and have cavities, than they need this kind of restorative properties that this product offers, so you should definitely give it a go. 


[divider style='centered']
#5.

Tom's of Maine Long Lasting Wicked Fresh Cool Mountain Mint Mouthwash
This product is quite specialized in one thing and that is the freshness of your breath! Focal points are long lasting of freshness and doing so without burning sensation that you usually get with some of the stronger mouthwashes out there. The way that was done is by using ingredients such as flavor oils and natural mineral zinc.
[expand title="Click HERE to See All Flavors" tag="h4″ ]
 
 
 
 
 
 
 
 
 
 
 















Wicked Fresh - Cool Mountain Mint

Wicked Fresh - Peppermint Wave

Cleansing - Spearmint

Cleansing Baking Soda - Peppermint

Fluoride Anticavity - Juicy Mint

Children's Fluoride Anticavity - Juicy Mint

Tartar Control- Peppermint

Baking Soda - Spearmint

Cleansing
- Cinnamon

Oral Moistening - Fennel

Anticavity Fluoride for Dry Mouth - Lemon-Lime
[/expand]
Important thing is that it doesn't contain alcohol. In case you were wondering, the sweetener used is sorbitol. The only downside is that this mouthwash has become more difficult to get in local stores. 


[divider style='centered']
#6.

Colgate Peroxyl Oral Cleansers, Mild Mint
Colgate Peroxyl is an excellent antiseptic and oral cleanser. This original flavor especially helps with healing of oral irritations. Colgate mouthwash contains just the right amount of hydrogen peroxide. That is the same substance that is commonly found in many households, which serves as a safe and proven oral antiseptic cleanser. During chemical reaction when using it, oxygen is released by bubbling. The idea behind it is that released oxygen will kill many microorganisms that are susceptible to it.
This specific effect will cleanse cancer sores. It will also help with minor wounds or small gum inflammation. They typically occur after dental procedures, while wearing orthodontic appliances and dentures or after accidental oral injury. If that is the current state in your mouth this might be just the right mouthwash for you to try out, even though you usually use another brand in a more normal circumstances. 


[divider style='centered']
Conclusion About Best Mouthwash
After carefully reviewing all products, in this very competitive match, a winner by a small margin is Listerine. Strong tradition, as well as overall confidence in the brand and great experience of other people with it, were a deciding factors in this case. A good complement product would be a natural toothpaste. You may also like our Best Teeth Whitening Toothpaste review. Also, we reviewed Best Mouthwash for Bad Breath.
As you saw, there are quite a few specialized products described here. And if one of these from our best mouthwash selection is a good match with your current oral hygiene condition, you may be better of with that particular one.