Braun Oral-B Black 7000
Oral-B Black 7000 SmartSeries is one of the top-of-the-range, excellent toothbrushes with amazing cleaning capabilities compared to any other toothbrush on the market. It is a second recommended Braun electrical toothbrush reviewed here.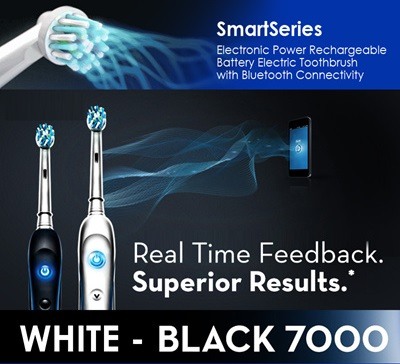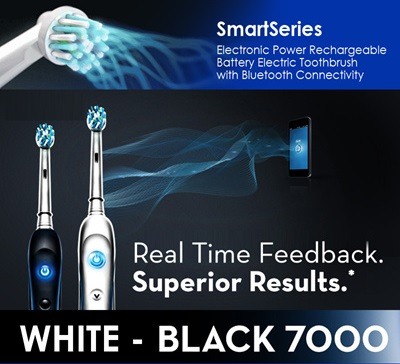 In accordance with worldwide trends towards the so called "Internet of things" this electric toothbrush has a Bluetooth capability and can connect to your smart phone. That may seem like a redundant feature but at least some people would find it interesting if not even useful.
Closes comparison in terms of the performance is the Philips Sonicare DiamondClean. Although the technology used in these electric toothbrushes is different their performance is comparable and impressive.

One of the more advanced features this power toothbrush has is the display which basically shows you the area of the mouth you had cleaned so far and how much longer you need to brush the particular area of the mouth.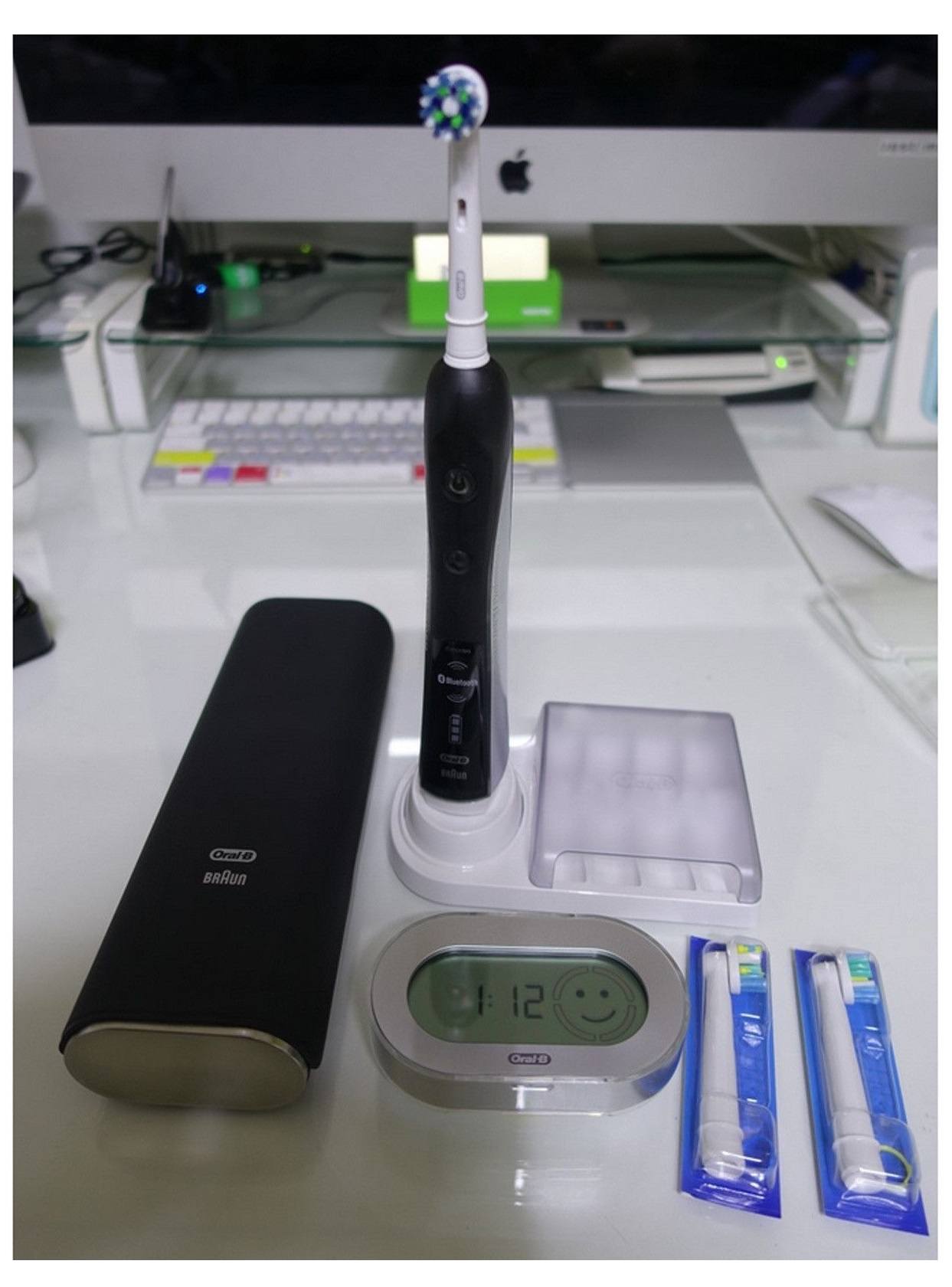 This can be helpful if you are trying to improve the toothbrushing habits of your child and can also be helpful if your thoughts tend to wonder around when performing such a routine actions as brushing your teeth. The Bluetooth capability just doesn't seem to provide some further usefulness to this excellent product.
Compared in visual aesthetics Oral-B Pro 7000 Black SmartSeries doesn't look so good as Philips Sonicare DiamondClean does. But, it is still one of the most attractive electric brushes on the market. Besides looks, Oral-B Pro 7000 Black SmartSeries has slightly lower battery life and that would conclude comparing any noticeable difference between these two models.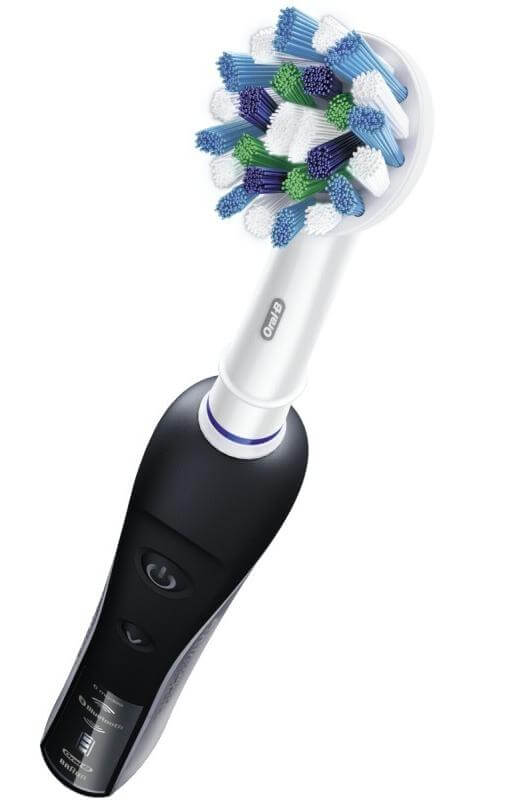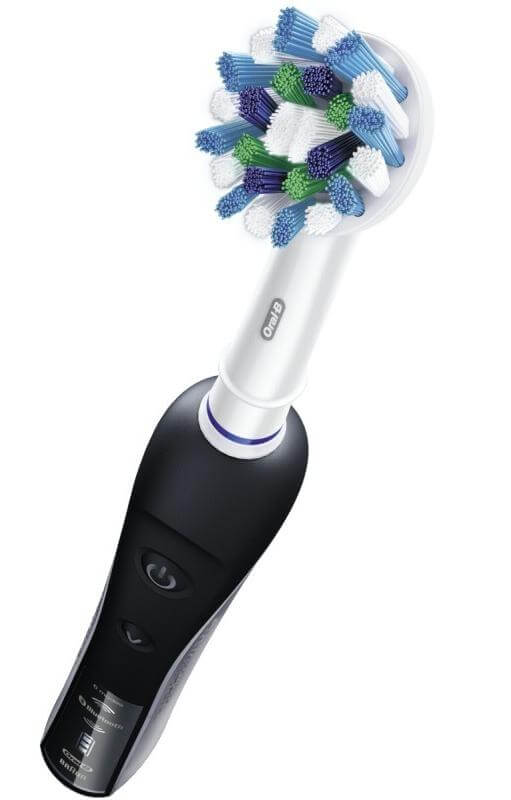 One other model which is very similar to this one is Oral-B Pro 6000 SmartSeries which has very similar functionality and pricing range. You can also click on the link to check the pricing of the Oral-B Pro 7000 Black SmartSeries.
Cleaning Performance of the Oral-B Pro 7000 Black SmartSeries
Rotating head is utilized in Oral-B Pro 7000 Black SmartSeries and it is equipped with carefully placed bristles so that they remove the maximum amount of plaque. When the feeling of using Philips Sonicare DiamondClean is compared to Oral-B Pro 7000 the Philips toothbrush definitely feels little bit more pleasant but the effectiveness of cleaning is the same.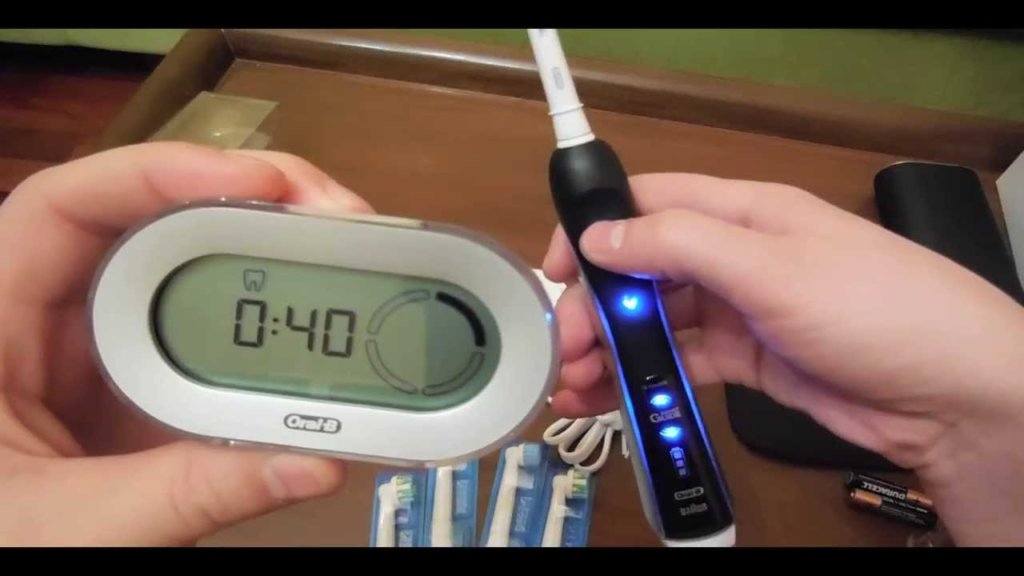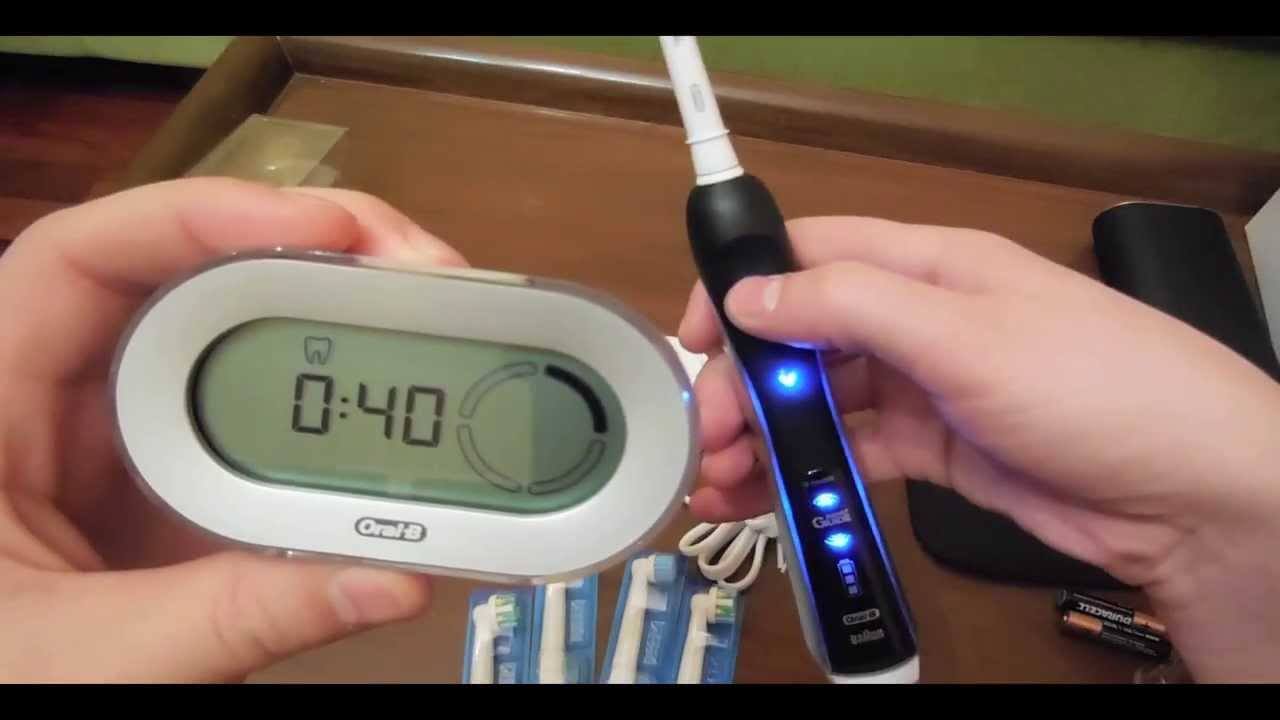 The hand movements that are commonly used with manual toothbrushes are not necessary when using this electric toothbrush. You can just place it on the teeth and move it from time to time so that you cover all areas of the teeth properly.
For best manual toothbrushes visit the link.
You can also keep an eye on the graphical interface of where you should dedicate more time too cleaning.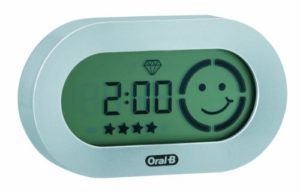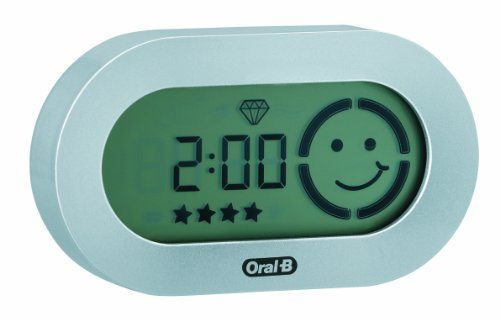 When you reach the two minutes markup a large smiley face will show and it will even wink at you. This is cool feature to encourage the kids to brush their teeth long enough to do a good cleaning. And even maybe for some adults.
When you start brushing, a timer will start which will give a long vibration every 30 seconds to let you know it is time to switch to next quarter. If you happen to press too hard it will slow the motor and in addition to that a red light will start to flash.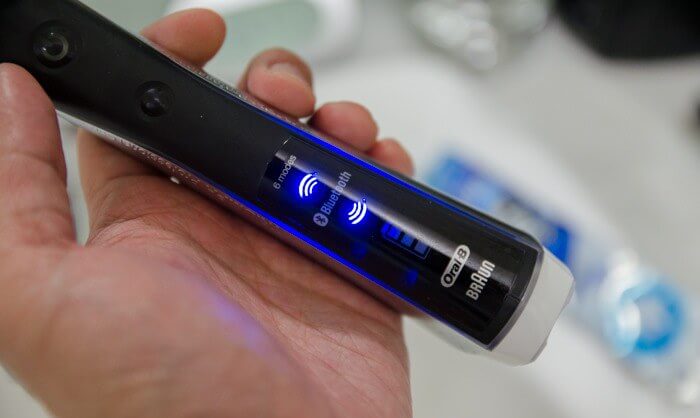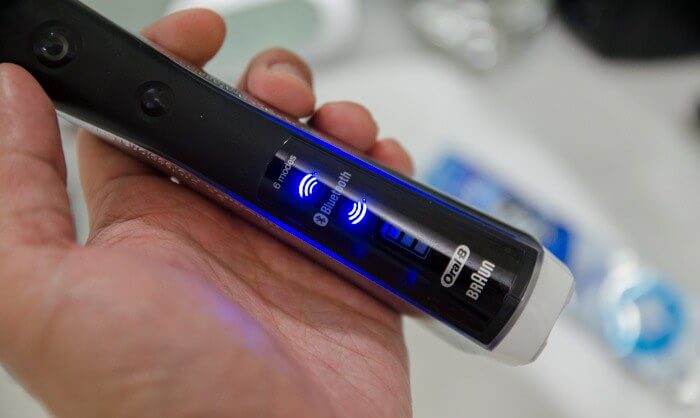 Beside the on/off button on the toothbrush handle you will find a pair of the arrow keys which are used to browse through different cleaning modes – 6 modes in total.
A basic cleaning mode is sufficient most of the time.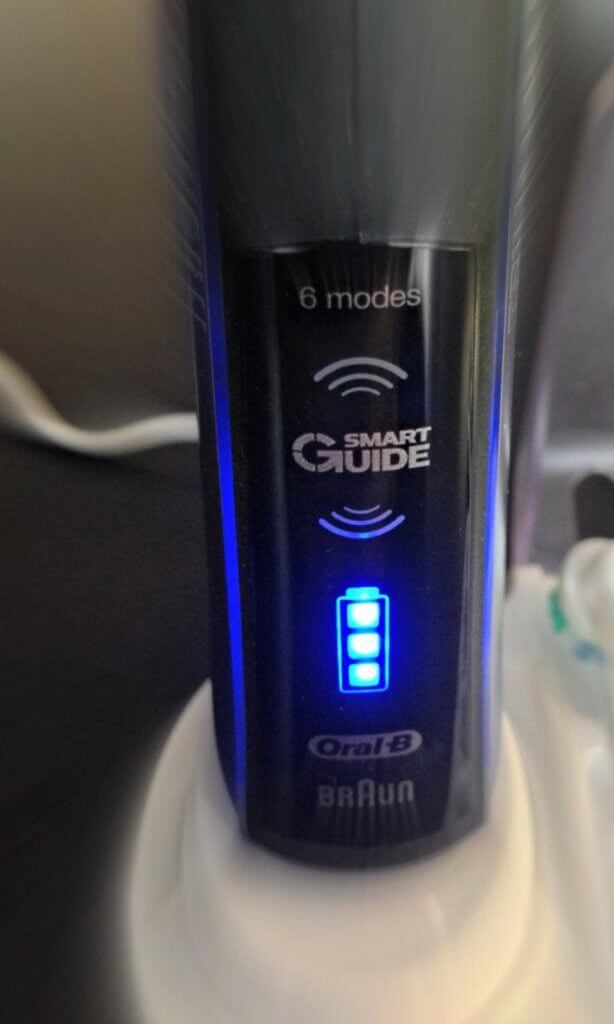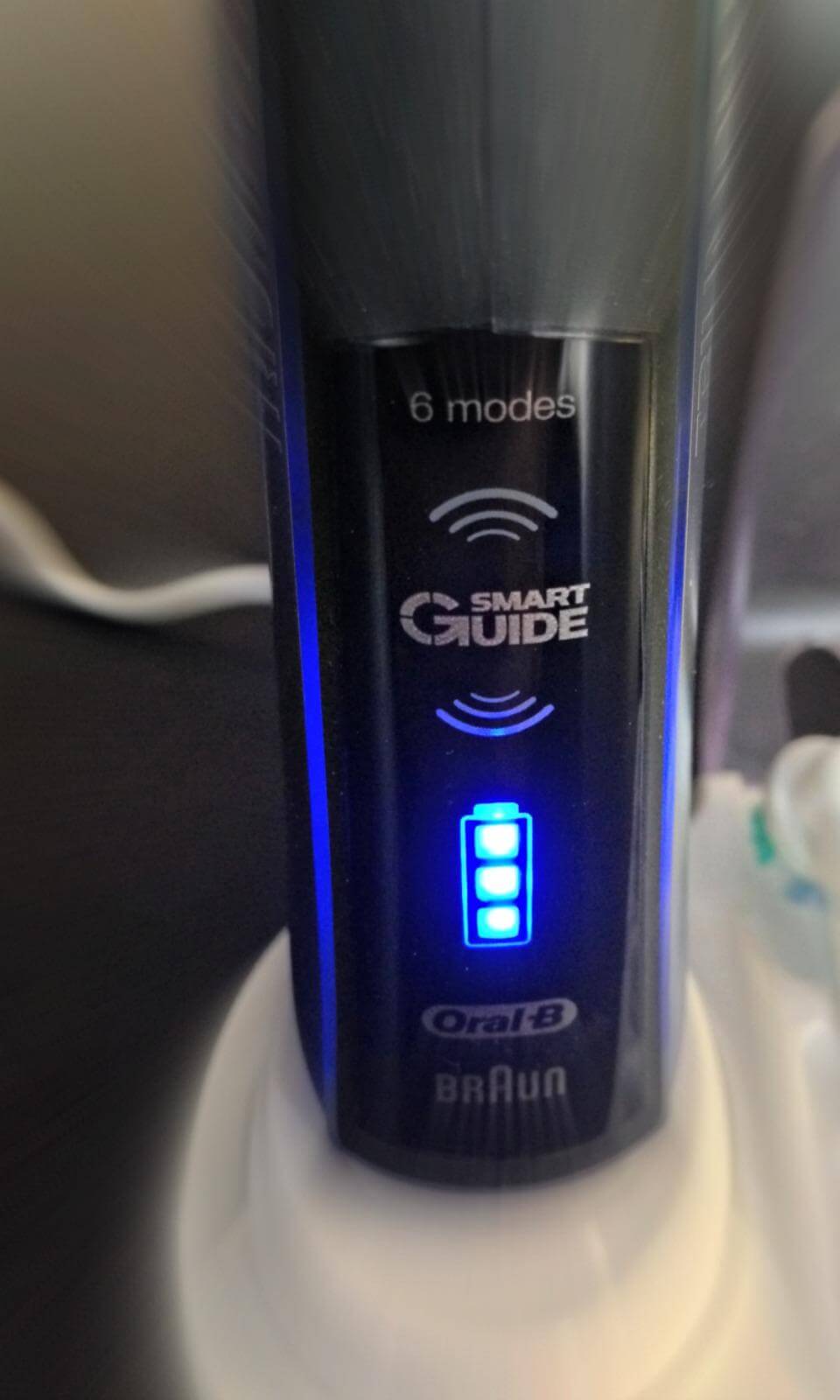 The tongue cleaning mode which is unique to Pro 7000 model is very useful. In theory it would be possible to clean the tongue with any mode provided it is not too fast spinning.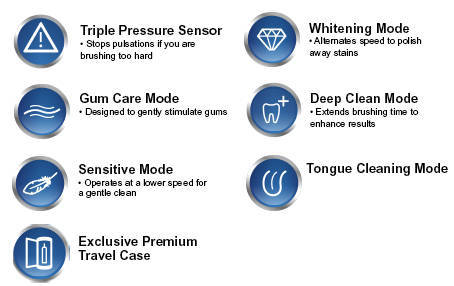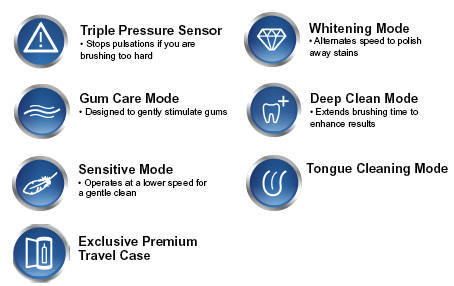 Price of the Oral-B Pro 7000 Black SmartSeries
When it is not on a discount Oral-B Pro 7000 Black SmartSeries is one of top shelf items. Luckily, discounts for the Oral-B Pro 7000 happen often enough, so if you have your eye set on this model and you see that it is not on discount momentarily you can always come back and check after some time had passed.
Electric Toothbrush, Oral-B 7000 SmartSeries Black Electronic Power...
Real-time feedback with the Oral-B app focuses brushing on your most important areas, tracks habits over time, motivates with helpful oral care tips, and senses when you brush too hard. A full charge can take up to 24 hours
Made of different high-tech materials like silicon. Cross Action round brush head with perfectly angled bristles for a precise clean
Clinically proven superior 3D cleaning oscillates, rotates and pulsates to break up and remove up to 100% more plaque than a regular manual toothbrush
Rechargeable with 6 modes: Daily Clean, Gum Care, Sensitive, Whitening, Deep Clean, and Tongue Cleaner
Speed, Up to 800 brush movements per second , Features, Specially designed seals and gaskets keep the Oral-B 7000 water tolerant to 500 millibars of pressure and it removes 300% more plaque along the gum line than a regular manual brush
Amazon Dash Replenishment Enabled: With Dash Replenishment, this toothbrush will automatically place an order for brush heads when it's time for replacement so you never run out
There are many Oral-B heads which are available when it comes the time for replacing your original ones. Great thing is that Oral-B Pro 7000 is compatible with all Oral-B brush head refills, so you can continue using your favorite brushing modes or choose new ones which suites you best. The price range for most replacement heads packages are comparable or lower than the pricing for the manual toothbrushes you would have to replace withing the same time period. If you buy the pack of 3 Oral-B Replacement Heads they will last you approximately nine months.
Similar to Philips Sonicare, many of the Oral-B's more expensive toothbrushes had very poor longevity. But now, both Philips and Oral-B have improved much the quality of their replacement heads. These new Pro Series brushes should last much longer than older models.
Battery Life of the Oral-B Pro 7000 Black SmartSeries
If you brush your teeth twice a day you can expect the battery to last 5 days. As a comparison, Philips Sonicare DiamondClean is slightly better in that regard.
The charging method is via small induction base. This is a better solution compared to Philips' false-teeth glass thing.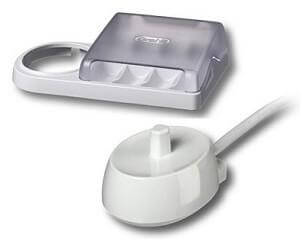 To recharge the toothbrush fully will take 24 hours. This may be the problem if you wish to use only one electric toothbrush for your entire family. In most cases though, if you just leave it to recharge overnight a couple of times a week you should never run into situation where the battery is empty and you cant brush your teeth when you need to.
Design of the Oral-B Pro 7000 Black SmartSeries
Oral-B Pro 7000 is somewhat bulkier than Philips Sonicare DiamondClean, but the ergonomic shape of the handle provides more secure grip in the wet environment. And as we all know it can get really messy when the toothpaste becomes too foamy.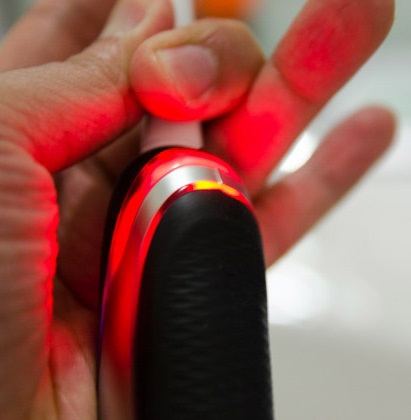 One more great advantage of Oral-B 7000 is so called Pressure Sensor that has been installed in this brush. This superb sensor activates anytime you press harder against your teeth or gums and that way keeps them unharmed. Many people are not aware that excessive rubbing of their teeth causes holes on the cheek side of their teeth. They are not cavities, but still cause tooth sensitivity, if deep may even lead to necessity for root canal treatment, so they need to be treated by the dentist. By using a brush with installed pressure sensor, you will stop removing enamel and save hundreds of dollars on fillings.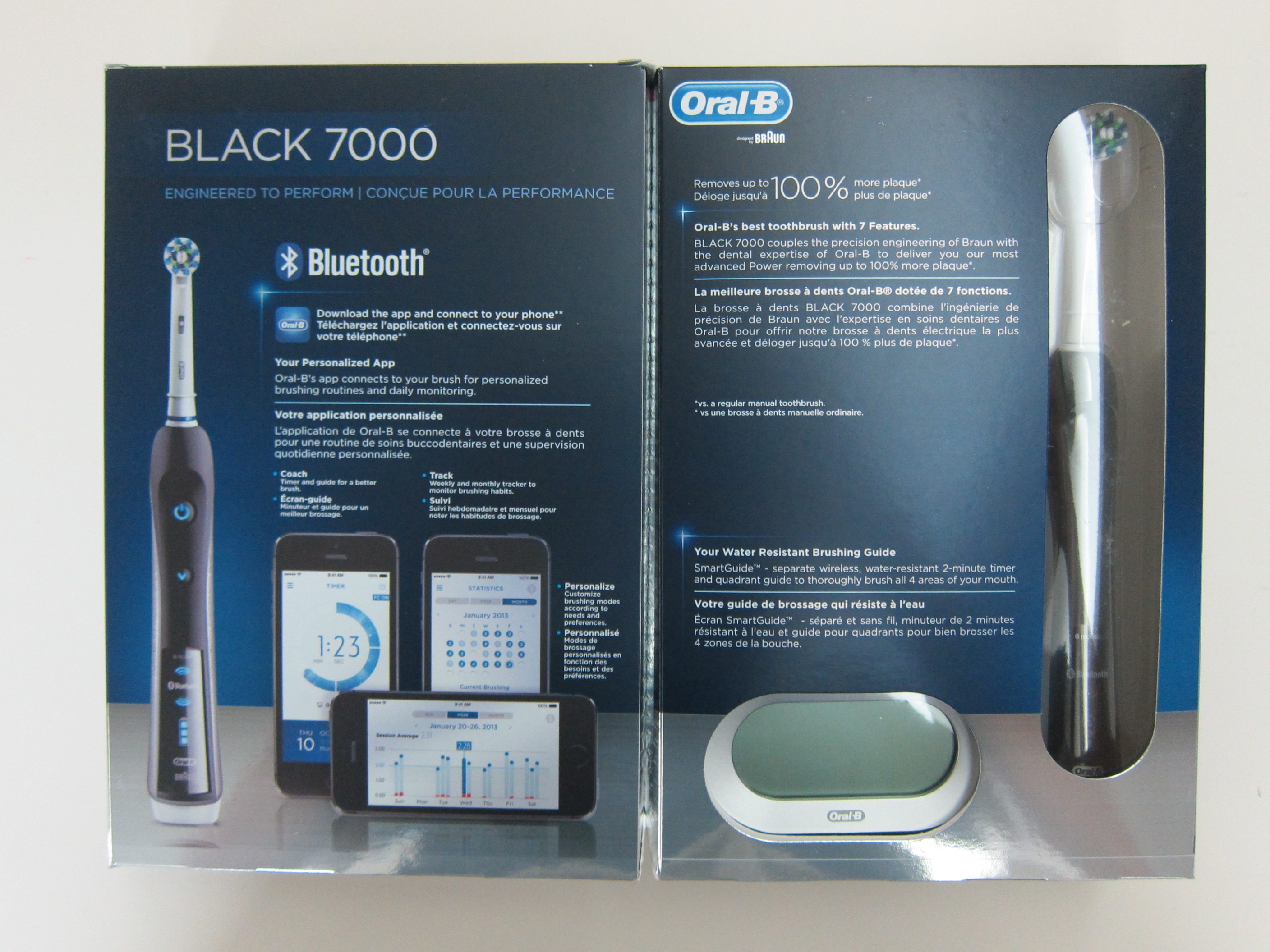 The shining points of design are the buttons for switching between various cleaning modes and the display and timer with wireless capability.
The Bluetooth enables you to use your phone to view the information about the progress of your toothbrushing. The possible reason you might want to use it like this is if you prefer not to look at your toothbrush everyone in awhile to check on your progress. The other possible use could be if you want to check the progress of your children toothbrushing while watching TV for example.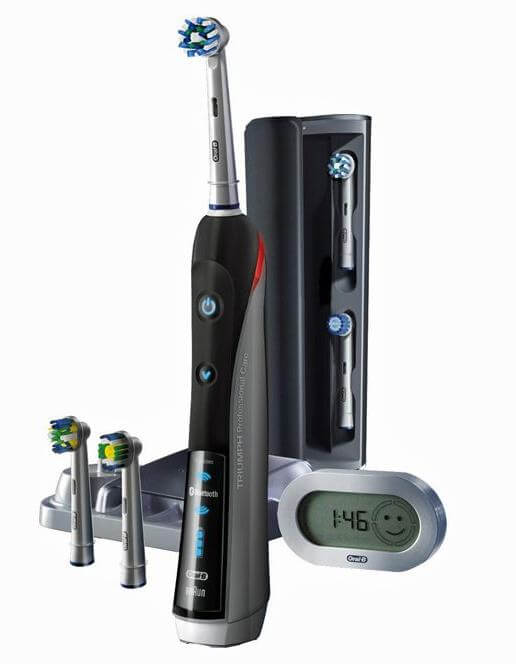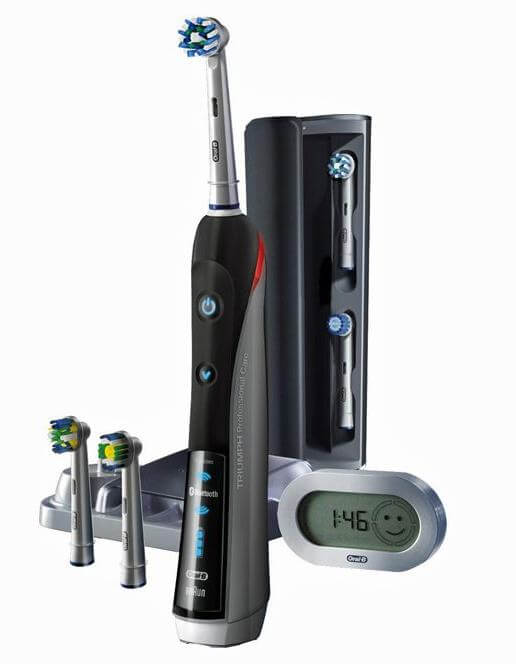 If you ever wondered about the things like: how much time did you spend brushing teeth in the last month or week or if you often press the toothbrush against the teeth to often you can you the App to find out.
These statistics may not be something you will want to check on daily or even weekly bases but it may be useful to see once in a while just to verify you are brushing your teeth correctly on a consistent bases.
Other good use for this may be to tech your kids how to improve their brushing technique. In fact, it is possibly the only objective way to do so, and if it is improved upon, their proper toothbrushing will help their oral and overall health. Read also our Best Electric Toothbrush For Kids Review.
Final Thought About Oral-B Pro 7000 Black SmartSeries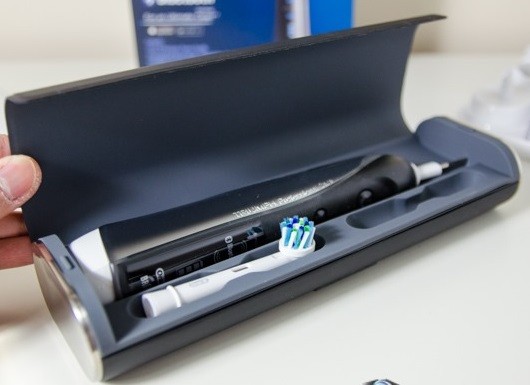 It could be said that buying an electrical toothbrush is a long term investment. Once you purchase the basic unit than it only comes down to changing replacement heads in the appropriate intervals. When you compare the price of changing manual toothbrushes with price of replacement heads in most cases replacement heads are cheaper. So, the most important choice here is to choose the best electric toothbrush for you and enjoy the benefits of brushing your teeth with and advanced technology.

Oral-B Pro 7000 Black SmartSeries is great choice in this regards, more so if you can find it on a discount which is often available.
[divider style='centered']