Philips Sonicare Flexcare Platinum Review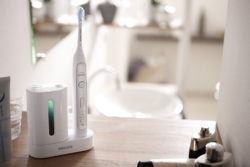 Philips has truly made one smart and interesting toothbrush with many options available to its users. There are nine options in total, so one can choose according to the personal preferences and needs. The first three modes refer to the type of cleaning the user can choose. If you wish to have a usual brushing, you can use the option clean.
For those days when you simply want to relax and enjoy your coffee and red wine without worrying if they are going to leave stains, there is an option white. It will make coffee and wine stains a thing of the past. If you haven't used electric toothbrush before, you may want to try the deep clean option in order to remove all the plaque from your teeth. No matter which one you choose, you will be satisfied with the results.
The mouth really feel clean and fresh after the use, just like at the dentist office only this way you do it whenever is convenient for you.
Our opinion
Not only this toothbrush will give you the deep cleaning experience you expect from a toothbrush, but it will also look beautiful in your bathroom. If you are anything like me, you will appreciate a beautiful design.
Philips Sonicare Flexcare Platinum is sleek and simply very appealing. It comes in white and grey color. You can choose the one that you love more. The buttons are discrete and little bit darker color than the rest of the toothbrush. It looks very luxurious.
Box Contents
Once you purchase Philips Sonicare Flexcare Platinum, you will see that it comes with:
A toothbrush handle
Brush head
Travel charger
Travel cap
Deluxe travel case.
Philips included some advanced options when making this toothbrush and also made a great effort to please the user. Everything included in the box truly comes handy at any moment, particularly during travels. Travel cap is hygienic and it will protect your toothbrush from getting dirty.
This way, you will always be able to maintain hygiene to the highest possible standards. The deluxe travel case takes little space in a bag and also looks very nice. There is enough room in it for two brush heads and a handle. There is no room for the charger, but the case is very useful since it protects the heads from possible damages which is really very important.
Travel charger is smaller than the regular one, so it is very easy to place it among other things in your travel bag. That being said, I simply like the way it looks.
Power Modes
Sale
Bestseller No. 1
Aquasonic Black Series Ultra Whitening Toothbrush – ADA Accepted...
40,000 VPM Smart Toothbrush – Beauty, brains and power. The Black Series is a world class modern electric toothbrush packed with the most up to date technology. It features an ultra-powerful and industry leading motor producing 40,000 vibrations per minute, a lithium-ion battery, ultra-fast wireless charging, 4 mode operation, smart vibration timers, 8 DuPont engineered brush heads, and a custom travel case; all with a sleek ultra-slim, lightweight and IPX7 rated waterproof design.
Accepted by the American Dental Association (ADA) Council on Scientific Affairs – We put our money where your mouth is. Investing in premium oral care technologies has earned the Black Series the prestigious ADA seal of approval. It has shown efficacy in removing plaque and helping to prevent and reduce gingivitis. Black Series goes beyond just cleaning teeth – it provides complete oral care with unique modes that include one for whitening and polishing teeth, and one for improving gum health.
Modern Tech for a Healthy Smile - Black Series brings toothbrushes into modern times with its built-in enhanced features. A lithium-ion battery, ultra-fast wireless charging (forget outdated USB charging), 4 distinct brushing modes and a smart vibrating notification timer are some of the enhanced features built into the sleek and ergonomic waterproof black satin handle.
8 DuPont Brush Heads & Travel Case Included – Included are 8 brush heads engineered by world famous DuPont; a world leader in quality & materials science. Each brush head lasts 3-4 months so 8 will last for about 2.5 years. Also included is a convenient custom hard shell travel case made of BPA-free plastic with space for two brush heads. Black Series can last 4 full weeks (2 min/2x a day) on a full charge so it's perfect for on the go travel with the included travel case.
What's in the Box - 1 AquaSonic Black Series Smart Toothbrush, 1 wireless charging base, 8 DuPont brush heads, 1 travel case, warranty card, and user manual.
Bestseller No. 2
Philips Sonicare Genuine C2 Optimal Plaque Control Toothbrush Heads, 3...
Genuine Philips Sonicare rechargeable electric toothbrush head compatible with all Philips Sonicare click-on rechargeable toothbrush handles
#1 Recommended power toothbrush brand by Dental Professionals
Up to 7x more plaque removal versus a manual toothbrush
Power tip targets plaque along the gumline
BrushSync mode-pairing & replacement reminders when used with a BrushSync compatible handle (DiamondClean Smart or ProtectiveClean)
Bestseller No. 3
Philips Sonicare 4100 Power Toothbrush, Rechargeable Electric...
Removes up to 5x-7x more plaque vs. a manual toothbrush
Pressure sensor and two intensity settings protect sensitive gums from overbrushing
2 minute SmarTimer with QuadPacer ensure Dentist-recommended brushing time
Brush head replacement reminder ensures your brush head is always effective
Long battery life with battery light indicator: One charge last for 2 weeks
Includes: 1 Philips Sonicare 4100 handle, 1 Optimal Plaque Control (C2) brush head, and 1 USB charger (wall adaptor not included)
Philips Sonicare Flexcare Platinum has three intensity modes to choose from: low, medium and high. It is very useful to have all three since the user can simply choose the mode according to the needs at the moment.
Some days my gums feel more sensitive and I would not be able to handle high intensity, so I'm grateful for the low-intensity mode. Medium mode is perfect for usual brushing on the days when you don't have problems with gums.
LogoInterCare brush head does a better job at whitening teeth than any other brush head. Phillips has thought about everything – the looks, functionality and the effectiveness. Each component is more than satisfactory in my opinion.
Advice for future users of Philips Sonicare Flexcare Platinum

The toothbrush must be charged for at least 24 hours before the first use, so have a little patience on your side. If you are worried about the pressure you need to apply to feel the advantage of having cleaner teeth than you would normally experience with a manual toothbrush, there is a pressure sensor that will warn you if you are pressing too hard.
This truly means a lot, since the possibility of damaging the enamel is completely eliminated. People with sensitive gums will be happy to hear that there is a gum care mode. It improves the health of the gums in about two weeks of use. Bristles remove all the bacteria that may cause the gum inflammation and gingivitis and consequently reduce the bleeding of the gums.
Timer
Users that are used to having a timer will be happy to hear that this model has it. Not only it has this option included, but it has two timers! There are Quadpacer and a Smartimer.
Quadpacer interval timer will warn you when you should move the toothbrush to the next quadrant and this makes washing teeth really easy and very convenient. The other one, Smartimer, will let you know when you reach two minutes of brushing.
Once the two minutes are up, the toothbrush will shut down, but if you want, you can easily turn it back on and continue brushing.
Final decision
With all the options included and the battery that lasts up to three weeks, this toothbrush is a perfect companion, particularly during travels. However, if you wash your teeth more than two times a day, you may need to recharge it sooner, but there is no need to worry that this will happen out of the blue.
There is a blinking light that indicates when it is time to recharge your toothbrush, so there is no room for surprises. You will have plenty of time to recharge it before the battery becomes completely empty. You can be completely carefree concerning this matter.
Simply recharge it, continue using it and enjoy a great and thorough cleaning.  Furthermore, Philips Sonicare Flexcare Platinum has a lithium battery that is more durable than the nickel ones. It can handle frequent charging and it won't let you down. Besides, Philips Sonicare Flexcare Platinum comes with a regular charger, as well as the one for travels.
AdaptiveClean toothbrush head
An AdaptiveClean head can follow the shape of gums and teeth in order to provide superior cleaning, even in the dirt pockets that form between teeth and gums. It is like getting two in one – flossing and washing teeth. Besides, the bristles change the color from blue to white when it's time to change the brush head.
It is a very useful characteristic. This way the user doesn't have to think about the day he bought it. Simply watch for the sign of color change. All in all – it is a unique toothbrush with all the options directed to make the use the easiest as possible.
Advantages and Disadvantages
Pros:
InterCare brush head removes the plaque up to ten times better than a manual toothbrush.
The mode for gums protection is very useful and directed towards the user's health and enjoyment.
Nine options are more than enough, so every user can find the perfect mode according to the needs at the moment.
The battery lasts up to three weeks after one day charge.
The brush head can flex a little bit in order to clean the teeth effectively.
Cons:
The toothbrush is in the medium price range, so it may be a little bit over the budget intended.
There is no replacement head included, only one.
The recharge time may be too slow for some people since it takes 24 hours.
The toothpaste may sprinkle around, so you may want to close your mouth as much as possible.
Conclusion
Philips Sonicare Flexcare Platinum is a superior electric toothbrush, made according to the very high standards and recommendations from dentists in the U.S. It is completely safe for use when used in compliance to the manufacturer's recommendations.
It operates from 100 to 240-volt range. Sonic technology makes this toothbrush different from others and it is the reason why it enables the user to enjoy thorough cleaning in the comfort of one's home. With 31,000 strokes per minute, you can be sure that you will get a quality brushing, clean teeth, and fresh breath.  It can help significantly with teeth discoloration.
Personal Experience
Philips Sonicare Flexcare Platinum has definitely become a part of my everyday routine. I take it with me whenever I go since it can be easily placed in any bag.
Besides, it helped significantly with my sensitive gums and my teeth are white. I am very thankful that I discovered this model because I truly appreciate all the modes available. It is great to have a choice and adjust the use to the personal preferences. Not all days are the same, why would the intensity of washing repeat day after day?
The settings are really simple and easy, so there is no need to worry if you have never used an electric toothbrush before.
Reliable delivery
In addition, the toothbrush was delivered in a timely manner, just as promised. The package was neat with all the components that come with Philips Sonicare Flexcare Platinum model. It is very easy to unpack it, there are no unnecessary things. I am very satisfied and I would recommend it to my family and friends. Some of them already made the order. There is also a two-year guarantee and it is an international warranty, which is really great for people who don't live in the U.S. As far as I'm concerned, I won't have to worry if some malfunction occurs.