5 Best Cheap Electric Toothbrush Review – See Our 5 Hottest Picks
Have you been wanting to switch to an electric toothbrush but you have not been able to find best cheap electric toothbrush which would suit your needs?
Cheap electric toothbrushes used to be extremely simple and straightforward. However, today they are sophisticated and advanced, so you will still get perfect teeth brushing. Of course, to get this type of cheap perfection, you will need the answer which ones are the best affordable electric toothbrushes on the market. We did a proper research and we are able to present you the best 5 models money can buy right now.
Product
Philips Sonicare HX5611/01 Essence Rechargeable Electric Toothbrush,...
EDITORS CHOICE
Oral-B Pro 1000 Rechargeable Electric Toothbrush, White
Oral-b Vitality Floss Action Rechargeable Power Toothbrush, Blue and...
Sterline Sonic Electric Rechargeable Toothbrush and Holder w/ 3...
Photo




Product
Philips Sonicare HX5611/01 Essence Rechargeable Electric Toothbrush,...
Photo

EDITORS CHOICE
Product
Oral-B Pro 1000 Rechargeable Electric Toothbrush, White
Photo

Product
Oral-b Vitality Floss Action Rechargeable Power Toothbrush, Blue and...
Photo

Product
Sterline Sonic Electric Rechargeable Toothbrush and Holder w/ 3...
Photo

Philips Sonicare Essence Sonic –

Cheap Rechargeable Electric Toothbrush
Philips Sonicare Essence is simply one of the best cheap electric toothbrushes available on the market today. It may be affordable, but the features and quality it offers are exceptional. As a matter of fact, we compared this toothbrush with more expensive models and it still achieved impressive score! The attention to details is at the highest level. For example, the reminder bristles will fade over time, alerting you when replacing the brush head is mandatory. Furthermore, the toothbrush feels solid and well-made.
The battery is actually borrowed from more expensive Philips electric toothbrushes. Thanks to this tweak, you will get a toothbrush with a battery that can last 2 weeks, on a single charge. It was tested 2 times per day, 2 minutes per teeth brushing. In addition, there is a 2-minute timer which will alert you when teeth brushing is done. That is another feature borrowed from more expensive models which we reviewed in our Best Electric Toothbrush article.
When it comes to pure teeth brushing, we have very good news. The toothbrush head has curved bristles, specially designed to follow the shape of the human jaw. This feature solely maximizes the efficiency the toothbrush has.
Other than that, Philips implemented the latest sonic technology. It is capable of delivering 31.000 strokes per minute, with fluid direction, allowing you to reach and perfectly brush even the hardest to reach places such as along the gumline and between teeth. According to a research, the efficiency is 2 times better than with manual toothbrushes, when it comes to plaque removal. Addition: The toothbrush in question is the best-selling model of this kind at the moment.
Pros:
Curved bristles for better performances
31.000 strokes per minute
Battery lasts 2 weeks on a single charge
2-minute timer & Travel Bag
2 times more efficient than manual toothbrushes
Comes in two colors – Blue and Pink
Cons:
Just one brush head in the package
Shape will require some time for you get used to it


Oral-B White Pro 1000

Is Good Cheap Electric Toothbrush
It is almost unreal being able to purchase a toothbrush with these specifications within this price range. We were impressed with a few details which are simply difficult to find today. The first and the main advantage, compared to equivalent models is the pressure sensor. It will alert you when you press the toothbrush too much. It is implemented into the handle and the feeling when it works is very interesting.
Of course, a 30-second notification is implemented as well. Thanks to it, you get a better idea when to move to the next quadrant. A 2-minute timer is included also.
The 3D Cleaning Action is so advanced that teeth brushing is 300% more efficient than with manual toothbrushes.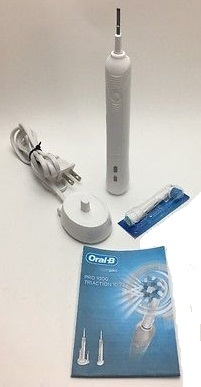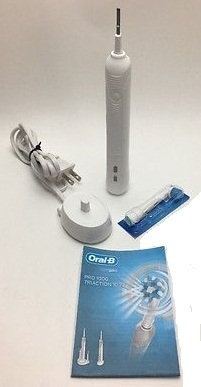 The secret is in the CrossAction brush head which spins, oscillates and uses pulses at the same time, in order to remove even the hardest deposits from the teeth. The design of the brush head is also suitable for reaching tiny spaces between teeth. The bottom line, at least when it comes to teeth brushing advantages, is that you get the best cheap and affordable electric toothbrush which will provide perfectly white teeth.
Click HERE to See All Colors
 
 

Oral B Pro 1000 -
White

Oral B Pro 1000 -
Black
A battery pack comes with 15 hours charging system. On a single charge, the toothbrush will be able to work 7 days. Obviously, running time is shorter than with the aforementioned model. At the end, we must add that Oral-B White Pro 1000 is developed according to surveys, studies and thorough research.
Pros:
Pressure sensor is amazing
300% better than manual toothbrush
Lightweight and practical
3D Cleaning Action technology
Pulsating handle (30-second notification feature)
Two colors – Black and White
Cons:
Better battery life would be appreciated
Teeth brushing may be rough for some individuals
Requires 15 hours to charge the battery


Oral-B Vitality Floss Action

– Electric Toothbrush With Cheap Replacement Heads
The toothbrush on the question is all about perfect teeth brushing at all times. As such, it comes with the advanced MicroPulse Bristles and Floss Action. Together, these features remove plaque on a completely new level.
We actually tested it and were impressed how smooth, yet efficient it is. Don't forget that it is one of the most affordable electric toothbrushes on the market. Even the brush head is specifically designed to fit around each tooth as tight as possible, in order to maximize plaque removal. In the real word, all of this actually works and you will be able to notice results.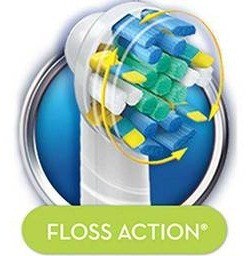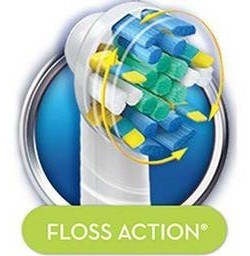 The battery can last up to 7 days, which is good considering the price. In the package, a charger and a spare brush head are included. Still, the primary brush head will last up to 6 months, probably more.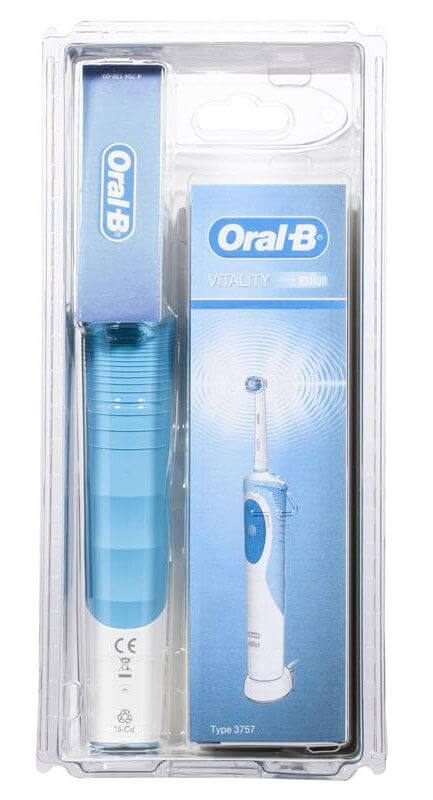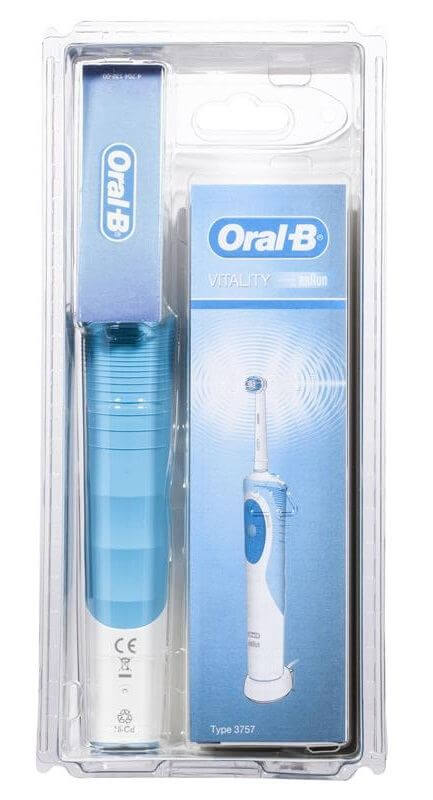 Other features we would like to mention include a now-standard 2-minute timer, anti-slip design and low weight.
The electric motor is smooth and it won't cause vibrations during teeth brushing. At the end, your teeth will be cleaned in such way that you will have a hard time determining are they treated by a dentist or a toothbrush. There is no need in mentioning how much the toothbrush is more efficient compared to manual models. Note: The toothbrush isn't actual floss replacement tool, but it does a decent job.
Pros:
Spare brush head is included in the package
MicroPulse Bristles
Specially designed brush head for deep
plaque removal
Anti-slip handle design
2-minute timer
Cons:
Lack of battery level indicator
Odd feeling due to specific brush motion


Sterline Sonic ST-OR-T50

Is Good Affordable Electric Toothbrush and Comes With a Holder
Are you interested in electric toothbrush which has most of the features same as two-time more expensive models? If you are, this unit is just right. The main thing to remember are three different modes.
You get Clean Mode, suitable for everyday usages, a Soft Mode for people with sensitive teeth and Massage Mode, which is designed for stimulating the gums.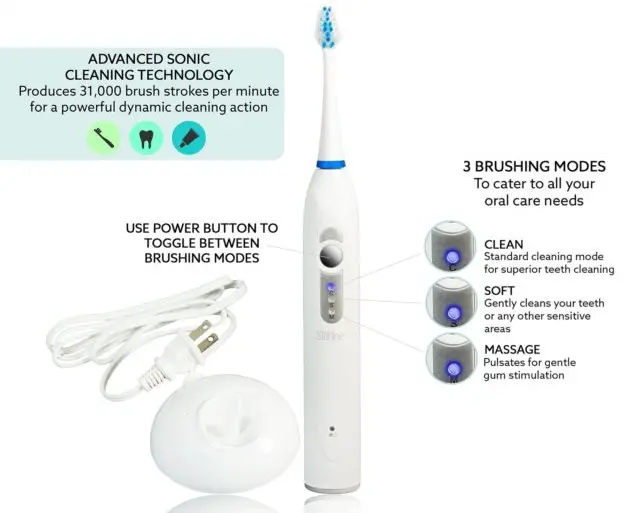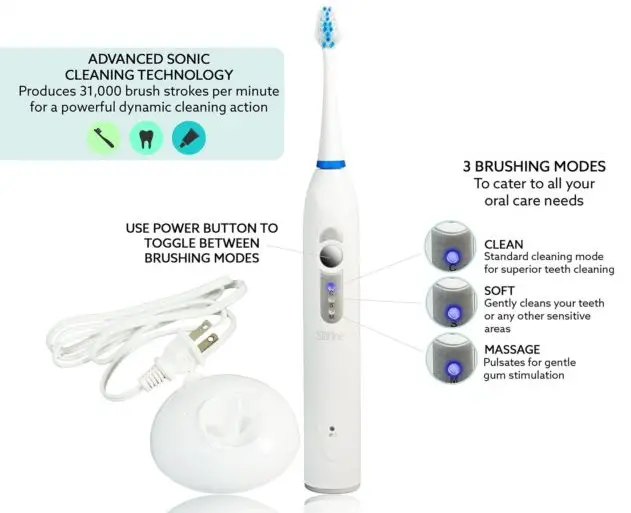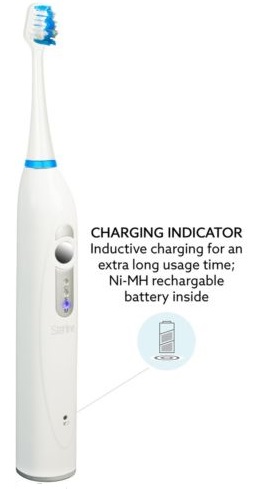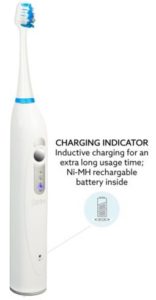 A nice addition is the LED indicator system, showing you which mode have you selected. An interesting fact is that some, more expensive electric toothbrushes don't have this kind of system.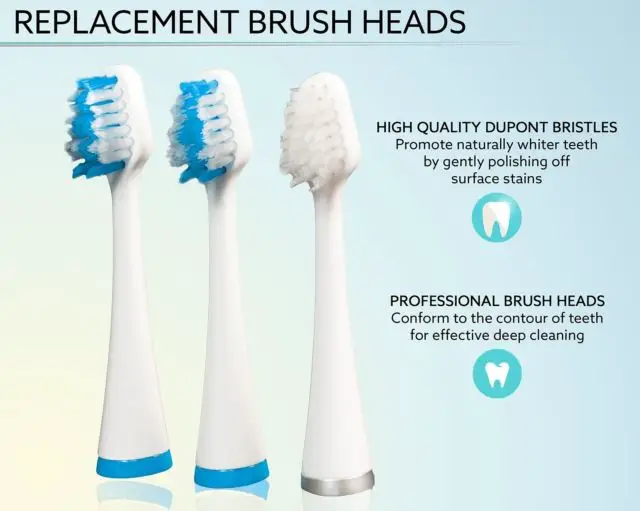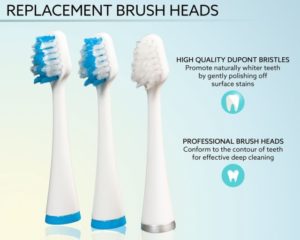 Then we have the design. The toothbrush is very elegant and slim, both of which you will appreciate. The visual aspect allows you to enjoy looking at the toothbrush. It will also look perfect in any bathroom. Slim design is also suitable for longer usages. It feels solid and comfortable when you want to brush the teeth for a longer period of time. The best words which can be used to define this model are simple and powerful.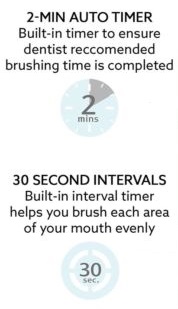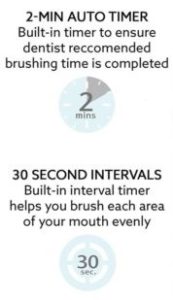 Click HERE to See All Sterline Models
|   |   |   |
| --- | --- | --- |
| Sterline Sonic ST-OR-T50 | Sterline Sonic Electric Rechargeable Toothbrush with UV Sanitizer | Sterline Sonic Pulse Electric Rechargeable Toothbrush with UV Sanitizer |
31.000 strokes per minute are standard now. The electric motor will work perfectly even under load and it won't generate vibrations. For the best performances, you may have to use all the three brushing modes because each one is suitable for a specific type of teeth. All in all, this a perfect brush which costs little and offers so much. And, you just can't go wrong whichever Sterline model you choose.
Pros:
Superior design
LED indicators & Timer Notifications
3 different modes to choose from
Sonic Cleaning Technology
Comes with 3 replacement brush heads
Cons:
Small brushing surface
There is no brush cover


iBrush

is Our Best Affordable Electric Toothbrush Pick – Comes With UV Sanitizer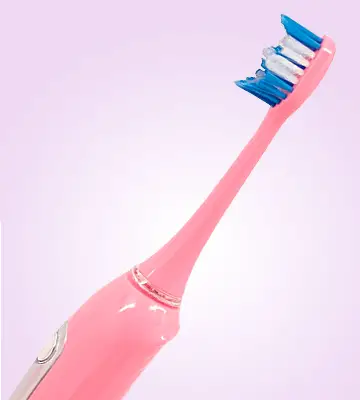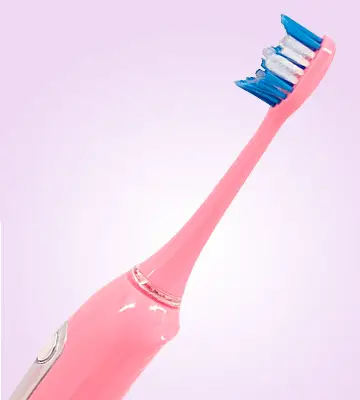 All of you who are interested in trying something new should consider the iBrush model. It is simply outstanding electric toothbrush, developed by an actual dentist, Dr. Patty Martin. Obviously, it has plenty of features to offer, but we will mention the UV Sanitizer System, which eliminates almost 99% of microbes and bacteria from the human mouth. Yes, this actually works and it has been approved by several studies conducted in the United States. A good thing is the fact the mentioned system doesn't have a negative effect on the battery life.
The design is something completely different. There are no plenty of Pink or Blue toothbrushes on the market and at the moment, this ones may be the only ones. Furthermore, the design is water-resistant, elegant and shiny color really makes the things more appealing.
The base shares the same passion, so you get a 100% elegant and superior electric toothbrush, which will fit perfectly in most bathrooms. And don't expect to see some high price. Despite the mentioned advantages, this toothbrush is one of most affordable on the list!
Click HERE to See All Colors
|   |   |   |   |
| --- | --- | --- | --- |
| | | | |
| Blue | Pink | White | NEW ELITE - Black |
3 brushing modes are implemented in order to allow countless possibilities. People with sensitive teeth and gums will benefit from this electric toothbrush. On the other side, we have a powerful cleaning mode which will remove all the plaque within seconds. Yes, 2-minute timer is included as well, so as 30-second notification system.
Pros:
Elegant design
Additional 3 brush heads are included
Battery lasts 6+ weeks after charging
3 modes
UV Sanitizer System
Notification Timers
Comes in 4 colors – White, Black, Blue and Pink
Cons:
Design won't fit some bathrooms
1 year warranty


Conclusion
The iBrush Sonic Wave is simply the best affordable electric toothbrush you can buy at the moment. It has long battery life, it is powerful and specifically designed to meet even the most demanding requirements. Your teeth will be clean, the toothbrush will last long and additional features make it more valuable than the price claims. But, don't forget to check out other models. Perhaps one of them is just perfect for your needs. After all, models here are still the best of the best.
If you are looking an electric brush for your children as well, check out our Top Picks for Kids Electric Toothbrushes.