Oral-B Professional 5000
Oral-B Pro 5000 electric toothbrush strikes the balance between price and offering the more advanced features. As such, it is perhaps THE best buy electric toothbrush today!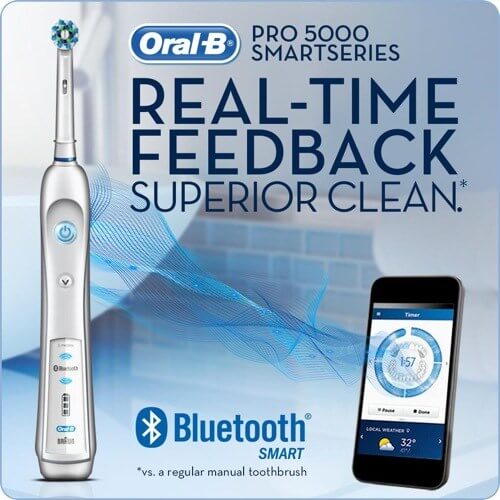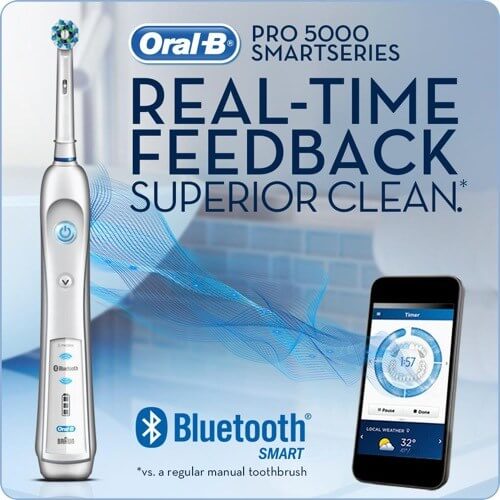 Travel Case and Bluetooth Apps are included in the package and are just some of the advantages of having this toothbrush.
Oral-B Pro 5000 SmartSeries is definitely worth inspecting in greater depth and what exactly this electric toothbrush has to offer. We will continue this best electric toothbrush review by looking inside the box of Oral-B Pro 5000.

What Is Inside The Box of the Oral-B Pro 5000?
When you unpack the box, here is what you will find inside:
Battery Charger
Instruction Manual
Oral-B Pro 5000 Handle
Brush Head Storage Case
Oral-B Floss Action Toothbrush Head
Plastic Travel Case
On average, you will need to replace the toothbrush head every 3 months. In the box you will also find a coupon which you can use next time you are purchasing a replacement toothbrush head.
Instruction manual was written for both Oral-B Pro 5000 and 7000 electric toothbrushes. Moreover, it was written is such a way as to give instructions about both toothbrushes at the same time. The problem here is that Pro 7000 has more features making following instructions for Pro 5000 a little confusing.
Oral-B Pro 5000 Handle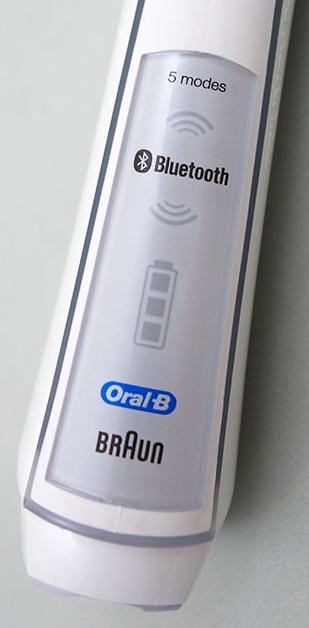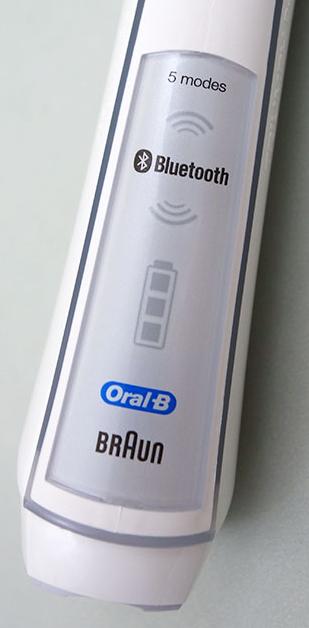 The Oral-B Pro handle represent a further evolution of the design in Oral-B line of electrical toothbrushes. Models Pro 3000 and Pro 1000 were very similar in how they looked, but Pro 5000 feels much more robust, higher and thicker than its predecessors. The color scheme with it's silver and white outline looks more modern compared to older models.
The controls of the Oral-B Pro 5000 consist of the two buttons located on its side face:
Power Button

: By pressing the power button you can turn your electric toothbrush on/off.

Brushing Mode Button

: By pressing this button you can browse through different modes of brushing. They range from sensitive to strong mode.


Oral-B Pro 3000 has a single button which is used both for switching between brushing modes and for turning the toothbrush on and off. This wasn't the best solution as there is always a chance you can accidentally turn off a toothbrush when all you wanted was to just switch modes.
The control buttons are set into a rubber coated area. The rubber is relatively smooth and the friction is not that great, but still much better than if it was only smooth plastic.
The older models previously mentioned had a grip which was textured and are feeling much more resistant to slipping. In that regard it seems that older models were better in that design area.
At the lower area of the base a display screen is located. This is where you will get feedback signals from Oral-B Pro 5000. You can see at a glance if the Bluetooth is active or how full is the battery. We will talk more about the display screen later on.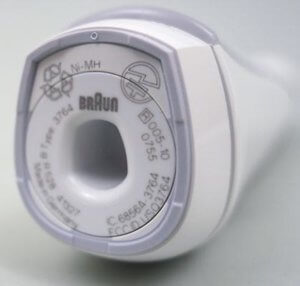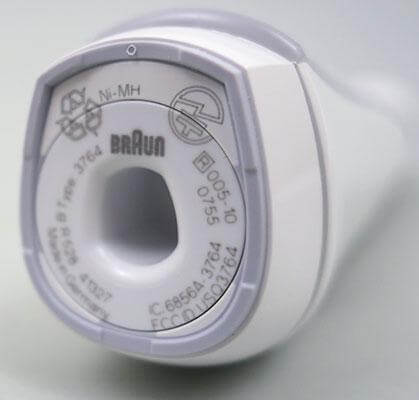 If you look at the very bottom of your Oral-B Pro 5000 electrical toothbrush you will see a small socket.
When the battery is drained or very low you will use this socket by putting it on the charging stand.
On the outer side of the charging socket there is information about battery type and model, as well as standards the Oral-B Pro 5000 complies with Government and Industry Regulations. Don't be surprised if you see there words "Made in Germany". Oral-B's bulk of production is located there, which is becoming a kind of a contrast as we are all already so used to see majority of products produced in China.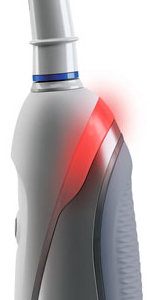 The lack of good gripping surface on the front of the toothbrush we mentioned above is made up for in back part of the handle. Textured rubber feels much better here.
On the back side you will also find the stand. This stand prevents toothbrush from constantly rolling over when laid on a surface. On the top of the handle there is a transparent piece of plastic behind which a Pressure Sensor is located. The light source behind it will lite up red if you press the toothbrush too hard against the teeth.
Toothbrush Heads for the Oral-B Pro 5000
Toothbrush head is placed on the metal shaft which is located at the very top of the handle.
All Oral-B replacement heads can fit on this metal shaft and are sold separately. Click on the link to check the current prices and sales of Oral-B Replacement Heads.
In box you will get the one toothbrush head named Floss Action. As the name says this brush head provides superior deep plaque removal along the gumline and also between teeth. The bristles of the Floss Action replacement head are of medium hardness. If you are used to using a soft toothbrush than this one may feel to hard. If you decide on this toothbrush you should also grab a pack of soft toothbrush Floss Action heads as well.
The medium hardness of the bristles are probably chosen because it is used by most people. As we had discussed extensively in our Nimbus Toothbrush Review article soft toothbrushes are the best for the teeth as they are efficient at removing plaque without damaging teeth enamel.
[thrive_text_block color="teal" headline=""]
Oral-B has great number of replacement toothbrush heads available and may be the manufacturer with the biggest selection of replacement toothbrush heads available.
[/thrive_text_block]
They range from the soft and gentle toothbrush heads for sensitive gums to a bigger brushes that are mimicking motions you usually achieve by using a manual toothbrush.
One other feature of Oral-B replacement heads is the identification ring which you will find at the bottom of the replacement heads in the pack. They come in several vivid colors which help with distinguishing which toothbrush head belongs to which member of the household.


Besides superior teeth cleaning ability this is also great feature of electrical toothbrushes. One electrical toothbrush can be shared among family members with the condition that everyone uses their own replacement head.
The way you put on replacement head is by just sliding it along the metal shaft. It will find its ending position with very little effort. Replacement head is removed with a quick pull. All in all it is very easy to replace Oral-B Pro 5000 toothbrush head which makes for more convenient sharing between partners or family members.


[divider style='centered']