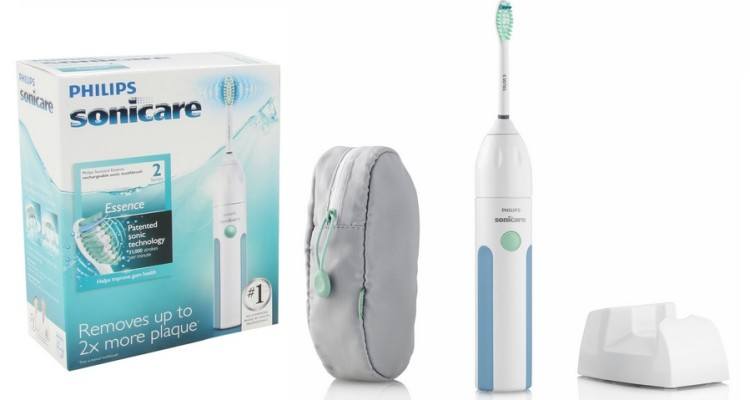 Philips Sonicare HX5610/01-1 Essence 5600 Review
The electric toothbrush is a perfect solution for people who wish to take their oral health to a completely new level. Philips Sonicare Essence rechargeable electric toothbrush will help you remove all the plaque that stays between your teeth even when you are trying your best to remove it with a regular toothbrush. New technology and a clean, elegant design will certainly fulfill your expectations and even go beyond that.
If you never used an electric toothbrush before and you are worried whether you will like the experience or not, there is an easy start that slowly pulls you in the world of perfect cleaning and an improved oral health. Besides, it is rechargeable, so you won't have to worry about buying new batteries.
Our opinion
Powerful and gentle at the same time, the Sonic technology makes the teeth cleaner up to two times more than a usual toothbrush would. With 31,000 strokes per minute, the teeth definitely feel clean and polished. It produces more strokes in two minutes than a manual toothbrush does in a month.
That is a pretty powerful improvement and a great example how far has technology come. It gives the same feeling like when going to the dentist and getting a professional cleaning, but at a far lower price.
It is always better to invest in the prevention than repairing the damage. A sonic technology may seem too powerful at the beginning until one gets used to the feeling. The soft bristles massage the gums which enhance its health.
By purchasing this toothbrush, you will get:
The design is carefully planned in order for the user to perform teeth cleaning in a very convenient way. The color of the Phillips Sonicare Essence rechargeable electric toothbrush that dominates is white, with just a little bit of blue to make it interesting for the user – there are two blue stripes on the sides.
The first thought when you see it is cleanliness and hygiene. The button for turning the toothbrush on is light blue and it is very easy to use. The neck of the toothbrush is slightly angled so that the user can easily reach all the teeth without any problem, even the ones that are a little bit harder to reach.
The head of the toothbrush can be replaced when the old one gets old. Everything is perfectly made so that the user can get the most out of washing with it by using absolutely minimal effort – clean teeth without stains and fresh breath.

Thorough brushing
Dentists recommend brushing teeth for whole two minutes in order to make sure that every tooth gets cleaned, but this is the hardest part for most people. In most cases, washing gets finished quicker since it is not so easy to determine the right length.
Two minutes can even seem very long if you don't have a watch to make sure you brushed enough. Luckily, Philips Sonicare Essence rechargeable electric toothbrush has a timer built in so you don't need to worry about it. The toothbrush shuts down after the two minutes of brushing, which is very convenient. Every brushing will last the same amount of time. This makes things much easier. The result is thoroughly brushed teeth and preserved oral health.
| | |
| --- | --- |
| Overall Specification | |
| Product dimension | 0.3 x 0.3 x 7 inches |
| Weight | 1.2 Pound |
| Brushing movements | 31,000 stroke |
| Brushing technology | Sonic technology |
| Brushing modes | 1 |
| Handle color | White with blue soft grip |
| Head includes | 1 |
| Bristle Material | Nylon |
| Battery | Ni MH |
| Battery life | Up to 2 weeks |
| Battery indicator | Light shows battery status |
| Voltage | 110-220 V |
| Warranty | 2 Year |
The option called easy start means that for the first twelve brushing, the power of the toothbrush slowly increases in order for the user to get used to brushing with an electric toothbrush. After that, you will completely get used to the feeling and you will start wondering how you could live without it for all those years.
The vibrating sensation will become completely normal part of your everyday routine. It is only important to remember that there is no need to apply too much pressure since the toothbrush will do all the work for you. If you start pressing the toothbrush too much you may harm your enamel and that is not what this toothbrush is designed to do. This can be easily avoided simply by applying less pressure.
A proper use of Philips Sonicare Essence rechargeable electric toothbrush will give you a wonderful experience of washing teeth for a long time without any problems.
Perfect for travels
Travelers know how hard it can be to maintain oral hygiene sometimes. There are always cases of forgotten chargers and rushing to buy a new toothbrush. This can put additional stress and that is something that no one wants.
Philips Sonicare Essence rechargeable electric toothbrush is very convenient for travels because there is no need to worry about recharging. It won't let you down for two weeks which is pretty impressive. Besides, there is no chance that you will get surprised by an empty battery since there is an indicator that lets you know when there is a need to recharge by blinking.
It will give you plenty of time to react and recharge it so you can use it again without any difficulties. The travel bag will certainly come handy because the toothbrush will be protected from getting dirty. It comes in a grey color. The size is not too big, so it won't take too much space in your bag.
Additionally, there is a two-year warranty so you can be sure that you will have a toothbrush working perfectly no matter what and a 90 days period to return it if you are not satisfied.

Advice for future users
The easiest way to have your toothbrush ready for use when the battery gets too low is to charge it during the night, so you can have it recharged and ready in the morning. When you start brushing your teeth, you may feel a tickling sensation until you get used to the way Philips Sonicare Essence rechargeable electric toothbrush works.
It truly gives a professional cleaning every time. After all, the brush is doing all the necessary work, you will just enjoy the results. Additionally, in order for the brush to continue working perfectly, remove the head from the toothbrush and wash it, leave it to dry and it will prolong its life.
If you forget to do this often, a mold may start building up and this will certainly decrease its efficiency. One more thing – make sure you plug your charger into the outlet of the right voltage. Making a mistake about this simple thing may cause malfunction and can easily be prevented with a little care.
Final decision
After using Philips Sonicare Essence rechargeable electric toothbrush for a while, I noticed that my oral health significantly improved. There are no stains and my breath is fresh. Following the advice from my dentist has truly paid off. Washing is really easy because my participation is minimal, the toothbrush does most of the work.
The only thing I need to do is to move the toothbrush after a while to clean the other set of the teeth. Thanks to the timer, there is no quick washing and skipping teeth, so washing my teeth is truly by the rules that dentists talk about. Now I can smile more without any fear of showing my teeth.
Even my dentist noticed the positive change. I will definitely continue using it, it is worth the investment.
Pros:
The design of the handle is very convenient for the user.
The battery lasts for two weeks and the indicator light blinks when the battery starts going low.
The neck is perfectly angled so that each tooth is thoroughly washed.
The effectiveness of the Sonic toothbrush in cleaning plague is doubled in comparison to the manual toothbrush due to the number of strokes per minute.
The easy start is very convenient for new users.
Cons:
The vibration may be too powerful at first.
The mold may get in between the head of the toothbrush and the base.
There is no 30 seconds alarm to indicate when to move to the other set of teeth.

Conclusion
Philips Sonicare Essence rechargeable electric toothbrush is a true revelation and an elegant helper in maintaining clean, white teeth. There are so many advantages of using it regularly. The only thing that may be on the way of being perfectly content and happy is the absence of the alarm that reminds the user when is the time to move the toothbrush to the other set of teeth.
If you are used to having it, it may be strange at first, but it is a truly minor thing in comparison to all the other benefits. You will not be worried about cavities, bad breath or frequent visits to the dentist which is the purpose of this toothbrush.
This affordable electric toothbrush will drastically improve your dental health, particularly if you are switching from the manual toothbrush for the first time. Once you start using it, it will be clear why so many dentists recommend it to their patients. It is well worth its price and the features included are completely directed to the user's benefit.