HiSmile Honest Reviews: Is It Worth? (Coupon Inside)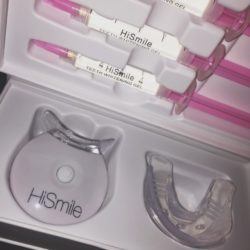 Do your stained teeth rob you of confidence making you feel insecure while smiling in public? Worry not for HiSmile is the ultimate teeth whitening solution that will help restore your smile. This unbiased review of HiSmile will be instrumental in helping you decide for yourself whether this teeth whitening kit is worth your purchase or not.
What is HiSmile?
It is a teeth whitening kit that is designed for use at home, and which uses sodium bicarbonate for teeth whitening unlike most teeth whitening remedies that utilize hydrogen peroxide.  Remember that prolonged use of hydrogen peroxide for teeth whitening can lead to teeth sensitivity.
HiSmile was founded by two childhood friends, Alex Tomic and Nik Mirkovic. The teeth whitening kit promises a pain-free teeth whitening solution.  It further promises to produce evident results in just 10 minutes upon using it. HiSmile is designed to remove extrinsic stains and for making teeth whiter in just a couple of applications.
What Does It Come With?
HiSmile package offers up to five different vegan and natural products. The kit also comes with a money-back guarantee of 1 month, which is effective upon purchase of the teeth whitening kit.  The kit's manufacturer promises to refund users their money in case the kit fails to deliver teeth that aren't two shades whiter. While requesting for a refund, users should do the following:  
Take a picture of their teeth before using HiSmile
Have proof of using the kit exactly as had been instructed
Take a picture of their teeth after cleaning it with all the recommended whitening applications.
Send the pictures showing their teeth before and after using HiSmile to the company
Wait for the refund process to be complete.
How does HiSmile Work?
HiSmile kit comes with an LED Light, teeth whitening shade guide, instruction manual, 3 gel syringes, and a mouth tray.
Here is how the teeth whitening kit works:
Apply ¼ of whitening gel to the bottom and surface of your mouth guard
Turn on the LED light once you have carefully placed the mouth guard in your mouth. The LED Light will automatically beep and turn itself off after 10 minutes.
Rinse your mouth together with the mouthguard afterward.
HiSmile will provide you with six applications, meaning each syringe has two applications. Ideally, the gel should be used consecutively for all the initial six applications. To maintain the results achieved after the initial six applications, you can use one application weekly.
Features of HiSmile
3 Teeth-Whitening Gel Syringes: The syringes use a combination of sodium chloride and sodium bicarbonate to deliver clinically-proven teeth whitening. They also utilize light activators such as Aloe Vera, Pomegranate, and Chamomile, providing extra whitening devoid of sensitivity.
Night and Day Toothpaste: The kit comes in two toothpaste formulas, namely night and day. The night formula uses charcoal and a variety of natural ingredients for detoxifying the mouth and for removing stains. The night formula has a remarkably pleasant smell. The day formula features micro-shield wax technology, which protects teeth against staining.
Teeth Whitening Pen: The whitening pen is 100% peroxide-free and is crafted for difficult-to-reach mouth areas. While on the go, this pen can be particularly useful for doing touch-ups.
Coconut Whitening Mouthwash: The main teeth whitening ingredient in this mouthwash is sodium bicarbonate. The mouthwash further contains coconut that is meant to remove toxins from both the gums and teeth.  Application takes approximately two minutes.
How much does HiSmile cost?
Though prices may vary from one online retailer to the other, the retail price of this teeth whitening kit in most places is about $ 60.  However, HiSmile may cost cheaper if you are purchasing from a retailer who will provide you with a HiSmile Coupon on CouponCause.com that works.  With such a coupon you will purchase the kit at a discounted price, meaning that you will pay lesser than you would have paid if you purchased the kit from somewhere else.
Pros of HiSmile
Provide a pain-free whitening solution
Devoid of products that are sensitive to the gums and teeth
Considered safe for use
Can effectively whiten stained teeth if used properly
Cons of HiSmile
Prolonged use of one of its main ingredients (sodium bicarbonate) can result in enamel damage.
It doesn't work magically since users need to use all the recommended applications to achieve the desired whitening.
May not effectively clean severely stained teeth.
Conclusion
HiSmile promises a natural way of whitening stained teeth. The teeth whitening kit is known to work, and it is clinically proven to help with whitening stained teeth. Therefore, the teeth whitening kit is worth purchasing, especially if you are looking for a pain-free way of restoring your smile.