Xylitol Gum – Top 5 Sugar Free Alternatives
Did you know that just chewing on Xylitol gum in between meals, you can strongly work on improving your oral health?! Such as reducing the number of cavities. If you regularly chew gum, like us, you should consider switching to Xylitol chewing gum. The taste is as good as with the regular chewing gum, the only difference is that it is much healthier.
Are you in a hurry? >>> Click here to see best xylitol chewing gum and our editors' choice!
Also, as the regular chewing gum, the gums that contain this sugar fight bad breath. On the market, there are also Xylitol products that can stimulate saliva production and in effect reduce the symptoms of the dry mouth.
Benefit of the Xylitol is that it inhibits the ability of bacteria to stick to the teeth. The consequence is that there is no colonization of bacteria and no acid is produced which is the main cause of tooth decay and plaque.
Xylitol chewing gums are also supported by the dental professionals: pediatricians, periodontists, health organizations and doctors. It's beneficial effects are supported by the scientific research which showed that Xylitol slows the growth of cavity causing bacteria. We had also done a review about xylitol mints that you can also get on the market.
Doctors end up being the ones who recommend Xylitol chewing gums to patients.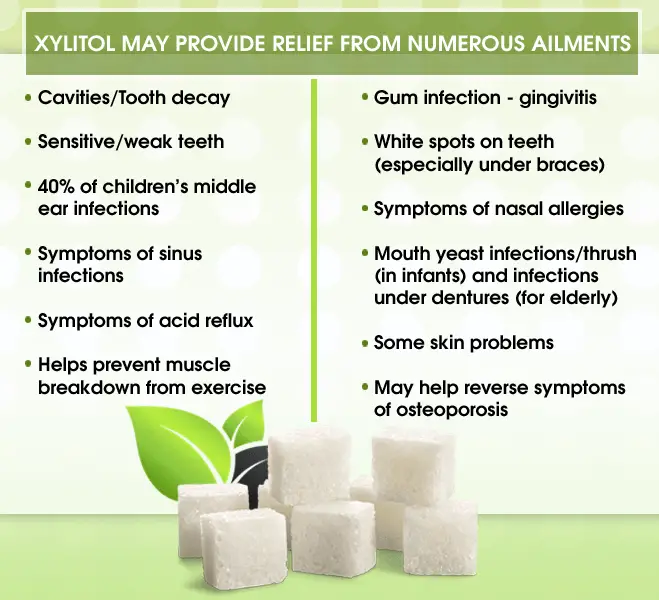 Bad breath is caused by poor pH balance and Xylitol can help. It also helps with dry mouth and the lack of saliva. Xylitol chewing gum should be taken after meals to increase the saliva output and help in preventing the creation of acids that are the cause of bad breath.
Teeth are especially susceptible to tooth decay during pregnancy and gums that contain Xylitol can help preserve oral health during this blessed period in life.
There exists even a Xylitol nasal spray which is used to improve symptoms of allergies, asthma, cold and respiratory infections.
Xylitol – cheap and tasty way to fight cavities!           Dr Helen Smati
Best Known Xylitol Gum Brands
Here is the list of chewing gum brands which contain Xylitol:
5 Best Xylitol Gum
ADA approved Trident sugar free gum is one of the most sold chewing gums that contain Xylitol. It's minty taste, easily freshens breath and helps to protect against tooth decay. It is often recommended by dentist to chew on after eating or drinking which effectively help in cleaning and protecting your teeth.
Check Price
Trident Sugar Free Gum – Spearmint can also help with your diet. It has been tested to have up to 30% less calories compared to a sugared gum. Xylitol used in the Trident Xylitol gum has all the beneficial effects mentioned above, such as: combating plaque, restoring pH balance and having a long lasting flavors.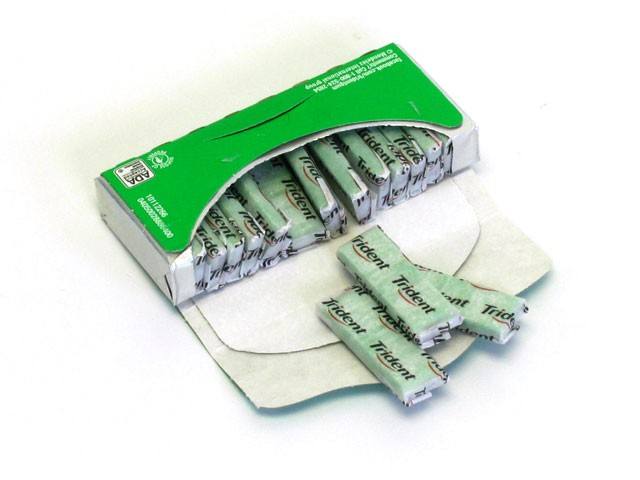 We would also like to mention that Trident gum comes in 18 different flavors, so you will surely find the one that is most pleasant to you.
Click HERE to See All Flavors
So, how much Xylitol is in Trident gum? Trident gum contains 1 gram of Xylitol per one stick. And one serving size, or stick, weight about 1.8 grams. In a typical container you can find 216 sticks. Total amount of Xylitol in a Trident gum container is 216 grams.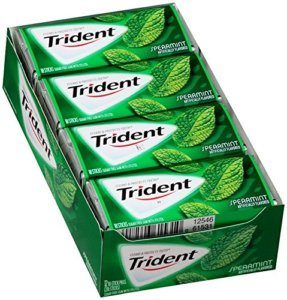 Trident gum Xylitol nutritional value is less than 5 calories per one stick (1.8 grams).
Ingredients of Trident Xylitol gum: sorbitol, gum base, xylitol, glycerin, natural and artificial flavoring. In quantity of less than 2%, compared to total Trident ingredients content, we can also find acesulfame potassium, aspartame, bht (this is used to enhance freshens of the gum), blue 1 lake, mannitol, soy lecithin, sucralose and yellow 5 lake. It also contains soy.
Check Price
Many people are wondering if other gums from same brand have Xylitol. But, neither Trident LAYERS nor Trident Splash, Trident White and Trident Xtra Care do not contain Xylitol, but they are all also sugar free gum. They contain a different sugar substitute that is called Maltitol.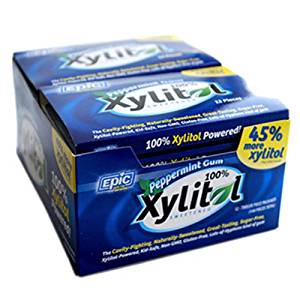 Epic Dental Xylitol sweetened gum contains 45% more Xylitol compared to most other brands. The exact content is 1.06 grams of Xylitol per one piece.
Special attention was given to make Epic Xylitol gum as natural as possible. It contains no aspartame and is also gluten free.
As other sugar free gums, it lowers the chance of tooth decay which also means it lowers those large dentist bills!
Check Price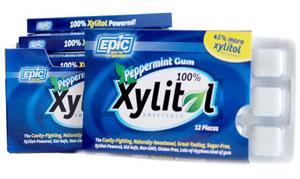 That great taste of fresh chewing gum will last you 10-20 minutes with Epic Xylitol gum. Some people reported the taste to last as long as half an hour.
Click HERE to See All Flavors
Ingredients of Epic Dental are: xylitol, gum base, natural flavors, lecithin, gum Arabic, titanium dioxide and carnauba wax.
Orbit Peppermint Sugarfree gum contains both Xylitol and Sorbitol. The taste of Orbit gum is very familiar, as we had all at one point or another tried it. You could say that it has that clean and fresh feeling in the mouth.
Check Price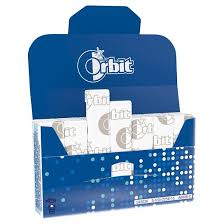 With only 5 calories per piece, it will not add too much to your daily diet intake. It is worth to note that it has received a Seal of Acceptance from American Dental Association that recognizes their benefits in oral care as a real sugar-free chewing gum.
Click HERE to See All Flavors
Ingredients that go into Orbit Peppermint Gum are: sorbitol, gum base, glycerol, natural and artificial flavors. In it there are less than 2% of hydrogenated starch hydrolysate, aspartame-acesulfame, mannitol, aspartame, acesulfame k, soy lecithin, sucralose, xylitol, bht (which maintains freshness). It also contains phenylalanine.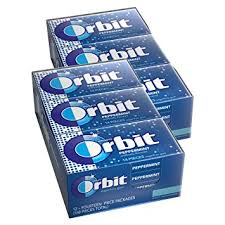 As many people agree, the taste of Orbit chewing gum lasts a long time.
Some questions are often asked about Orbit sugarfree gum:
Does Orbit gum have Xylitol? Yes, Orbit chewing gum contains Xylitol. You can read a complete list of ingredients above.
How much Xylitol is in Orbit gum? Orbit gum contains less than 2% of Xylitol in 1 piece that weights 1.9 grams.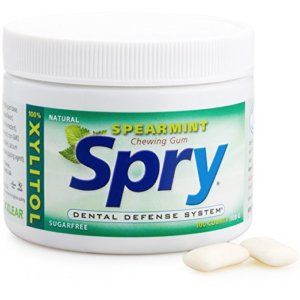 Spry Xylitol Gum shines the most in combating the symptoms of the bad breath and dry mouth. If you were looking for a chewing gum that could help you with those conditions Spry Xylitol is probably your best choice among the chewing gums on our list.
Check Price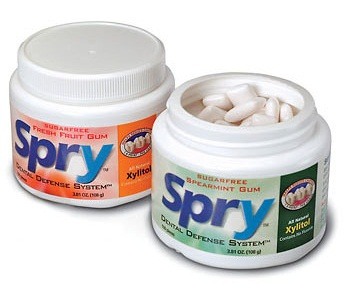 Worthy of a mention is that Spry gum does not contain aspartame.
Click HERE to See All Flavors
Spry Xylitol Gum ingredients are: xylitol, gum base, spearmint oil (natural flavor), vegetable glycerin (humectant), gum Arabic (which gives it a texture), non-GMO soy lecithin (emulsifier), calcium carbonate and beeswax (which is a glazing agent).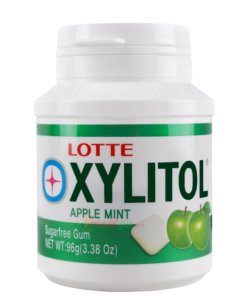 Lotte Xylitol Applemint Chewing Gum contains 60% of Xylitol which is all imported from Finland. Although Lotte chewing gum is made in Thailand, it is still one of the favorite chewing gum worldwide.
Click HERE to See All Flavors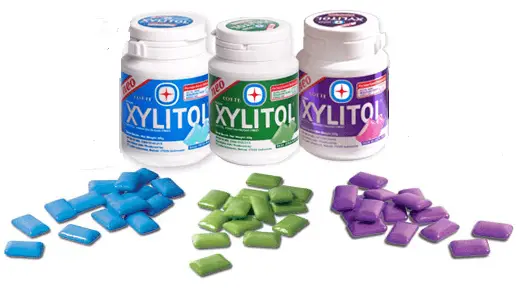 To extend the freshness of the chewing gum, it is packed in a zip lock bag (Applemint taste) or container (other flavors).
Check Price
Even though this brand is not as famous as some of the others described, still, many people find it very tasty and is among their favorite chewing gums.
Frequent Questions about Xylitol Gum
What do I do if a dog eats Xylitol?
In case you suspect your dog has eaten Xylitol containing product, the best thing you can do is call your veterinarian. You also should not give anything orally to a dog or induce a vomiting. This is because if some dogs could already be hypoglycemic (have small amount of regular sugar in blood). If they vomit, it could make them worse.
First symptoms of poisoning could be seen as little as 15-30 minutes after accidental eating. Some of these symptoms could be: vomiting, weakness, difficulty with standing or poor coordination, lethargy, tremors, seizures or in the worst cases coma.
Organ that could hurt the most is the liver which may fail due to the poisoning.
Side Effects of Xylitol Gum
In smaller amounts such in gum, Xylitol is a completely safe product. The research has shown that it actually benefits the oral health. In essence, it is a sugar alcohol which chemically can be called low-digestible carbohydrate. On the market there are also other varieties of sugar alcohol, but they do not have protective effect on teeth. Most popular ones are erythritol, isomalt, lactitol, maltitol, mannitol and sorbitol.
Check out also our Candy with Xylitol review. Best natural toothpaste review has some great toothpastes with natural ingredients for a healthier lifestyle.
Summary
Reviewer
Review Date
Reviewed Item
Author Rating